Howard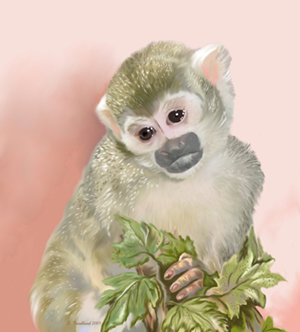 Howard was stolen from his natural habitat in the rainforest and used in a lab for nearly two decades and housed alone. Unfortunately, Howard is going blind. He is very curious with every aspect of his surroundings and enjoys his toys, including his favorite ball. Howard has a very high regard for peanuts. When given a peanut, he responds with his famous "peanut dance", he holds the peanut behind his back and turns in circles singing in an upbeat tone.
Beautiful 8"x10" print of Howard, museum quality paper print with mat ready for an 11" x 14" standard frame. Frame not included. All proceeds from the sale of this item goes to Jungle Friends.
Howard print by Sandie Friedland
Furevermine - Portraits for Paws
How a portrait is created
TERMS
USA Buyer Pays $3.50 S&H
Accepting Paypal, money order, cashiers check
Payment must be received within ten days of close of auction
Jungle Friends Primate Sanctuary
is a 501(c)3 non-profit organization located in Gainesville, Florida where we offer a permanent, safe haven for monkeys who have been abused, confiscated by authorities, retired from research, the entertainment industry or who are ex-pets. At this time, Jungle Friends is the sanctuary home for 52 monkeys and we have an ever-growing waiting list.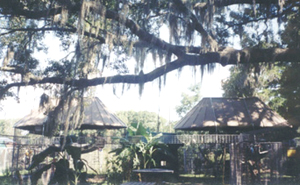 Jungle Friends Newsletter
Monkey Business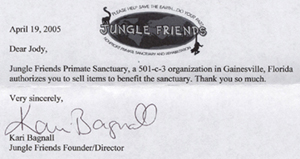 Jungle Friends Banner by Sandie Friedland
©2005
furevermine.com