~
Saving Animals For Everyone
3/21/10
Many thanks to Paula for telling me about this new (to me) and very interesting Animal Sanctuary.
The picture I noticed immediately was of the Camel.
For years I have had a picture of a circus Camel chained to a truck on my circus site.
It is one of many pictures I rarely go back to look at, it's too painful because this abuse continues.
So to see this beautiful camel living in peace, not to mention in a pasture, soothes my soul and warms my heart.
It's a wonderful thing to see, it makes me smile.
Thank you so much!
"Rasjha is a Dromedary Camel that has come to stay with us."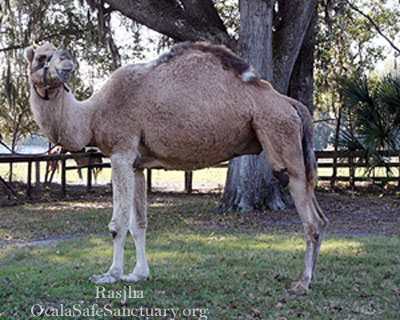 SAFE sanctuary is basically a one woman operation. It is small, around 50 animals, but it is a 24/7 job.
"We are an animal sanctuary located in Anthony, Florida, just 15 miles north of Ocala.
We are a 501(c)(3) non-profit organization dedicated to providing a safe haven for animals. We have a Class 3 License issued by the Florida Fish and Wildlife Conservation Commission, which enables us to take in many types of animals: domestic, farm, and exotic, including small primates.
The Sanctuary provides a place for animals to live that are in need of a home.
Many animals come to us because of unfortunate circumstances - some have been lost or abandoned, or just no longer wanted.
We work with a number of state and local organizations, including animal welfare agencies, to make sure that animals they are unable to shelter or place are given a home.
We are also contacted by owners when they are unable to maintain the level of care the animals needs, due to relocation, financial, or health reasons.
In rare cases, the animal may require special handling by a professional. In most cases, the owners want to make sure that good care is provided to the animal.
If the Sanctuary is unable to take in the animal, we will work with the owner to find another facility that is able to help."
You may contact us at:
Phone: (352) 671-6797
Address: S.A.F.E Sanctuary
12525 NE 30th Court
Anthony, FL 32617
503(c)(3) 04-3779732
~