JodysJungle.com/Archive
Against Animal Cruelty

JodysJungle.com

~
California
UniverSoul Circus Leafleting in Oakland 2004
The UniverSoul unit ("Soul in the City") coming to Oakland includes the Carson & Barnes elephant named Becky (she is one of the elephants abused in the Carson and Barnes "training" video).
(Video available at: circuswatch.com)
For more information please call 650-654-9955 or e-mail deniz_b@yahoo.com
LEAFLET DATES/TIMES and LOCATIONS:
August 6 (Fri.) 6 p.m. - Oakland, 66th & Oakport (off Hwy 880)
August 7 (Sat.) 6 p.m. - Oakland, 66th & Oakport
August 8 (Sun.) Noon & 5:30 p.m. - Oakland, 66th & Oakport
UniverSoul performs every day from August 6 through Aug 15, 2004
We hope you can join us!! Please tell your friends. Retire Lincoln Park Zoo's Elephants
To: Lincoln Park Zoo Director, Mayor of Chicago, Board members of the Zoo
Help send Chicago's Lincoln Park Zoo Elephants to a Sanctuary
To make room for new, young elephants abducted from the wild in Africa, the San Diego Wild Animal Park discarded its aging elephants Peaches, Wankie, and Tatima and sent them to the Lincoln Park Zoo in Chicago April 2003. These elephants had lived together in San Diego for decades since they were captured in Africa as babies. In Chicago, Peaches, Wankie and Tatima live in bleak and barren conditions and suffer from stress, the shock of the cold climate, inactivity, and ill health.
Sign the Petition
World Wildlife Fund
Tesso Nilo
Recently, we asked you to join the fight to save Sumatran tigers and elephants living in Tesso Nilo and you responded with overwhelming enthusiasm. Our goal of $20,000 was raised in less than a week! On behalf on endangered wildlife everywhere, thank you.
About Tesso Nilo: On the distant island of Sumatra, Indonesia, in the forests of Tesso Nilo, a tiger is trapped and killed, its pelt sold for a few hundred dollars. In a nearby village, a starving elephant wanders onto a plantation to find food, and is poisoned to death by a farmer protecting his livelihood. Tesso Nilo, one of the few remaining havens for the Sumatran tiger and elephant, is being cut down faster than any other forest in the world.
WWAIL
Thanks to everyone for all your work on World Lab for Animals in Laboratories (WWAIL) this year. It is exciting to announce that this weekend will initiate this year's week-long focus on the cruelty and waste of vivisection.
WWAIL events will take place in San Francisco, Colorado, Georgia, Texas, and Oregon to name just a few. Visit WWAIL 2004 for a complete list of events in your state. With the surge of events occurring this year, you can rest assured it will be an effective week of advocacy for animals.
Our efforts will bring awareness to and help lead to the discontinuation of maternal deprivation, invasive surgeries without pain killers, sewing kitten's eyes shut, force-feeding toxic substances to animals, burn experiments and much more.
Learn more about IDA's vivisection campaigns by visiting:
WWAIL.org
It is not too late to write a letter to the editor of a newspaper or magazine about the horrors of vivisection. Be sure to make your letter polite and concise (the shorter the letter, the more likely it is to be printed), and to include your full name, address and telephone number so that the paper can contact you if it wants to print your letter. Check the paper's editorial page or website to find out where letters to the editor should be submitted.
A listing of all U.S. Newspapers
A Sample Letter
Online Resources
If you are coordinating an event and need assistance with your local media releases
email Lydia@idausa.org.
Don't forget to take photos of your events and send high resolution copies to us via email so we can share with other members.
Thanks again to everyone for participating in World Week for Animals in Laboratories.
Lydia Nichols
National Grassroots Coordinator
In Defense of Animals
Barcelona Votes to Ban Bullfighting
In a great victory for animals, the city of Barcelona has voted to ban bullfighting thanks to strong efforts of animal activists there. Nearly 250,000 people signed a petition calling for abolition in Catalonia, of which Barcelona is the capital. The regional government must now approve the ban, which would be the first of its kind in Spain, for it to become law; but in a secret ballot vote this week, councillors voted 21-15 in favor, which -- in addition to the 250,000 signatures -- shows that there is strong support for a ban on this cruel tradition. Many thanks to everyone who responded to the alert on this issue in our previous newsletter.
Source: In Defense of Animals
alerts@idausa.org
Look for the Humane Label
when you are buying eggs in the Pacific Northwest. Tobin Farm of Walla Walla, WA, has recently become certified by Humane Farm Animal Care HFAC to use the "Certified Humane Raised and Handled" label for its pasture-ranged eggs. The label is a guarantee to consumers that Tobin Farm's chickens receive a nutritious diet without antibiotics or hormones, and are raised with shelter, resting areas and space sufficient to support natural behaviors.
At Tobin Farm, hens live outdoors on fresh pasture, with access to portable shelters that are moved weekly. "This system assures that the birds have adequate exercise, fresh air and sunshine, and that their eggs have all the nutrients they should have," says owner Leonard Tobin.
Compassionate consumers, you can find the company's eggs packaged under the Our Hens' Gems brand at various retail stores throughout the Northwest, including Andy's Market, Red Apple Markets and Local Harvest Natural Foods. For more information, and a complete list of companies that have qualified to use the "Certified Humane Raised and Handled" label, please visit HFAC online.
For more information, please visit: aspca.org
OUR EFFORTS PAY OFF, TOYOTA DEALER DROPS COCKFIGHT PROMOTION!!!
Thanks to the overwhelming response from HUMANElines readers, Toyota on Nicholasville in Nicholasville, KY has terminated its promotion that benefited two cockfighting organizations. As we reported in HUMANElines Issue 289 , this dealership was offering a discount to members of the Kentucky Gamefowl Breeders Association and the United Gamefowl Breeders Association. Furthermore, $100 from each sale to a member of one of those organizations would be donated to the cockfighters "Victory Fund", a bank account used to pay lawyers that are challenging laws prohibiting animal fighting.
Just hours after HUMANElines readers started calling, Toyota on Nicholasville issued a statement leading off with: "The management of Toyota on Nicholasville made a terrible mistake supporting the Kentucky United Gamefowl Breeders Association (KYGBA) as addressed in the March 25 Associated Press story. The ownership of Toyota on Nicholasville does not support this group's activities and has immediately demanded that its management and employees cease any association with this organization. No funding will be submitted to the KYGBA by Toyota on Nicholasville."
The statement also stated that "the ownership group supports the humane treatment of all animals and now will enact measures to support the Humane Society's mission to make a difference in the lives of animals everywhere."
The Lexington Herald-Leader reported that the dealership "came under fire from The Humane Society of the United States for placing an ad in a gamefowl magazine that expresses support to a group suspected of promoting cockfighting." You can read the entire article here
We are grateful to all HUMANElines readers for making victories like this possible. No further calls to Toyota are necessary.
TOYOTA DEALER HELPING COCKFIGHTERS
In Nicholasville, KY, the Nicholasville Toyota Superstore is supporting groups that promote cockfighting - even though cockfighting is illegal in Kentucky! The Superstore is offering two special deals currently being offered to customers: For every vehicle sold, the dealership will donate $100 to the "Victory Fund" of the United Gamefowl Breeders Association (UGBA)
Additionally, the dealership is giving all members of the UGBA and of the Kentucky Gamefowl Breeders Association (KYGBA) a $500 discount off the purchase of any new Toyota truck. Both the UGBA and the KYGBA are shadowy groups dedicated to the promotion of extreme, and often illegal, animal cruelty. The UGBA's "Victory Fund" pays lawyers across the country to contest animal fighting laws. In 2001, the KYGBA was exposed for holding illegal cockfighting derbies in which roosters outfitted with razor sharp spurs slashed and stabbed each other to death for the amusement of spectators. These derbies were fundraisers for the group.
What we can do..and please do it NOW:
1. Contact Toyota's headquarters in New York and ask the company to insist that its dealership in Nicholasville, KY end its disturbing partnership with cockfighting organizations. Animal fighting is an illegal activity in Kentucky and there is a federal law against transporting fighting birds to or from Kentucky! Let them know that the Nicholasville dealership's support of illegal and cruel animal fighting tarnishes the image of the otherwise reputable Toyota name.
Toyota Motor North America, Inc.
9 West 57th St., Suite 4900
New York, NY 10019
Ph: 800-331-4331
Fax: 212-759-7670
2. Call the Nicholasville Toyota Superstore to let them you do not approve of their association with cockfighting and the gamefowl breeder associations.
The Superstore can be reached at 859-887-4200
European Department Store Chain Drops Fur
Date: 3/19/2004
Harvey Nichols bans rabbit fur from stores
The department store Harvey Nichols banned fur from all of its UK outlets yesterday following protests from animal rights activists.
A national day of action against the retailer had been organised for today, with plans for demonstrations at its stores in Edinburgh, London, Manchester and Birmingham. But yesterday, it emerged the company has decided to stop selling rabbit fur, which is used in the lining of some coats, hats and gloves.
In a statement, Clive Morton, the company secretary of Harvey Nichols, said: "The board has today reviewed the company's fur policy and has decided going forward that we will no longer stock real fur items." However, Richard Gray, the company spokesman, insisted that the decision had not been taken as a result of protests, and was simply due to falling customer demand.
Yvonne Taylor, the spokeswoman for Advocates for Animals, which has now cancelled plans for today's demonstration, said: "The fur trade is trying to claim that fur is back, but in the past few months animal rights activists nationwide, co-ordinated by the Coalition to Abolish the Fur Trade, have persuaded many of the few high-street chains still selling fur to go fur-free.
"Most companies have refused to sell fur for years."
Harvey Nichols and other retailers, which stopped selling fur around ten years ago, have been accused of misleading the public over fur, by reintroducing items with fur linings.
The company insisted, however, that the rabbit fur used in its coats was "by-product rabbit" because the animal is killed for its meat, not its fur.
Frank O'Donnell Consumer Affairs Coorespondent
Source: BanFur
National Crime Prevention Conference Addresses Animal Abuse
For the first time, the annual National Youth Conference and International Forum
will address animal abuse as a component of the cycle of violence. Randall Lockwood, co-editor of "Cruelty to Animals and Interpersonal Violence" will be a featured speaker at the conference. IDA's Guardians for Life Education Program will be on hand to provide youth and professionals with action-based resources to take back to their communities. The conference, sponsored by the National Crime Prevention Council (NCPC), will be held February 14-17 in Arlington, Virginia. Designed for youth ages 12-22 and the adults who work with them, the four-day conference challenges all participants to be resources for violence prevention.
In Defense of Animals/IDA is a national member of the NCPC. Backed by evidence that links animal abuse to child abuse, domestic violence, school shootings, and even bullying, IDA is working with the NCPC and other violence-prevention networks to establish a precedent for addressing animal abuse at all violence-prevention events, workshops and conferences.
National Crime Prevention Council
No Felony Charges in Truck-Dragging of Dog
Published 11-7-03 (West Bend, Wis.)
A Wisconsin man has been arrested for allegedly tying his dog to the back of a truck and dragging the dog home after the animal ran away. A witness stopped the man when she saw the bleeding, vomiting dog resisting the dragging.
The dog, Buster, was seized and treated for injuries. Addison, Wis., resident Gary Klink, 42, was initially charged with felony animal cruelty. But later, at a court hearing on October 27, 2003, the judge reduced the charge to a misdemeanor, saying a felony charge would require the dog to be mutilated, disfigured or dead. The judge then returned Buster to the defendant!
Does this sound familiar? Click Here
Source: Animal Legal Defense Fund (ALDF)
HELP STOP CANINE PROFILING BY INSURANCE COMPANIES
Has your homeowners' or renters' insurance policy been canceled or denied simply because of the breed of dog that you own? More and more homeowners across the United States are finding they are faced with the hardship of choosing between keeping a beloved friendly dog and obtaining homeowners' insurance simply because their dog belongs to a breed the insurance company has deemed unacceptable. Previously we have asked you to contact the ASPCA to tell us your stories. Now we are asking you to contact the Insurance Commissioner of your state to let him/her know of the difficulties you have encountered. They need to hear the stories directly from consumers.
Click Here to send a letter directly to your Insurance Commissioner.
When composing your letter, please remember to include the following:

* The name of the company that denied coverage
* The approximate date of the denial or refusal to provide coverage
* The breed of dog you own
* The fact that canine profiling has not been proven effective in preventing dog bites
* That companies should look at the individual bite history of each dog when deciding whether to provide coverage.
* Companies should consider whether a dog is spayed or neutered; whether it is in a fenced yard and whether the owner keeps the dog tethered or chained all day long.
If this trend continues, more and more of these innocent family pets will end up as UNADOPTABLE animals at shelters and will have to be euthanized because no one will be able to obtain insurance. Insurers should practice sound underwriting practices and look to the "deed" of the dog rather than the "breed" of the dog.
Mindy, an eight- year -old spayed Rottweiler who is deaf, partially blind and arthritic, sits forlornly in her kennel at the local animal shelter facing the likely prospect of being put to death. Her human mom sobs as she completes the relinquishment papers. The reason given for leaving Mindy at the pound is, "Our homeowners insurance company told us we had to give up our dog or we would not be insured".
ASPCA/Mindy/Insurance
FOIE GRAS ISSUE MAKES HEADLINE NEWS:
In the past month, major U.S. media outlets (including Time Magazine, the New York Times and the San Francisco Chronicle) have run stories focusing on the issue of foie gras-- a supposed "gourmet" item that has long been decried by humane advocates as the product of terrible animal cruelty. Foie gras is produced by force feeding ducks and geese such huge amounts of food that their livers expand up to twelve times their normal size in just a three-week period.


Many birds die during the force-feeding period,
and those who survive are so heavy they have difficulty walking.
...
Sonoma City Council Asked to Take Stand Against Foie Gras
Citizens to Present Case to Ban Sale of "Gourmet Cruelty"
SONOMA, Calif.
Sonoma Saveurs- 487 1st Street West- Sonoma, CA
This restaurant has been the target of a spectrum of protest activity including a high profile campaign by Sonoma citizens to ban foie gras sales within the town's borders. Co-owner Guillermo Gonzalez who also owns and operates Sonoma Foie Gras, refuses to stop selling this gourmet cruelty even after being exposed by a year long INVESTIGATION and rescue of ducks from his farm which has gained national media attention.
On the heels of negative publicity resulting from the investigations at Sonoma Foie Gras that revealed tremendous animal suffering, Sonoma residents are asking the Sonoma City Council to ban the sale of foie gras.
Sonoma Foie Gras, one of only two foie gras facilities in the United States, was the subject of a number of recent investigations regarding animal welfare, as reported on ABC7, The LA Times, The San Francisco Chronicle, Time Magazine, and other stations and publications across the country.
APRL.org revealed ducks covered in vomit and blood, ducks experiencing anal hemorrhaging, ducks too weak to even lift their heads, piles of dead ducks, and ducks so weak they couldn't escape from the rats eating them alive. As a result, Sonoma Foie Gras is being sued in the Superior Court of California for violations of the state's animal cruelty laws.
Foie gras is a French term that means "fatty liver" and is, by definition, the abnormally enlarged, diseased liver of a duck or goose. It is made by confining ducks or geese for several weeks, thrusting a pipe down their throats two to three times per day, and pumping massive amounts of food into them. This massive overfeeding induces a disease known as hepatic lipidosis.
"Due to national media coverage of the inherent suffering involved in foie gras production, and to the unfortunate use of the town's name, Sonoma has become synonymous with animal cruelty," Susan Corso, the citizen presenting before the Council, said. "Sonoma has a unique opportunity to take a stand against cruelty not only in our community but also in our country. Banning the sale of foie gras would restore Sonoma's image as well as promote humane treatment of animals in our society."
At least twelve countries have outlawed the force-feeding of birds for foie gras because of its inherent cruelty. Most recently, this past August, the Israeli Supreme Court banned foie gras despite Israel being the fourth-largest foie gras producer in the world. In addition, a bill is pending in the state of New York that would specifically prohibit the force-feeding of ducks and geese to make foie gras. If passed, this bill would result in the closure of Hudson Valley Foie Gras in Upstate New York, the only other foie gras facility in the United States.
courier-journal.com
abclocal
Animal Protection and Rescue League.org/foiegraspage
UPDATE: Double Strike Against Cockfighting:
Strong anti-cockfighting legislation was signed into law in the past week in two different states. On Tuesday (6/24/03), Florida governor Jeb Bush signed into law HB 1911, a bill that makes it illegal not only to actively stage an animal fight, but also to breed, transport, sell or possess any animal for the purpose of animal fighting (see HUMANElines Issue 246). One day later, similar anti-cockfighting legislation was signed into law in Oregon. When Governor Ted Kulongoski signed HB 2086 into law on Wednesday (6/25), he made it a Class C felony to breed, possess, or sell fighting birds for the purpose of fighting.
Congratulations to hard-working activists across the country who worked behind the scenes to pass these important measures!
Source: HSUS
Seattle News Station Under Fire for Exposing Animal Suffering
Last October, KIRO-TV, the CBS affiliate in Seattle, aired an investigative report on the treatment of downed cows—animals so sick, injured, or lame that they cannot walk when they reach the slaughterhouse. The series showed shocking footage of downed cows being dragged and hoisted by their necks. As a result of the investigation, local animal industry groups have filed a complaint against KIRO with the Washington News Council. Please e-mail KIRO-TV representatives and thank them for airing the investigation.

United Airlines Drops Plans to Air Rodeo Cruelty
After being inundated with letters and phone calls from customers upset by its decision to air rodeo segments as part of its in-flight entertainment, United Airlines has announced that it will not air any future rodeo events. Please thank company officials for their ethical decision.
There's a New Pig in Town!
Serenity Springs Sanctuary


Pinto Bean needs a sponsor


Can you help?
I am recycling this article..it's good for every occasion..jj
Mindy's Memory Primate Sanctuary
"Hi Jody,
Wondering if you could help me promote the Christmas toy drive for the monkeys again this year?
Everything they collected last year is worn out, they could use some new entertainment.
Linda"
HELP MAKE THE SECOND ANNUAL CHRISTMAS MONKEY TOY DRIVE A SUCCESS!!
Wouldn't you like to help make a Monkeys Christmas dreams come true? Our goal is to collect at least one toy for every monkey, and one group toy for each enclosure. The toys do not have to be new, just in good condition. What many people do not realize is that monkeys can enjoy the same toys that human children do. All you have to do is make sure that the toy is sturdy or durable enough to be played with by a strong child. For example, Fisher Price or Playskool, busy boxes or riding toys make excellent choices for them. They cannot be something that can easily be taken apart. As you are putting away all of the backyard toys, if your child will have outgrown some of the toys by next summer, consider sending them to the monkeys. Keep this in mind as you are getting rid of the old toys to make room for the new Christmas toys. They also enjoy flat bed sheets, that will have plenty of knots tied in them. They like to drag them around and hide under them. When they peek out to see if anyone is watching, another monkey will quickly pounce on them and then the wrestling fun begins. Spray them with a little perfume and they enjoy it all the more. All of the monkeys love to play with pails and shovels, sometimes out of necessity dust pans and containers are substituted. They love to scoop up and fill the pails with mulch from the floors of their enclosures. If you would like to donate a toy as a gift for someone, please indicate this when the donation is made. A gift notification will be sent, letting that special someone know that you have made the donation in their name.
Just to give you an idea as to what monkeys play with, please visit: A Moment in Time where you will see photos of some of the monkeys enjoying themselves, with their toys.
Toys can be mailed to:
Mindy's Memory Primate Sanctuary
P.O. Box 134
Newcastle, OK 73065
mindysmem@aol.com
If you would like to help but have no used toys or don't wish to ship anything..you can send checks OR a gift card from Wal-Mart. If the Sanctuary gets enough money/gift cards, each monkey will have his or her own basketball...that's not asking a lot. jj
~
Jungle Friends
"Dear Jody,
We were not thrilled with the National Geographic show, if you did not get a chance to watch it, please try to see it, it will be airing again on Sunday, September 21st at 4 pm. And send in your comments!!
Here is the URL for the National Geographic website that will be posting comments. If you have already seen the show, please send your comments to National Geographic, below is what was on their website and who to write to: Readers who would like to comment on this story, especially those who own pet primates, are welcome to send the editor an e-mail. We will consider publishing a selection of letters that reflect different opinions.
Notice that they are asking specifically for comments from people who own pet primates!! We have pet monkey owners on our Jungle News list, who were also appalled by this show, unfortunately, I feel that the show does depict the majority (99.9999999%) of the primate "pet" owners attitudes toward these sentient beings. However, I do feel that National Geographic needs to hear from those who are caring for their pet primates in a proper manor and as natural as possible; NOT dressing them up, NOT diapering them, NOT parading them around in public, NOT mutilating them and allowing the monkeys in their care the feel of grass on their little feet, the sun on their face and fresh air to breath! Most of these people with pet monkeys will tell you that primate ownership is not a good idea and that they were not given the facts by the breeder, pet shop, website or where ever they bought their pet monkey. Most people who buy pet monkeys do not know that these babies were literally pulled off the backs of their natural mothers and had they known it, they would not have participated in such cruel thievery. If honest, most of the people who own pet monkeys will also tell you that if they had to do it all over again they would not have a pet monkey! National Geographic needs to hear that!!
And of course, most importantly, they need to hear from those of us who are caring for and are concerned for the cast offs from the pet trade! So, please send in your comments not only to monkeys@nationalgeographic, but to President, Timothy T. Kelly
If you would like to see some of the letters that have already been submitted to them, let me know, thank you for your help, as always!
Lots of monkey love,
Kari and the monks"
Kari Bagnall, Director
Jungle Friends Primate Sanctuary
kari@junglefriends.org
Jungle Friends.org
Jungle Friends
Many people remain undaunted by the risks of adopting primates in their homes. Viewed as status symbols or substitute children, monkeys are commonly sold for thousands of dollars through newspaper ads and the Internet. A quick Internet search reveals a thriving trade in just about every species of primate, from capuchins to chimpanzees. Prices range from U.S. $1,500 to $50,000. Even endangered species, like Diana monkeys, lemurs, and gibbons, are for sale.
The National Geographic special featuring Jungle Friends titled, "Living with Exotics: Primate Parents" will air on the National Geographic channel TONIGHT, September 16th at 8:00 PM Eastern time and again at 11:00 PM. It also airs on September 21st at 4:00 PM.
"We expect the program to be controversial, as it features the private sector as well as sanctuaries. Private owners and sanctuaries are, of course, usually at odds with each other. There are very extreme attitudes involved on both sides of this issue and emotions run high. Read Sharon's story My Precious Monkeys on our website under Jungle Voices. Sharon is featured in the special."
Click on the link below to go to the National Geographic Magazine online to learn about tonight's broadcast.
The Perils of Keeping Monkeys as Pets
Texas Puppy Cruelty Case
September 5, 2003
According to ABC News, two teenage boys in Houston, Texas, recently enclosed a six-month-old Doberman-German Shepherd puppy in a bag and savagely beat him. Then the youths fired a BB gun into the dazed and limp animal. The district attorney's office has filed misdemeanor charges even though aggravated cruelty to animals is now a felony in Texas. Ask the district attorney's office to upgrade the charges in this case to a felony instead of a misdemeanor.
Source: In Defense of Animals.org
Ask Miss New Hampshire Program to Stop Supporting Trapping for Animals
The Miss New Hampshire Scholarship Program touts itself as "New Hampshire's #1 Source of Scholarships for Women." However, the program also helps support the killing of innocent creatures for the fur coat that the winner of Miss New Hampshire receives.
Every year, the New Hampshire Trappers Association uses the Miss New Hampshire Scholarship Program as its own public relations forum. By accepting the donation of a fur coat for the winner, the Miss New Hampshire Scholarship Program allows the NH Trappers Association to use this legitimate scholarship program to promote its cruel agenda. Each year approximately 10 million animals are trapped in the wild so that they can be skinned for fur coats. The leghold trap is composed of two metal jawsthat slam shut on an animals paw when triggered. The initial impact of the steel jaws causes injury, but the majority of damage is caused as the animal struggles to break free. Within the first 30 minutes of capture, a trapped animal can tear her flesh, rip tendons, break bones, and even knock out teeth as she bites the trap to escape her agony.
Learn more about the Cruelty of Fur
FurKills.org
What we can do:
Tell the Miss New Hampshire Scholarship Program to stop supporting and promoting the killing of innocent creatures for the shallow benefit of a fur coat.
Suzanne Knox, Executive Director
Miss New Hampshire Scholarship Program
20 E. Broadway
Derry, NH 03038
sknox@attbi.com
Red Jellyfish Spotlight
Thanks for such a great 2003!
2003 is behind us now and we are very much looking forward to doing some great things in 2004. We accomplished a lot this past year, none of which would have been possible without you all! From helping an injured dog get the surgery he needed to saving millions of square feet of rainforest, you came through and made a difference. We are proud to have you onboard with Red Jellyfish.
To read a summary of our successes in 2003 you can
click here.
Thank you all again, from the bottom of our hearts.
The Red Jellyfish Team
RedJellyFish.com
~
Please Help Maggie
Maggie's Story 2004
Maggie is 24 years old and languishes at The Alaska Zoo in Anchorage. Maggie is the only solitary female African elephant in a North American zoo--a damning statistic that The Alaska Zoo is getting away with. At the tender and impressionable age of one, Maggie witnessed the killing of her entire family in a cull, only to be shipped overseas and condemned to life alone in a zoo to suffer under the lost memories of her mother, sisters, and aunts. To ensure psychological health, elephant experts worldwide agree that female elephants should live with the companionship of other female elephants. Maggie lives in solitary confinement--a prison sentence to which only the worst human criminals are subject.
Maggie's Story 2001 is the same in 2004 as it was in 2001.
RETIRE MAGGIE FROM ALASKA ZOO
Sign Petition
~
Educate Senator Hillary Rodham Clinton About the Cruelty of Fur
After several twists and turns, denials, and a cover-up, New York Senator Hillary Rodham Clinton's staff has now admitted that she has a new fur coat. Every year, millions of animals, including rabbits, minks, foxes, and raccoons, are trapped in the wild in barbaric steel-jaw leghold traps. Those who don't freeze or starve are usually beaten to death, jumped on to crush their ribs and lungs, or suffocated. Animals, particularly mothers desperate to reach their helpless young, have even been known to endure the pain of chewing off their own limbs in order to free themselves from traps. And fur farms are just as hideous. After months of fear and being confined to crowded, filthy cages, suffering extreme weather conditions and unbearable stress, the animals are forcibly removed from the cages and killed by suffocation, neck-breaking, or genital electrocution. Sometimes, these methods only stun "not kill" the animals, who end up being skinned alive.
What we can do:
Please write and call Senator Clinton to remind her (ever so politely, please) that she can stop violence in this country by never, ever buying or wearing fur. As a powerful politician, and as someone who gets considerable media exposure, it is crucial that Senator Clinton be made aware of the feelings of animal activists so that she can take more pro-animal stances in the future. Please contact her at:
The Honorable Hillary Rodham Clinton
United States Senate
476 Russell Senate Office Bldg.
Washington, DC 20510
202-224-4451
202-228-0282 (fax)
Web Form: clinton.senate.gov
~
BREAKING NEWS From PETA.org
3/01/04
Credit-card giant MasterCard has ended its highly controversial sponsorship of the Ringling Bros. and Barnum & Bailey Circus. The decision was made after PETA sent MasterCard's president and board of directors undercover video footage of standard circus-industry training practices, showing screaming, terrified elephants being viciously attacked with sharp metal bullhooks and electric prods during behind-the-scenes circus training sessions.
~
Elephant Facility is in Hohenwald
SANDRA ESTES, Hohenwald April 01, 2004
TO THE EDITOR:
I am writing in response to comments made by John Kirtland of Ringling Brothers Circus in a March 25 letter to the editor. He says that "there is no facility in, or program (for captive elephants) in North America that provides more enrichment and stimulation than Ringling Bros." Right here in Tennessee we have an excellent facility that absolutely provides more enrichment and stimulation than Ringling Bros. The Elephant Sanctuary in Hohenwald is recognized by many in the field as being the premiere facility for captive elephants in the United States, if not the world. As recently as November, the United States Department of Agriculture selected The Elephant Sanctuary as the new home for Delhi, a female Asian elephant confiscated from a company that leases elephants and other wild animals to circuses (not Ringling Bros.) for abuses of the Animal Welfare Act.
Source and Story
~
Elephant's Death Should Not be in Vain
Elliot M. Katz
Thursday, April 1, 2004
Few people have visited a zoo without being intrigued by elephants, their impressive size, their curious behaviors and the familiar intelligence in their eyes. But the conditions under which we hold elephants are killing them, as Calle's death last month at the San Francisco Zoo should remind us. Captured as a 1-year-old in India, Calle, an Asian elephant, spent more than three decades of her life in carnivals, circuses and zoos. In the wild, Calle, at 37, would have been in the prime of her life, a mother with perhaps two decades or more of life ahead of her. At the zoo, Calle was so riddled with degenerative joint disease and foot problems that she had difficulty even walking. For years, the zoo dosed her with painkillers and anti-inflammatory drugs. Treatments to remove dead and infected flesh from her feet, a result of chronic abscesses, left her virtually toeless. The infection had recently invaded her leg bone. On March 7, the zoo was forced to euthanize Calle.
Source and Story
~
Petition to Re-Introduce HR 2929
The Captive Elephant Accident Prevention Act of 1999
The USDA made history in November 2003 when it confiscated one circus elephant (Delhi) after it became clear that her life was in danger from abuse and neglect.
As of March 5, 2004, the well known Hawthorn Corp., who rents circus elephants and big cat acts, surrendered its herd of 16 elephants to the USDA to settle charges of multiple violations of the Animal Welfare Act.
This petition is to kindly urge Congressman Sam Farr and the other congressional sponsors of HR 2929 - The Captive Elephant Accident Prevention Act of 1999, to reintroduce the legislation (or similar legislation), to prohibit the use of elephants in circuses, traveling shows and rides.
United States citizens are fundamental to this petition but please show our congress your worldwide support as well. US registered voters and tax payers are also urged to contact your state representatives and senators and urge them to sponsor the legislation.
Sign The Petition
~
WALKER BROS. CIRCUS ADMITS GUILT
PAYS FINE TO SETTLE FEDERAL ELEPHANT-ABUSE CHARGES
Case Settled, Massive Fines Levied as PETA Prepares to Testify
For Immediate Release: April 14, 2004 Lulu, Tinkerbelle and Maybelle
Lulu, Tinkerbelle and Maybelle, the three remaining elephants at the San Francisco Zoo, could be getting a push from some members of the Board of Supervisors.
Thursday, the board-appointed San Francisco Commission on Animal Control and Welfare unanimously passed a resolution calling for the supervisors to take immediate action to transfer the three elephants to a sanctuary.
Supervisors Fiona Ma, Tom Ammiano and Matt Gonzalez have already expressed support for the move. "I think elephants should be moved to more a humane location," said Ma, who plans to sit down with zoo officials this week. "It has been an issue since the 2000 audit [of the zoo] and we'd like to see resolution to the plan ... hopefully we can resolve this."
Animal activists have been campaigning for the elephants' removal, arguing that it is inhumane to keep animals who usually walk up to 50 miles a day in a quarter-acre space. In March, a 37-year-old Asian elephant named Calle, who suffered from tuberculosis and chronic joint ailments, was euthanized.
Zoo spokesperson Nancy Chan said that in addition to the supervisors, the agency must also answer to the United States Department of Agriculture and follow the mandates outlined in the American Zoo and Aquarium Associations' Species Survival Program in any animal transfer or risk losing its accreditation.
Zoo officials have already tentatively agreed to transfer one of the elephants, Tinkerbelle, to a sanctuary. The zoo's new executive director, Manuel Mollinedo, has also expressed a commitment to keeping elephants in San Francisco for the educational benefit they provide the public.
Ma said she plans to meet with zoo officials before bringing the matter before the board.
By Sara Zaske
Staff Writer San Francisco Examiner
szaske@examiner.com
Published on Monday, April 12, 2004
~
Probe Ordered Into Elephants' Deaths
The National Parks, Wildlife and Plant Conservation Department has ordered an investigation into the deaths of two Thaiborn elephants that died after being sent to a zoo in China. "I am still not convinced by the initial report that suggests the elephants died because they could not adjust to a new environment," the department's directorgeneral Somchai Pienstaporn said yesterday. He said veterinarians had been dispatched to China to conduct autopsies on the elephants.
The two elephants, which died in February, were among eight pachyderms being flown to China for a show in a local zoo there. A report earlier hinted that the large mammals might have died of an overdose of tranquillisers given by unqualified people during a flight after they appeared upset and stressed out. Robert Mather, the representative of the World Wildlife Fund in Thailand, yesterday commented that elephants sent out of the country for shows never return. "I wonder what has happened to them and whether they are still alive or dead," he said. Mather called on the government to register elephants as a protected species – a move that would ban the transport of elephants out of the country.
Published April 15, 2004
© Nation Multimedia Group
44 Moo 10 Bang Na-Trat KM 4.5, Bang Na district, Bangkok 10260 Thailand
Tel 66-2-325-5555, 66-2-317-0420 and 66-2-316-5900
Fax 66-2-317-2071 Email: Nation Internet
~
US Fish and Wildlife Service Grant Benefits
Maasai Steppe
Environmental News Network
Berkeley,CA. USA 4/12/04
Conservationists now have more resources to study the elephants of the Maasai Steppe and protect their habitat, thanks to an $80,000 grant from the US Fish and Wildlife Service.
African Wildlife Foundation Headlines
~
The Animal Legal Defense Fund needs your help
When you hear about an animal abuse or neglect case in your state or community,
please contact the ANIMAL CRUELTY ACTIONLINE
and provide them with the information they need to encourage and assist the prosecutors who are handling those cases.
info@aldf.org
~
Tell USDA Not To Throw Labeling Overboard
The Issue: Labeling Seafood So Consumers Can Shop Safely
If you buy seafood, you want to be sure that what you're buying is as safe as possible for you and your family to eat. However, a new study has shown that fish raised in so-called "fish farms" -- commercial breeding pens where fish are raised on a diet of food pellets, antibiotics, and artificial coloring agents -- can contain up to ten times higher concentrations of toxic contaminants like PCBs, dioxins, and banned pesticides than do fish that are caught in the wild. Today, when people go to their local seafood counter, there is usually no way to tell if they are buying wild-caught or farmed fish.
Write to USDA and urge them to keep the labeling requirement!
Tell Me More
Source: OCEANA
~
LONELY DOLPHIN NEEDS HELP
Howard the dolphin is the sole survivor of four Atlantic bottlenose dolphins captured off the coast of Florida and shipped to the West Edmonton Shopping Mall in Canada 23 years ago. His three fellow captive tank mates—Maria, Mavis, and Gary—all died in the last three years, leaving Howard alone, mourning, and reportedly in declining health. While the Mall's general manager, Gary Hanson, promised last year to move Howard to another facility, that move has yet to happen. The Mall's officials have tried to explain the delayed departure by stating that Howard's health is too poor to allow him to survive a move. However, many people suspect another motive: profit. Howard's twice-daily performances—despite his "ill" health—bring in visitors to the mall. And being forced to partake in these performances continually, seven days a week, ensures that Howard's health will never significantly improve.
What We Can Do:
Write in to the West Edmonton Mall and the Canadian Association of Zoos and Aquariums (CAZA) to support sending Howard immediately to an appropriate facility with other dolphins. Ask them also to close down the Mall's dolphin facility permanently, as it is not an appropriate place to house dolphins.
1. Bruce Dougan
President of CAZA
FAX: (506) 853-3569
E-mail: bruce.dougan@moncton.org
2. Please cc your letters to the mall's owner, Don Ghermezian,
and to Gary Hansen, the mall's general manager: gm@westedmontonmall.com
And cc your letters also to : CAZA
~
Rodeo Cruelty T-Shirt
For $25.00, you can raise awareness of rodeo cruelty
by wearing SHARK's new anti-rodeo t-shirt.


100% Cotton Short Sleeve White Tee
Price: $20.00 Per Shirt
Shipping and Handling: $5.00
SHowing Animals Respect and Kindness:
SHARK is dedicated to ending the abuse and suffering of animals everywhere.
~
IMPORTANT CRUELTY CASE UNDER CONSIDERATION IN VIRGINIA:
Recently, Virginia farmer Jennings Shifflett was indicted on ten counts of animal cruelty, including one felony count. According to the Associated Press (3/18), the charges stem from an incident in which investigators found the dead bodies of 58 frozen, starved cows on Shifflett's farm. Other cows on the property were so malnourished and ill they had to be euthanized. Animal cruelty charges are nothing new for Shifflett; in 1999 and 2000, he was convicted of animal cruelty charges involving livestock, and in 2000 he was prohibited from keeping cattle for two years. If convicted, Shifflett may be the first person in Virginia to be successfully prosecuted under Virginia's felony animal cruelty law for the severe neglect of farmed animals.
WHAT WE CAN DO:
Contact Rockingham County District Attorney Marsha Garst and thank her for pursuing cruelty charges against Mr. Shifflett. Let her know that the felony animal cruelty charge is especially commendable, and that you look forward to its aggressive prosecution to address the senseless animal suffering.
Marsha Garst
Rockingham County Commonwealth Attorney
53 Court Sq Ste 210
Harrisonburg, VA 22801
Phone: 540-564-3350
Fax: 540-433-9161
Please also cc your letters to the judge who will be presiding over Shifflett's case:
The Honorable James V.Lane
Rockingham Circuit Court
Courthouse Court Square
Harrisonburg, VA 22801
Fax: 540- 564 -3127
~
VICTORY IN COLORADO!
Date: 1/29/2003
University of Colorado Health Sciences Shuts Down the Last of the Physiology Research Labs.
After several years of tireless campaigning by Last Chance for Animals, the Colorado University Health Sciences Center in Denver announced that it will shut down the remaining physiology labs that utilize live animals for training medical students. The tremendous success is attributed to all the phone calls, letters, and support you have provided LCA in this fight!
Each year, the University of Colorado used various animals during physiology labs for first-year medical students. For example, dogs were anesthetized, injected with various drugs to observe the effects, and then killed. The purpose was to let medical students observe the effects of heart and kidney drugs designed for use on humans. Most other medical schools have replaced animal labs with humane and more effective methods such as computer simulation and observation of human surgeries.
Last Chance for Animals (LCA), worked hand in hand with local Colorado based animal groups to halt this senseless suffering. Most recently, LCA sponsored an extensive media campaign to educate the local community about this senseless torture. This effort, in addition to many other public outreach campaigns, has effectively brought this inhumane practice to an end.
For more information about this and other campaigns, please visit LCA
~Please join me in sending an email of thanks and congratulations to
campaigns@lcanimal.org~
jj

~
ACTION NEEDED!
DIALERS NEEDED!
PLEASE GET INVOLVED!
This Is Animal Exploitation, Ridiculous, Cruel, Inhumane, Illegal &
A Giant Step Backwards!!
Subj: Champaign County Humane Society
Date: 2/3/2004
From: SharkIntl@aol.com
To: Jody@JodysJungle.com
The Champaign County Humane Society (CCHS) is located in Urbana, Illinois. Steve Notaro is the executive director of CCHS, and there is a ten member board of directors. In 2003, 5,486 animals came through CCHS' doors, and 2,908 animals were adopted out.
Unfortunately, according to a statement reportedly made by CCHS executive director Steve Notaro to SHARK investigator Susan Norris, some 700 to 800 animals, or over 25%, were released UNALTERED. There have been cases wherein animals adopted from CCHS have been purposely bred. This is not only a matter of bad management with regard to curtailing companion animal overpopulation - it also violates state law.
The Illinois Humane Care for Animals Act states, "a person wishing to adopt an animal prior to the surgical procedures having been performed shall have executed a written agreement promising to have such service performed, including microchipping within a specified period of time not to exceed 30 days." However, Ms. Norris has obtained a copy of a CCHS contract executed August 18, 2003, that states the adopter has until November 30, 2003--over 3 months--to sterilize their new feline. The CCHS contract is inconsistent with state law.
Additionally, investigator Susan Norris found out that CCHS is not conducting proper follow-ups to make sure adopters abide by their contract and spay or neuter their new, unaltered dog or cat. Five clinics in the area were asked about inquiries from the shelter, and all five clinics said they have not and do not receive calls from the Champaign County Humane Society to verify sterilization.
CCHS' adoptions of unaltered animals occur with the University of Illinois' Veterinary Medical Hospital in their backyard. By working with the vet. hospital, not only would CCHS be able to cut expenses and prevent unwanted litters, but CCHS could provide invaluable experience to veterinary students.
Most upsetting of all is the fact that CCHS had unrestricted revenue of $974,637 [FYE June 30, 2002] but expenditures of only $860,836. With the extra money, CCHS could easily have fixed every animal! With so many cats and dogs being euthanized every day all over this country, this is an intolerable situation.
Please contact CCHS and ask for an explanation as to why they are not neutering their cats and dogs when there are millions being put to death in America's shelters, and please demand they make immediate and positive change.
Champaign County Humane Society
1911 East Main Street
Urbana, IL 61801
Phone: 217-344-7297 or 217-344-9314
Fax: 217-344-7299
WEBSITE@CUHUMANE.ORG
Board of Directors Officers:
Kristin Jenkins .................... President - (217) 337-0045
Garry Herzog ...................... Vice President - (217) 352-2232
Chuck Feinen ..................... Secretary - (217) 356-2086
Board Members:
Camille DeClementi - (217) 337-5030
Tamara Reid - (217) 363-4190
Jennifer Goldenbaum
Gloria Sax - (217) 352-3631
Carole Lindholm - (217) 398-3399
John Sturmanis - (217) 352-7952
Jim Niedelman - (217) 351-8538
Executive Staff:
Stephen Notaro ........... Executive Director - steve@cuhumane.org
Ann Strohmeyer ........... Marketing Director
Michelle McKnight ......... Shelter Manager
Julie Keith .............. Volunteer Coordinator
Debra Shirley, DVM .............. Veterinarian
For the Animals,
Jodie Wiederkehr SHARK
~
Look for the Humane Label
...when you are buying eggs in the Pacific Northwest. Tobin Farm of Walla Walla, WA, has recently become certified by Humane Farm Animal Care HFAC to use the "Certified Humane Raised and Handled" label for its pasture-ranged eggs. The label is a guarantee to consumers that Tobin Farm's chickens receive a nutritious diet without antibiotics or hormones, and are raised with shelter, resting areas and space sufficient to support natural behaviors.
At Tobin Farm, hens live outdoors on fresh pasture, with access to portable shelters that are moved weekly. "This system assures that the birds have adequate exercise, fresh air and sunshine, and that their eggs have all the nutrients they should have," says owner Leonard Tobin.
Compassionate consumers, you can find the company's eggs packaged under the Our Hens' Gems brand at various retail stores throughout the Northwest, including Andy's Market, Red Apple Markets and Local Harvest Natural Foods. For more information, and a complete list of companies that have qualified to use the "Certified Humane Raised and Handled" label, please visit HFAC online.
For more information, please visit: aspca.org
~
Circus Elephants To Parade
March 22, 2004
WASHINGTON
The Ringling Brothers and Barnum & Bailey Circus is coming to town, and the stars of the show arrive today by circus train to Union Station. Officials said they expect to unload the animals around 2 p.m., and then the'll take a leisurely stroll to the MCI Center, one of the three local venues that will host the circus over the next three weeks. The "Greatest Show on Earth" will be at MCI from March 25 through March 28. Then it moves to the Patriot Center at George Mason University in northern Virginia from March 31 to April 4. It returns to the District for shows at the D.C. National Guard Armory from April 6 through April 12, 2004
~
Stop Easter Cruelties: Animals Are Not Toys
The Easter holiday is fast approaching, and we want again to remind people not to give in to the hype of the day and purchase baby rabbits, ducklings, or chicks as gifts. The Humane Society of the United States is offering an informational flyer on this topic: "Stop Easter Cruelties: Animals Are Not Toys". To find out about ordering these flyers please contact the HSUS at 202-955-3665.
To receive directly, call 202-955-3668 or email humanelines@hsus.org
For more information on legislation, how to find your legislators, or past HUMANElines
go to HSUS.org or WWW.FUND.org
~
UPDATE: SHERIFF SHUTS DOWN HOG-DOG CRUELTY SHOW!
The Mobile Register (2/22/04) has reported that on Saturday (2/21), sheriff's deputies in Clarke County, Alabama shut down a 'hog-dog' rodeo in the county and arrested its promoter, Johnny Hayes, for animal cruelty. The hog dog events have been the focus of nationwide public outrage after an NBC affiliate in Mobile released undercover footage which shows pigs screaming as trained dogs maul the trapped animals in front of cheering spectators. The NBC affiliate reports that they have received more calls and e-mails about their hog dog investigation than they have for any other story in the last ten years.
Thank you for your calls and letters, and stay tuned for more updates on this case.
HELP STOP ALABAMA'S "HOG-DOG" RODEOS
HOG VS DOG
A recent undercover investigation by Alabama news station WPMI-NBC revealed the horrors of Alabama's "hog-dog rodeos"—public entertainment events where trained attack dogs are set upon penned pigs. Videotape of one of these events shows "torture and bloodshed" as screaming pigs are mauled by the dogs. Another shot shows children tackling a pig with a snout taped shut and an apparently broken leg. One spectator justified the event, "They got a lot of young people around in this part of the country that don't have much to do around here and that gives them an outlet." However, much like dogfighting and other organized animal fighting events, hog-dog rodeos cause barbaric cruelty and encourage violence in the community.
What We Can Do:
Clark County District Attorney Robert Keahy has indicated that he is inclined to prosecute hog-dog rodeo organizers for violations of Alabama's animal protection law. Contact him and encourage him to fully prosecute anyone who stages hog-dog rodeos in his county.
Clarke County District Attorney Robert ("Bobby") D. Keahey
P.O. Box 850
County Courthouse
Grove Hill, AL 36451-0548
Phone: 251-275-3144
Fax: 251-275-3145
Read and view WPMI's investigative story online.
Humane Society calls for halt to hog dog rodeos. WJTC
~
ELEPHANTS..BALTIMORE..DOLLY & ANNA
Baltimore Zoo Reaches $1 Million Fund-Raising Goal
Elephants Previously At Risk Of Departure Likely To Stay
February 24, 2004
BALTIMORE
Elephants Dolly and Anna are one step closer to staying in the Baltimore Zoo. The Zoo announced Tuesday that it has reached its $1 million donation goal through gifts from businesses, schools selling candy and private donations. "I think that they [the elephants] enjoy the extra attention and it's going to be a beautiful weekend this weekend so everybody should come out and see them because they'll be outside," Baltimore Zoo president Billie Grieb said.
Grieb said the donations mean the elephants, which were at risk of leaving due to the budget deficit, will almost definitely stay at the zoo. But she won't commit to an answer until after the legislative session.
Source and Story
~
The African Barn at The Elephant Sanctuary is finished and occupied.
Tange (Tan Gee as in Gee Whiz!) & Zula Are Home
Tange & Zula
are the first African elephants to live at the Sanctuary.
Flora
the third African elephant
arrived in March, 2004
The African Elephant Diary has begun
2/10/04
Love Elephants?
Want To Help Them Live Free?
The Elephant Sanctuary (TES) in Hohenwald, Tennessee
has launched their
eBay auctions.
You can bid or donate.
~
2/12/2004
Last night, SHARK President, Steve Hindi and a SHARK volunteer were planning on driving down to Urbana, Illinois to attend the Champaign County Humane Society's monthly board meeting, but found out that it had been canceled due to inadequate meeting space. I spoke with a CCHS board member today, who also works for the ASPCA/National Animal Poison Control Center, where the board holds its monthly meetings. She explained to me that the meeting was canceled,
(

)
because if there were many people coming,
it may disrupt the staff of the poison control center.
However, we do need to keep the pressure on to force the board and shelter to make the overdue changes necessary to be a responsible animal shelter.
Please call, e-mail, fax and write CCHS and ask them to face these issues by not allowing animals to be adopted out before they are neutered.
Champaign County Humane Society
1911 East Main Street
Urbana, IL 61801
Phone: 217-344-7297 (PAWS) or 217-344-9314
Fax: 217-344-7299
website@cuhumane.org
Please, also contact the Illinois Department of Agriculture, and urge them to enforce the law.
Carroll Imig, Bureau Chief
Bureau of Animal Welfare
Illinois Department of Agriculture
Bureau of Animal Health
State Fairgrounds
PO Box 19281
Springfield, IL 62794-9281
Toll-free in IL: 1-800-273-4763
Phone: 217-782-4944
Fax: 217-558-6033
cimig@agr.state.il.us
For the Animals,
Jodie Wiederkehr
SHARK
~
LETTERS NEEDED!
Deplorable Animal Cruelty
Urge Judge to REJECT Plea
On Tuesday, March 2, 2004, Robert Lamano will be sentenced for what a Salem County animal cruelty investigator called "one of the worse cases of animal cruelty [he had] ever seen." Mr. Lamano pleaded guilty to animal cruelty earlier this year after his dog Reno was found near death with almost an entire roll of electrical tape wrapped around his muzzle-- unable to eat, drink or bark for help. Reno was also emaciated, with severe flesh decay and maggot infestation on his muzzle and face. His condition was so terrible that animal control officers were forced to euthanize him. Although Mr. Lamano most recently argued that he taped his dog's mouth shut to give him a bath, investigators find this a meaningless and implausible excuse considering the severity of the dog's condition. There is also no indication that Mr. Lamano made any effort to find his dog who was missing, and suffering, for reportedly three weeks.
WHAT WE CAN DO:
The Salem County District Attorney has reportedly offered Mr. Lamano a plea bargain of probation, community service and a small fine in exchange for his guilty plea. Please contact the Judge who will be presiding over the sentencing hearing and ask him to reject the plea agreement. Urge him to sentence Lamano to significant jail time and mandatory psychological counseling, and to order the immediate seizure of any animals currently under Mr. Lamano's "care." Please remember that polite and professional letters will be most effective.
The Honorable William L. Forester
State Superior Court
Salem County Courthouse
92 Market Street
Salem, NJ 08079
FAX 856-935-9238
~
Baby Sea Turtles & Seals Need Our Help
Date: 2/5/2004
Protest Drilling in Endangered Sea Turtle Habitat
Sign Petition
President Bush has just approved extensive gas drilling in the main U.S. nesting beach for the most endangered sea turtle in the world. If threatening the lives of the planet's remaining 3,000 to 5,000 adult Kemp's ridley turtles will affect how you feel about the President when you vote this year, please sign this petition to let him know.
The National Park Service just approved the drilling without formally consulting with the U.S. Fish and Wildlife Service, as required by the Endangered Species Act.
The drilling trucks could crush nests or pack down the sand so that hatchlings are unable to emerge from nests. Even the vibrations from rumbling trucks can increase the likelihood of embryonic damage or mortality, according to the species' official "Sea Turtle Recovery Plan."
The park offers the longest undeveloped barrier beach in the world. Park Service approval for a third drilling permit is likely soon, despite the use of the island by the Kemp's ridley sea turtle every spring for nesting.
Send a letter to President Bush, telling him that his inability to protect such endangered creatures in need will affect your vote this year.
~
Stop the Baby Seal Hunt!
Sign Petition
This year, by late March, the seal hunters armed with clubs and rifles will go again to the nursery floes of the harp and hood seal, to kill them while they are too young to escape into the water.
42% of the helpless creatures (most under 3 months old) are believed to be skinned alive, according to International Fund for Animal Welfare. In 2003 alone, 350,000 seals were killed in this brutal manner. They will kill 700,000 more over the next two years.
Please sign this petition and send it to everyone who cares for the animals in the world to stop this extremely cruel slaughter of innocent seals in Canada.
Source: ecoalerts@care2.com
~
PEACEABLE KINGDOM
a new documentary from Tribe of Heart, makers of The Witness
At a time when the public is more concerned than ever about the health and environmental problems associated with large-scale factory farming, Peaceable Kingdom explores another angle of this unfolding story: the interconnected life journeys of farm animals, former farmers, and animal rescuers struggling against the excesses of an out of control industrial system. Breaking generations of silence in the farm community, Peaceable Kingdom weaves together themes of respect, forgiveness, commitment, and healing, offering a vision of a more peaceful world that is well within our reach.
To learn more about this documentary, which was filmed at Farm Sanctuary and features the stories of three former farmers as well as Farm Sanctuary founders Gene and Lorri Bauston, visit the filmmaker's web site at Tribe of Heart

2004 Peaceable Kingdom Tour
Tribe of Heart is organizing several exciting events to launch Peaceable Kingdom. We encourage Farm Sanctuary members to bring friends, family and co-workers to these events, which will be attended by the filmmakers as well as Gene, Lorri and other subjects of the film.

World Premiére
Click Here to Register

New York ~ February 28 ~ 7:00 p.m.
Alice Tully Hall, Lincoln Center, Broadway at 65th St.
TICKET STRUCTURE:
$15 Screening with Discussion only
$25 includes reception with light refreshments, cash bar (limited availability - reserve early!)
$100 includes premium seats, reception, 2 drinks (Limited availability - reserve early!)

Los Angeles ~ March 19 ~ 6:00 p.m.
Screening with Discussion and Reception ~
Writer's Guild Theater
135 S. Doheny Dr. Beverly Hills, CA
$15 per person, includes reception at 6 p.m., showing at 7 p.m.
$10 per ticket when purchased in groups of 5 or more ($50). Premium Seating $75.00
(Limited availability).

Chicago ~ April 4 ~ 12:00 p.m.
Screening with Discussion ~
Northwestern University
Thorne Hall Auditorium
Held in conjunction with Farm Sanctuary's Farm Animal Forum.
You may opt to attend the screening only (complimentary showing).
~
HyperActivism: The Phenomenon of Doing Without Achieving (Reprint from 1996)
"For some time, the animal rights movement has been trapped in the nightmare in which you run as hard as possible but can't seem to move forward. For all its growing resources and considerable energy, the movement is barely scratching the surface of animal suffering and misery. How can so many activists with so many resources achieve so little? ... Failure to assess priorities and undue emphasis on lesser problems can also muddy the real issues."
Source:
Satya Magazine is a monthly publication focusing on vegetarianism, environmentalism, animal advocacy, and social justice. In Sanskrit, "satya" means "truth," and formed the basis of Mohandas Gandhi's Satyagraha or "truth action" movement for Indian self-sufficiency. Satya Magazine is committed to continuing Gandhi's legacy by increasing dialogue among activists from diverse backgrounds and engaging readers in ways to integrate compassion into their daily lives.
~
Trapper Investigated in Eagle Death
2/26/2004
"The following article makes a good case for banning leghold traps not only in the state of Utah, but everywhere else that these barbaric devices are legal. If you live in UTAH, contact your state senator and representatives and ask that they introduce a bill banning trapping, or at the very least one banning leghold traps. You can find your legislators here"
February 26, 2004
Trapper investigated in eagle death
A southern Utah trapper employed by the federal government is being investigated for allegedly trapping and killing a golden eagle in the Henry Mountains last October. Phillip A. Taylor, of Bicknell, is still employed part-time by Wildlife Services, a federal predator control agency under the U.S. Department of Agriculture, but he faces possible disciplinary action once his case is tried, according to Mike Bodenchuk, director of Wildlife Services in Utah. Taylor has not been charged with any crime, but the case has been presented to the U.S. Attorney's Office for possible violations of both the Bald and Golden Eagle Protection Acts and the Migratory Bird Treaty Act. Utah Division of Wildlife Resources (DWR) officials executed a search warrant at Taylor's home in December.
Story: The Salt Lake Tribune
~
Willful Disregard
The HSUS and other animal welfare groups had for years warned that the U.S. Department of Agriculture (USDA) was playing Russian roulette with the nation's meat supply by allowing downer animals—cattle too sick or injured to stand or walk—to be killed and processed for human food.
(Most downers are spent dairy cattle, like the Holstein in Washington that tested positive for Bovine Spongiform Encephalopathy (BSE). The USDA estimates that about 200,000 downers are shipped to slaughter each year. Because they can't walk into a slaughterhouse, the cattle are dragged with chains or pushed with bulldozers or forklifts—one of the worst cruelties perpetrated against farmed animals— to get them to the kill floor.)
And for years, the feds sided with cattlemen, who were willing to risk consumer confidence and a billion-dollar export market for a little chump change. Perhaps now, post-BSE, (Bovine Spongiform Encephalopathy) all sides will note that taking care of animals can mean
taking care of business.
~
Born Free Foundation



Ele Friends
~
Americans Declare Independence from Hazardous Chemicals
Dear Jody,
Congratulations! You have helped us reach our goal of over 10,000 signatures on the U.S. Declaration of Independence from Hazardous Chemicals. WWF has been working with environmental, health, and trade groups from around the country over the last few weeks to gather support for this declaration and we appreciate your help. On the eve of the Fourth of July holiday, over 10,000 Americans have proclaimed their right to be free from hazardous chemicals that threaten wildlife and people around the world.
Again, thanks for your participation.
Sincerely,
Tina Skaar
World Wildlife Fund
Toxics Program Subj: HR 857 Petition
Date: 6/29/2003
To: Jody@JodysJungle.com
We are writing you to support HR 857, a bill introduced in congress that will essentially forbid horse slaughter and more importantly, transportation of horses for the purpose of slaughter in the United States. Equine Friends has set up a petition that will be sent to the US Congress. You can register your name, email, and make a comment on how you feel about the issue. We will be shipping off the information, sorted by state, to members of Congress. We also have links so that you can voice your message directly to your member of congress. This is a unique moment in history. The Anti-Slaughter movement finally has the momentum. Lets win this one for the horses!
For people interested in equine rescue efforts.
RescueNetwork.com
~
DO YOU KNOW YOUR STATE'S ANIMAL WELFARE LAWS?
Keeping informed just became easier, thanks to the ASPCA's new online outlines of animal welfare laws in all 50 states. Perfect as handy reference guides, these wallet-sized printouts are available in PDF to download at
ASPCA
ANIMAL PROTECTION SOCIETIES
World Animal Net
is the world's largest network of animal protection societies with over 2,000 affiliates in more than 100 countries working to improve the status and welfare of animals.
~
Massive Cruelty in the Southeast
CYPRESS FOODS, INC. is one of the nation's largest egg producers. When it filed for bankruptcy protection earlier this year, more than one million hens at its facilities in Georgia and Florida had their food cut off. Hens trapped at nine facilities in Georgia were so diseased and emaciated by the time they were discovered that agriculture officials deemed nearly 800,000 of them "unsalvageable." In Florida, 30,000 hens reportedly died of starvation and 170,000 more were gassed and buried by state officials. One rescuer described the scene as "a nightmare," and the Tampa Tribune (03/09/02) described it as "gruesome and appalling." The Tribune further states: "Florida has strict laws against inflicting cruelty on animals, either purposely or through neglect. It does not matter whether animals are pets or used to produce food. Under the law, all must be protected from such cruel treatment. Clearly, this is a case of miserable failure and neglect that requires the prosecution of those deemed responsible." The Pasco County Sheriff's office is currently investigating possible animal cruelty charges in Florida (no word yet on a similar investigation in Georgia).
WHAT YOU CAN DO:
Write to the Pasco County State Attorney and tell him you want Cypress Foods and all responsible parties investigated for animal cruelty and prosecuted accordingly. Remind him that Florida law makes it illegal for an "owner" (which includes corporations) to deprive animals of sufficient food, and that, as stated by the Tampa Tribune, "financial difficulty offers no excuse to starve animals."
Write to:
State Attorney Bernie McCabe
14250 14th St. North, Room 1000
Clearwater, FL 33762
You can also call the State Attorney's office (ph: 727/ 464-6221) and leave a message for Mr. McCabe,
asking him to make sure Cypress Foods is investigated for animal cruelty.
Source:
HUMANElines
A project of The Humane Society of the United States
and The Fund for Animals (202) 955-3666
~
Australia blasts Japan, Norway on whale meat trade
March 8, 2002
SYDNEY - Australia condemned Japan and Norway yesterday over plans to resume trading in whale meat after an 11-year hiatus, saying it was a step towards the resumption of the commercial hunting of whales. Australia has long campaigned for an end to Japan's scientific whaling and for the creation of a South Pacific whale sanctuary to link up with similar sanctuaries in the Indian and Southern Oceans, effectively ending whaling around the Antarctic.
Source & Story
Planet Ark's Reuters World Environment News.
~
Whale away at Talbots
3/7/2002
Tell Talbots to use its influence to stop the sale of whale meat by their majority shareholder. Tell Talbots that if supermarkets in Japan cease to provide the market for whale meat, then senseless whale hunts will cease to exist. Only then will the world's great whales be protected, rather than consumed as an unnecessary delicacy.
Take Action @ Greenpeace
Help Save Chilean Sea Bass and Endangered Sea Birds
3/7/2002
We need your help to convince Trader Joe's and Giant grocery stores to stop carrying Chilean sea bass. Also known as the Patagonian toothfish, the Chilean sea bass is one of the most heavily overfished species in the world and some populations are expected to soon become commercially extinct. Sadly, in addition to wiping out toothfish populations, fishermen hook and drown hundreds of thousands of endangered seabirds as the birds dive for the toothfish bait.
Take Action @ Greenpeace
~
California Black Bears, Red Foxes & Hunters
California Animal Action Alert
Date: 3/5/2002
The California Department of Fish & Game has proposed a rule change to permit the hunting and trapping of the red fox ALL YEAR with NO LIMIT! At the urging of the California Trappers Association, the California Department of Fish and Game (DFG) has proposed adding the red fox to the list of legally trapped and hunted furbearers in California. This only justification provided for this proposal is to offer "additional recreational hunting opportunities" for hunters and a minority of commercial trappers. Without biological or ethical justification, the DFG is proposing to allow hunters and trappers to kill an unlimited number of red foxes for their fur, throughout the entire year.
What's more, the California Department of Fish and Game has also proposed an increase in the statewide black bear hunting tag quota from 1,500 to 1,700 bears. The sole justification provided for this increase is likewise to provide "additional recreational hunting opportunities" for bear hunters in the state.
Please help stop these proposals by writing to the California Fish and Game Commissioners and urging them to reject increases in the number of red foxes (Vulpes vulpes regalis) and black bears that can be hunted.
Tell them that the proposals fly in the face of public sentiment.
Less than 1% of Californians hunt.
On the whole, Californians want to see less hunting, not more.
(Comments were due by April 5, 2002)
Address your letters to:
Commissioner Michael Flores, President
Commissioner Mike Chrisman, Vice President
Commissioner Sam Schuchat, Member
Commissioner Jim Kellogg, Member
California Fish and Game Commission
1416 Ninth Street
Sacramento, CA 95814
Phone: 916-653-4899
Fax: 916-653-5040
Email: fgc@dfg.ca.gov
Source: Animal Protection Institute
Email:info@api4animals.org
Web Site:API
~
A REALLY BAD IDEA
Vixens Could Control Fox Population
Monday 4th March 2002
Experts may put female foxes permanently on heat to control their numbers in an Australian state. The animals, dubbed the "red-hot mommas", would attract every male fox for miles around and disrupt the mating season. The vixens would have their ovaries removed and be given an oestrogen implant to ensure they're permanently in season. They won't be able to reproduce, but will be fitted with a tracking collar so they can be monitored. The Mercury reports it is one of a number of proposals which will be discussed at a fox control conference in Tasmania this week. Melbourne obstetrician Roger Short, who came up with the idea, said: "We could create red-hot mommas that would pull in every male fox for miles around and actively seek out males. "We might be able to abort the mating season because all the males would be otherwise engaged." Victoria's Institute of Animal Science vertebrate pest research head, Clive Marks, who has collaborated with Professor Short in the past, says foxes "could be the environmental disaster of this century".
~
Promoting the Wrong Circus
HADASSAH
The Women's Zionist Association of America, has partnered with RINGLING BROTHERS BARNUM & BAILEY CIRCUS to help fund the organization's medical research for children. In promoting appearances by the circus, Hadassah announced that a percentage of the ticket receipts would go to research. The abuses medical research continues to inflict on animals are horrible enough without adding the cruelties of the circus to FINANCE them.
Animals used in circuses suffer terribly. While being transported from one performance to another, elephants stand in their own waste, chained in one place for up to 100 hours. Large cats, such as lions and tigers, live and travel in small cages with little or no room to move around. Circus animals are never allowed to exercise nor are they provided with any environmental enrichment. To break her spirit, an elephant may be tied down and beaten for DAYS at a time while being trained to "perform" her humiliating tricks for public entertainment. While being trained, circus tigers are often whipped, choked, and beaten.
You can help. Tell Hadassah to stop sponsoring "the cruelest show on earth" and instead promote circuses that do not USE or ABUSE animals.
Contact:
Hadassah
The Women's Zionist Organization of America, Inc.
50 West 58 Street
New York, NY 10019
PHONE: 212-355-7900
EMAIL: memberinfo@hadassah.org
Source: Animal Protection Institute (API)
For further information on the cruelty of circuses, see API's
Circus Campaign
Animals in Captivity/Circuses
~
SIRIUS
World Trade Center Police Dog
Memorial Service Held for Police Dog
April 27, 2002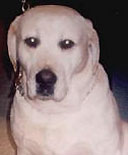 Scores of K-9 dogs and their police handlers paid tribute on Wednesday to Sirius, the only police dog to die in the September 11th terrorist attacks. Police officers from around the country and their canine partners filed by a wooden urn and a medal dedicated to Sirius during a ceremony that featured bagpipes and a 21-gun salute.
NEW YORK CITY
Port Authority Police Officer David Lim was in the basement below the World Trade Center when the first explosion hit Tower One. Officer Lim put his 4-year-old Yellow Lab partner "Sirius" into his crate and raced upstairs to investigate. His last words to Sirius were: "You stay there. I'll be back for you." Neither David nor anyone in the world could have expected both towers to collapse on September 11, 2001, claiming thousands of human lives and one dog's. Sirius became the one canine casualty of the WTC terrorist attack.
WTC Police Dog Remembered
Port Authority Police Memorial
~
UPDATE: Olympic Rodeo
For Immediate Release: February 4, 2002
Complaint for Sanctions Filed Against Olympic Committees
Charging violations of the Olympic Charter, People for the Ethical Treatment of Animals (PETA) today filed a complaint with the International Olympic Committee (IOC) requesting sanctions against the Salt Lake Organizing Committee (SLOC) and the United States Olympic Committee (USOC). PETA contends that the scheduled Olympic rodeo is cruel to animals and that, by staging it, the SLOC and the USOC have violated the Olympic Charter's requirements for ethics, fair play, and nonviolence. PETA has asked IOC President Jacques Rogge to exercise his authority to immediately withdraw recognition of the two U.S. Olympic organizations until they comply with the mandates of the Charter.
Click to view a copy of PETA's complaint
Source: The Animal Spirit
Olympics-Organisers step into "hornets' nest" over rodeo.
SALT LAKE CITY, Feb 2 (Reuters)
To give visitors to the Winter Olympics a taste of the Wild West it seemed a good idea to organise a rodeo in Salt Lake City. But for Mitt Romney, the head of Salt Lake's organising committee (SLOC), it was the biggest mistake he has made.
Story
Source: Reuters Limited
More Rodeo
Horses@JodysJungle.
Stop Olympic Rodeo.org
The rodeo causes innumerable sentient beings to feel intense pain and anger, and brings death to many. These beings, having the ability to feel pain just like us, are tortured for pure amusement.
Sign A PETITION To Stop The Rodeo
Oppose the incorporation of a rodeo into the Cultural Olympiad of the Salt Lake City 2002 Winter Olympic Games
Write LETTERS To Stop The Rodeo
We are asking people around the world to write letters to the corporations who have influence on the 2002 Olympic Winter Games, and who thereby could stop the Olympic Rodeo before it begins.
~
JEEP is listening
Source: jackie@deepteaching.com
JEEP may have pulled their animal-friendly "Deer Hunter" commercial, but they are listening to you and want to hear your comments! Call 1-800-925-JEEP and tell them that you are in support of their ad!
HUNTERS THREATENED
Due to pressure from the hunter community, JEEP has pulled their animal-friendly ad "Deer Hunter." In the commercial, a man drives a Jeep through a wooded site with two deer tied on top of the vehicle. As the Jeep drives by, hunters are shown in the woods, in close proximity to each other and the road, admiring the man's deer. The driver of the Jeep then drives to a location that shows a "No Hunting" sign. The Jeep stops, the man gets out and releases the deer that appeared to be dead. The driver tells the deer they are safe and the deer bound away. In the background, other Jeep owners are shown doing the same thing.
"This is concrete proof that the sportsman's voice should not be taken lightly," said Rick Story, vice president of the U.S. Sportsmen's Alliance. "When the voices of the millions of sportsmen in this country all speak as one, a great deal can be accomplished."
If you care to, you can read the US Sportmen's Alliance press release.
And, if you care to, you can contact DaimlerChrysler and give your opinion
...these are the same people that glorified bullfighting in an earlier commercial, which I believe, may have been taken off the air due to complaints from anti-cruelty groups and individuals.
Aside to DaimlerChrysler, why not just tell your potential customers why they should buy your product and leave the animals out of it. I would hope the vehicle would be able to stand on it's on merits.
CONTACT:
DaimlerChrysler
Outside Suggestions Office
CIMS: 483-01-07
800 Chrysler Dr. E.
Auburn Hills, MI 48326-2757
Customer Center (ph): 1-800-992-1997
FAX: 248-512-1760
~
NOAH'S OTHER ARK
The Lord spoke to Noah and said, "I'm very angry with the way things are going on earth, this is not what I had in mind! I have decided to destroy it and start over! In 6 months I'm going to make it rain until the whole earth is covered with water, just like before, and all the evil is destroyed. But rather than start from scratch, I'm still considering saving the few good people, and two of every kind of living thing on the planet. So I'm ordering you to build an Ark for this purpose. And with a flash of lightning, He delivered the specs for an Ark. "Yes Lord!" said Noah, trembling in fear and fumbling with the blueprints. "Don't forget!" thundered God's voice, "In 6 months it starts to rain! You'd better have that Ark built or learn to tread water."
Six months passed. The skies began to cloud up and rain began to fall. The Lord saw that "Noah" was just sitting out in his yard in the rain weeping. There was no sign of an Ark. "Noah!" shouted the Lord through the thunder and lightning, "Where is my Ark?!"
A sobbing Noah answered, "Lord please forgive me! I did my best, but there were BIG problems.
First I had to get a Building Permit for the Ark, and your plans didn't meet code.
So I had to hire an engineer to redraw the plans. You know how that goes.
Then there was a huge upset about whether or not the Ark needed a fire sprinkler system. My neighbors objected, claiming I was violating zoning by building an Ark in my front yard, so I had to get a variance from the city council!
Then I couldn't get enough wood for the Ark because some earth-sanctifying organizations have instigated a ban on cutting trees in order to save the spotted numbat.
I had to convince the Department of Conservation and Land Management that I needed the wood so I could save the numbats, it was the only way out.
But then they wouldn't let me catch any numbats! So, no numbats.
Then the carpenters formed a union and went out on strike. I had to negotiate a settlement with the Industrial Relations Commission before anyone would pick up a saw or hammer. Now we have 16 carpenters going on the boat, but how am I to pay them? And still no numbats.
When I realized the building of the Ark was stalled, I thought I could at least start gathering up pairs of animals, but I promptly got sued by an animal rights group.
They insisted if the threat was real I had to save ALL the animals, not just one pair of each. I just got that suit dismissed when the EPA notified me I couldn't use the Ark without filing an environmental impact statement on your proposed flood.
They didn't take kindly to the idea that they have no jurisdiction over the conduct of a Supreme Being none of them personally know to exist.
Then the Royal Australian Army wanted a map of the proposed new flood plain. I sent them a globe. They returned it with a note: "As any fool can see, water will NOT adhere to a round globe, it will fall off."
Right now I'm trying to resolve a complaint from the Equal Employment Opportunity Commission over how many Croatians I'm supposed to hire. Most of them are involved in some kind of uprising.
In the meantime, the A.T.O. has seized all my assets, claiming I'm trying to avoid paying taxes by leaving the country.
And I just received a nasty notice from some state agency about owing them some kind of use tax.
I really don't see any way I can finish your Ark for at least another five years!
Dear God, do you have a solution?"
Suddenly the sky cleared! The sun came out! A rainbow arched across the heavens! Noah looked up and sighed with relief. "You mean you're not going to destroy the earth after all?" "NO! Replied the Lord, "the government is doing it just fine without any help from Me"

~
ODE TO THE CAT
It is reported that the following passage from the Book of Genesis was discovered in the Dead Sea Scrolls. If authentic, it would shed light on the question, "Where do pets come from?" And Adam said, "Lord, when I was in the garden, You walked with me everyday. Now I do not see You anymore. I am lonesome here and it is difficult for me to remember how much You love me." And God said, "No problem! I will create a companion for you that will be with you all the time and who will be a partial reflection of My love for you, so that you will know I love you, even when you cannot see Me. Regardless of how selfish and childish and unlovable you may be, this new companion will accept you as you are and will love you, in spite of yourself." And God created a new animal to be a companion for Adam. And it was a good animal. And God was pleased. And the new animal was pleased to be with Adam and he wagged his tail. And Adam said, "But Lord, I have already named all the animals in the Kingdom and all the good names are taken and I cannot think of a name for this new animal." And God said, "No problem! Because I have created this new animal to be a partial reflection of My love for you, his name will be a reflection of My own name, and you will call him DOG." And Dog lived with Adam and was a companion to him and loved him. And Adam was comforted. And God was pleased. And Dog was content and wagged his tail. After a while, it came to pass that Adam's guardian angel came to the Lord and said, "Lord, Adam has become filled with pride. He struts and preens like a peacock and he believes he is worthy of adoration. Dog has indeed taught him that he is loved, but no one has taught him humility." And the Lord said, "No problem! I will create for him a companion who will be with him on occasion, and who will see him as he is. The companion will remind him of his limitations, so he will know that he is not worthy of adoration." And God created CAT to be a companion to Adam. And CAT would not obey Adam. And when Adam gazed into Cat's eyes, he was reminded that he was not the supreme being. And Adam learned humility. And God was pleased. And Adam was greatly improved.
And CAT did not care one way or the other.
~
PRECIOUS

Emergency workers rescued Precious the cat from the debris-covered roof of a damaged apartment building across from the World Trade Center. The 9-pound Persian suffered eye injuries, burns to her paws, smoke and dust inhalation, but was able to stay alive by lapping from puddles of contaminated rainwater. "It's unbelievable. It's a miracle. I can't believe she's alive," said D.J. Kerr, who owns Precious. She and her husband Steve were out of town when the Twin Towers collapsed, blowing out the windows in their loft and filling it with flying glass, metal, dust and smoke. A house sitter had been due to arrive at 10 a.m. that morning to take care of Precious, who had never been outside before. The Kerrs figured Precious was a goner - especially since their seven-story building at 114 Liberty St. was damaged and will be unfit for occupancy for at least nine months. But Saturday night, rescuers, responding to a report of a cat crying, used a recovery dog to corner the injured and terrified animal on the cluttered rooftop. They then brought her to the nearby Suffolk County SPCA van, which had been treating rescue and search dogs for exhaustion and exposure. Suffolk SPCA chief Roy Gross called Precious' survival "miraculous." "This is the first good story we've heard," said Gross. "She has sores on her mouth from drinking out of puddles. She's dirty and dehydrated and her eyes were injured, but she's going to be OK." He said Precious is alive because she was apparently able to "drink dirty water out of puddles." Kerr said Precious needs more treatment for her eyes but is expected to make a good recovery. "She lost two pounds and her little paws are burnt on the bottom because the top of the building was so hot, but she's going to live," Kerr said with a smile. "I gave her her favorite food - sliced turkey. She was eating so fast because she was starved to death and she's drinking a lot of water . . . but she's so happy, she's just purring," Kerr said.
Good for you Precious!!!

~

NATIONAL DAY OF ACTION AGAINST PETLAND, INC.
SOURCE: In Defense of Animals
While millions of forgotten animals are killed in our nation's shelters, the unfortunate dogs in puppy mills are forced to produce litter after litter until they die.
Please help In Defense of Animals IDA take action on behalf of the millions of animals who are victims of puppy mills and the pet industry. IDA has designated December 1, 2001 as a National Day of Action against Petland, Inc. and other pet stores that sell puppies and kittens. The event is intended to curb the selling frenzy that has historically occurred during the holiday season. IDA has been leading a national boycott of Petland, Inc. because of the company's ties to the commercial pet production and distribution industry that is responsible for the proliferation of puppy mills throughout the country. Although Petland has been specifically targeted, IDA has literature not specific to Petland that can be used to educate potential consumers who patronize other pet stores. IDA is determined to break the cycle of suffering and misery in puppy mills and educate the public regarding the availability of health adoptable animals from pounds and shelters. Approximately 600 ANIMALS are euthanized in pounds and shelters EACH MINUTE while the vast majority of pet stores turn a blind eye to the senseless destruction of innocent life. "Puppy mills represent one of the most despicable forms of factory farming endeavors," according to Marshall Smith, a former USDA Inspector now serving as IDA's Director of Investigations. "Every aspect of their enterprise demonstrates a lust for profit as seen in the small cramped cages, overbreeding, insufficient health care and mass marketing process in general," Smith explained, adding that "I've seen it all and I am sickened by the suffering and misery." Never patronize a pet store that sells animals when you have access to a pet supply store. Make sure that you educate your family, friends and neighbors to break the cycle of suffering and misery.

~
~
NATIONAL ANIMAL SHELTER APPRECIATION WEEK, NOVEMBER 4-10, 2001
Week Launches With National Animal Shelter Open House Day, Nov 4
The Humane Society of the United States (HSUS), the nations largest animal protection organization with more than seven million constituents, announced that the sixth annual National Animal Shelter Appreciation Week will be held November 4-10, 2001. National Animal Shelter Appreciation Week was launched in 1996 as a way for The HSUS and the public to recognize the indispensable role that the more than 6,000 animal shelters nationwide play in their communities. Animal shelters across the country will be hosting their own open houses on National Animal Shelter Open House Day, Sunday, November 4, to kick off the week. The open house event will give local animal shelters, which always keep their doors open to animals in need, a chance to show visitors the many life-saving services that shelters provide. These services may include rescuing injured animals, investigating cruelty, and placing homeless pets with loving families. For more information about animal shelters or National Animal Shelter Appreciation Week, visit
The HSUS on the Internet.
For ways that you can help your local animal shelter, please visit
Kindness In Action For Animals
Our National Parks and Monuments are some of the few remaining federally zoned lands where wildlife is safe from hunting and trapping. However, the U.S. Department of the Interior is considering adopting a policy that would allow Hopi Native Americans to remove golden eaglets from Wupatki National Monument near Flagstaff, Arizona.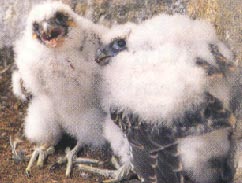 The eaglets would be raised in Hopi villages and then smothered to death during a religious ritual.
Approval of this policy could set a precedent for opening the entire national park system to the taking of wildlife for Native American rituals, and even for recreational hunting and trapping.
Please contact:
The Honorable Bruce Babbitt Secretary of the Interior
1849 C St., N.W. Washington, DC 20240
bruce_babbitt@ios.doi.gov
and urge him to reject the removal or hunting of wildlife in national parks or monuments.
~
THE PASSING OF BARBARA
May 18, 2001
Beautiful Barbara died at The Elephant Sanctuary in Hohenwald, Tennessee, surrounded by her loving humans. Barbara had suffered from an incurable 'wasting' disease most of her life.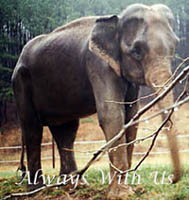 Please click the picture of Barbara to go to The Elephant Sanctuary and pay your last respects, read the memorials, make a donation in memory of Barbara, meet her family.
~
I recently sent an email to YOPLAIT asking that they change the shape of their containers,here is their response:
Dear Friend:
Thank you for contacting us about the Yoplait container. Yoplait is very interested in protecting and preserving all wildlife. That is why we have joined with the Humane Society of the U.S. in a program called "Don't Trash Wildlife". This program helps educate on the responsible way to dispose of food packaging so as not to endanger wildlife. The "Don't Trash Wildlife" message is to:
Rinse and Recycle. Rinse all recyclable glass and plastic containers to remove any food remnants or odors. Even containers you're going to throw away should be thoroughly rinsed before disposal to avoid attracting wildlife to your trash. Cut and Crush plastic containers before you put them in your garbage or recycling bin Close and Cover. Make sure all plastic food wrap is rinsed and contained inside a closed garage bag. Never throw plastic packaging in open trashcans. Put garbage out for collection in plastic or metal trash containers with secure covers. Currently, on each classic shaped container of Yoplait made, is printed "Protect Wildlife - Crush Container". A fully crushed container is much less likely to endanger animals. We realize that it may not be possible to address this issue through education and labeling alone. Therefore, we are continuing to study potential design and packaging material changes in the Yoplait cup itself.
Sincerely, Jen Rock General Mills Consumer Services
(they are continuing to study-animals are continuing to suffocate) But they now have a disclaimer on the package and a warning to consumers, so it certainly isn't their fault or responsibility...
Can you believe Yoplait still refuses to change the design of its yogurt cups—even though animals have died and continue to die horrible deaths after getting their heads stuck in discarded containers.
Their reason is consumers of Yoplait would not be able to find their favorite yogurt if the packaging were changed, implying that their customers are not too bright.
Contact:
General Mills, Inc., P.O. Box 1113 Minneapolis, MN 55440
800-328-1144
YOPLAIT CONTAINER REDESIGN STILL LETHAL TO WILDLIFE
Yoplait finally changed the container but not the shape, there is now a lip on it so animals may use their hind feet to push the cup off of their heads, swell, skunks cannot do this...nice try...(NOT)...turn the thing upside down!
Yoplait Consumers TOO STUPID To Switch
Apparently Yoplait consumers are too stupid to find the product should the container size, shape or color be changed. And if they could not find their favorite yogurt, they might switch to another brand, because, after all these are very busy people with no time to waste in their busy, important lives. And then Yoplait would lose money. After all, a few skunks, squirrels, cats or what have you, suffocating slowly in Yoplait containers is not much to be concerned about. Skunks are pests anyway.
Recently Pepsi Cola stopped advertising in bullfighting rings due to consumer pressure, (loss of revenue due to decreasing sales.) It seems to me that General Mills might be convinced to change the shape of its containers if we use the same consumer pressure.
If these were human deaths, Yoplait would be sued stupid. In fact, I would like to see at least one of the pet owners come forward and sue Yoplait, or the person who threw out the container without first thoroughly rinsing.