GYPSY

Gypsy Update
August 2005
Look at this girl!
What has happened to her is nothing short of a miracle!
Thank you, bless you,
to everyone involved....jj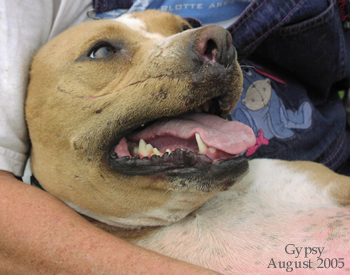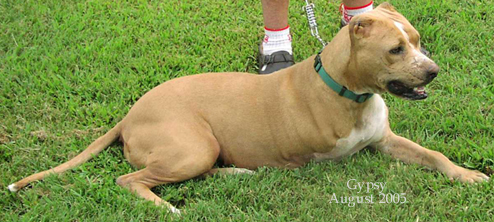 Pit-bull horribly mutilated: Gaston County, NC - US
Aug. 25, 2005
Crime Date: April 11, 2005
Please Sign the Ongoing Petition
Vigorous Investigation of Dog-Fighting in Gaston County, NC
A horribly mutilated pit-bull, named Gypsy, was found on April 11, 2005 dumped on a main highway (Wilkinson Blvd) and her wounds appear to be the result of dog-fighting. We petition Hon. Michael K. Lands to vigorously investigate and prosecute dog-fighting crimes in Gaston County.
According to North Carolina state law Chapter 14, Article 47 (§ 14-362.2), this is a Class H felony case:
(a) A person who instigates, promotes, conducts, is employed at, provides a dog for, allows property under his ownership or control to be used for, gambles on, or profits from an exhibition featuring the fighting or baiting of a dog is guilty of a Class H felony. A lease of property that is used or is intended to be used for an exhibition featuring the fighting or baiting of a dog is void, and a lessor who knows this use is made or is intended to be made of his property is under a duty to evict the lessee immediately.
(b) A person who owns, possesses, or trains a dog with the intent that the dog be used in an exhibition featuring the fighting or baiting of that dog is guilty of a Class H felony.
(c) A person who participates as a spectator at an exhibition featuring the fighting or baiting of a dog is guilty of a Class H felony. (1997-78, s. 1.)
Source and Updates: Pet-Abuse.com
Tri-County Animal Rescue's New Url/Site
A Letter From Gypsy
Gypsy Update &nbsp 7/29/05
"On Thursday, Gypsy went to her first public appearance since her surgery. We took her on a visit to a nursing home. Everyone was very nice to her and she loved meeting all of the people. She was even tolerant of the other dogs that were included in the visit. She got to eat sugar wafers in the dining room and tour the hallways, sticking her head in the laps of any wheelchair bound residents! Gypsy might be a little too exuberant for nursing homes!"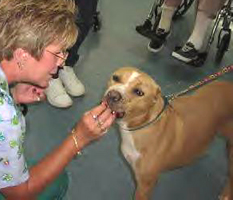 "Enclosed is a picture of her enjoying her cookies!
Everyone agreed that she is an amazing dog!"
Tri-County Animal Rescue
Alexis, North Carolina
~
Gypsy Update - 5/19/05
"Our girl is coming home today! Apparently, she made quite an impression on everyone who met her in Knoxville and they were very sad to see her go. Gypsy still has some stitches and she is still taking some antibiotics, but we can take care of all that stuff in North Carolina. We have missed her so much! I'm attaching a picture taken yesterday. It's hard to believe that she is the same dog. Her beautiful personality is going to be matched by an equally beautiful face! Stayed tuned for more pictures as Gypsy settles into her life as a spokesdog for animal cruelty."
Tri-County Animal Rescue
Alexis, North Carolina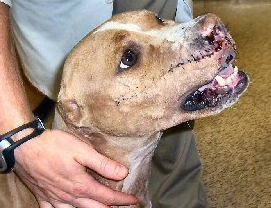 Gypsy Update: 5/16/2005
Just a quick update to let you know that Gypsy is doing fine. She developed a little infection around her spay scar (probably brought on from the stress of the reconstructive surgery, etc.), but they put her on some antibiotics and she was doing much better. Gypsy is still eating very well, and making many friends. Her "buttons" seem to be doing the job (holding her new lips in place), and they have been trying to make sure that she keeps the front area of skin on her upper lip dry so that it can heal better.
Again, thank you for caring about Gypsy.
Tri-County Animal Rescue
Alexis, NC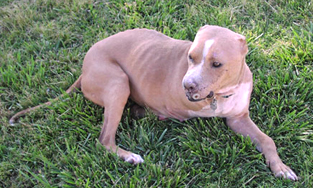 Gypsy Update - 5/12/05
"This is one of those occasions when a picture is worth a thousand words. I don't believe any of us could describe the joy we felt when we saw these first pictures of Gypsy after her surgery. Thank you for your prayers, your crossed fingers and your good thoughts."
Tri-County Animal Rescue
Alexis, NC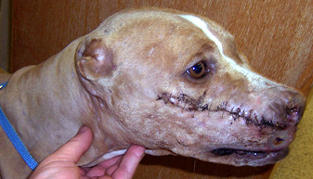 Gypsy Update 5/11/05
"Gypsy made it through surgery and now we will wait to see if her "facelift" takes. We should know more in the next couple of days. They had to do some extensive work on her sinuses--several of the bites had actually punctured the sinus cavities. No one was allowed to see her yesterday--they were afraid that she would try and stand up when she realized she had visitors and they want to keep her as quiet as possible. Hopefully, they will allow at least a brief visit this evening.
Keep your fingers crossed!"
Tri-County Animal Rescue Alexis, NC
GYPSY

Gypsy 5/04/05
Gypsy's reconstructive surgery has been scheduled. She leaves for Knoxville on Sunday, so that she can be at the University of Tennessee on Monday morning. Gypsy will be gone about 4-5 weeks and I'm pretty sure we're going to miss her--a whole bunch! I'm enclosing some pictures so that everyone can see how Gypsy continues to heal. The first was taken on Saturday, before she went for her debut. Gypsy is sitting in Joann's lap having her belly rubbed. Watch out, Joann, that's a pit bull you have in your lap!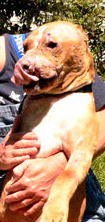 Gypsy was "dog-napped" on Tuesday by one of our volunteers. They went to the park--Gypsy wanted to chase the ducks, but she's still trying to get the hang of being three-legged so the ducks were safe! Our volunteer reported that just about everyone who saw her at the park knew who she was including a police officer who said that seeing Gypsy in person would make him try that much harder to find the person responsible for her injuries.
Today, Gypsy went back to Eastridge Animal Hospital to be spayed (no more babies for her). She's staying overnight and then she'll be back with us until Sunday. Gypsy has another personal appearance scheduled for Friday at the Gastonia Boys and Girls Club. They've been raising money to help pay for her surgeries and they requested that she come and pick it up in person! Gypsy is more than happy to oblige!
Thanks for all that you have done and continue to do.
Tri-County Animal Rescue
Alexis, NC
Gypsy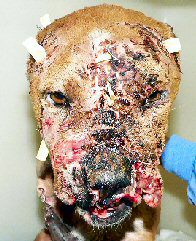 A horribly mutilated pit-bull, named Gypsy, was found on Monday morning, April 11, 2005 in Gaston County, North Carolina. She had been dumped on a main highway (Wilkinson Blvd) that connects Gaston County with Charlotte/Mecklenburg County. Her wounds appear to be the result of dogfighting. Her injuries were so severe, her right-front leg had to be amputated due to the extent of mutilation and infection. According to reports, the flesh on her face was literally rotting off, and when she first arrived at Tri-County Animal Rescue, her mouth was "nothing but pus". Tri-County Animal Rescue stated that the dog was "a bloody mess" when she was found on the roadside. From the Tri-County website: "Gypsy had her leg amputated Monday the 18th 2005 and she is fighting for her life. Thanks to the skilled surgeons, Dr. McLean and Dr. Lowery at Eastridge Animal Hospital in Gastonia, and all the wonderful and loving vet techs at Eastridge who just go in and hold her paw or pat her or speak sweet kind words. It's amazing, but Cindy said she wagged her tail after surgery. Cindy and Dr. McLean say she hasn't given up and is fighting to stay with us.
pet-abuse.com Case Report
Posted: Apr 26, 2005
On April 26, Pet-Abuse.Com was contacted by Stephanie Hamlin, Assistant District Attorney for Gaston County in response to the hundreds of letters from the public they have received regarding the atrocities committed against Gypsy. In her letter, she stated that the members of the Gaston County District Attorney's office are very interested in prosecuting the Gypsy case. Tri-County Animal Rescue and Pet-Abuse.Com are currently working with the DA's office to assist them with recent leads, and we ask that anyone with additional leads or suspects please call Animal Control at 704-922-8677 or the DA's office 704.852-3113 . Letters to the prosecutor have poured in from all over the country, and some as far away as Canada, Japan and New Zealand. To read the action alert, or send a fax to the prosecutor right from the pet-abuse.com website click here.
~
Mariah's Promise
Toni Phillips, Hero to Denver's Pit Bulls
IDA's Guardian of the Month for August:
Toni Phillips started rescuing dogs in 1990 after moving to a rural area in Dallas/Fort Worth, Tex. Having grown up in Seattle, Wash. and fresh from living in San Francisco, Calif., Toni had never before experienced the tragedy of finding dogs and puppies "dumped" along the highway in the remote country to survive on their own. She immediately began bringing these abandoned dogs home, an effort that was supported by her husband Mike, who quickly took an active role in the cause. The couple fostered and sought loving homes for all the deserted dogs they could find, and continued rescuing canines when they moved to Branson, Mo.
In 1998, the Phillips moved to Colorado, and in 2003 bought property in the forested mountains of Divide where they founded Mariah's Promise, a safe haven and sanctuary for dogs named for a five-week-old puppy who fought a losing battle against parvo when their land purchase was being negotiated. Located just south of Denver, Mariah's Promise was perfectly placed to become the hub of an urgent rescue mission when an indiscriminate ban on pit bulls began to tear beloved canine companions from their guardians in May 2005.
Toni and Mike heard in April that the ban would soon be reinstated, so they posted signs around Denver offering to find permanent homes for pit bulls with new families or temporarily foster people's dogs at their sanctuary until they could relocate to new cities. Sadly, just weeks later, many guardians stood helplessly by as their dogs were driven away in Denver Animal Control vans, the majority to be killed because of their breed. Dogs taken in by Mariah's Promise were the lucky ones, having survived the mass extermination that is still well underway in Denver. Mariah's Promise has so far saved the lives of 73 pit bull dogs and puppies victimized by the ban, with more arriving by the week. Of those, 22 have been given a fresh start in new, loving homes outside of Denver's city limits. Mariah's Promise has also worked with other no-kill rescue organizations outside of Colorado, transporting dogs across state lines to make room for the constant influx of Denver exiles, which will only increase should breed-specific bans pass in neighboring communities.
Toni and Mike have managed to keep Mariah's Promise going while simultaneously running a family business, and have built their "Denver Refugee Camp" (which includes numerous dog houses and kennels) from donations provided by generous dog lovers. With the long, cold winter on the way, Mariah's Promise is now focused on building 10' x 10' climate controlled doghouses with outside runs to keep the dogs warm through the frigid winter months. Seed money provided by the Max Fund was essential to get this project off the ground, but now the sanctuary needs all the funds they can get to continue saving the lives of as many dogs as possible.
To help pay for food, shelter, veterinary care and other necessary expenses,
please send checks to:
Mariah's Promise
4027 CR 5
P.O. Box 1017
Divide, CO 80814
You can also donate using your credit card on IDA's website at and designating "Mariah's Promise" or "pit bulls" in the First Name field of the "in honor of" section of the form.
Mariah's Promise has many loving dogs who need permanent, loving homes and families to take care of them.
Click Here to see a listing of their available dogs.
If you are interested in adopting a new friend, contact Toni at mariahspromise@msn.com
(719) 687-4568 or (719) 651-4733.

Learn more about the ban and the efforts being made to help pit bulls at idausa.org/denver.
In Defense of Animals/IDA is proud to salute Toni Phillips and recognize her dedication to dogs by naming her our Guardian of the Month for August 2005. Congratulations, Toni, and keep fighting the good fight!
Denver's Pit Bulls and Guardians Under Siege
Because They Registered Their Dogs in Accordance with the Law!
Please Read
FROM THE FRONT LINES
As of midnight on May 9, 2005, harboring a pit bull in Denver, Colo.
became a crime punishable by a $1,000 fine and possible jail time.
Since then,
Denver Animal Control (DAC) officials have gone door-to-door
seizing pit bulls from guardians who registered their dogs in accordance with the law.
And that is the least of it!
Many families have suffered helplessly as their beloved companions were led to a DAC van and taken away to be killed. A dog's only chance for reprieve then is for his or her guardians to convince someone living outside of Denver to sign an affidavit that they will adopt the dog upon release, but guardians have only a few days to arrange this before DAC takes the dog's life. Only by sending their dogs out of Denver or defying the ban and keeping them hidden can guardians protect their canine friends from execution.
The lives of hundreds of dogs have already been taken since the start of the ban, yet with an estimated 4,500 pit bulls residing in Denver, the killing may have only begun. In addition, Denver suburbs like Aurora and Commerce City are now moving to pass their own pit bull bans to prevent guardians from moving to their communities with their "dangerous" animals. This will only increase the number of innocent pit bulls killed out of breed-based prejudice.
In this dark time for Denver's pit bulls and their guardians, IDA's Rita Anderson is heading up the Pit Bull B.A.N.D'.s (Breed Awareness, Not Discrimination) "underground" rescue effort. She partners with Mariah's Promise, a sanctuary for dogs nestled among pine tress in the mountains south of Denver, to save as many pit bulls as possible. Sanctuary owners Toni and Mike Phillips are devoted to the dogs living there, whether they come from families who plan to take them back after moving out of Denver or they need new homes. Mariah's Promise has so far managed to rescue 60 canines since the ban became effective, but to continue coping with the demands of their devotion to Denver's demonized pit bulls, they need the help of dog lovers everywhere.
Mariah's Promise desperately needs money to pay for the dogs who are already at the sanctuary and to expand their capacity for taking in more needy dogs. Your donations will help pay for food, shelter, veterinary care and other necessary expenses.
~
The Epidemic That's Killing Pit Bulls
Source: Badrap.org
~
Please Support
Clayton County Humane Society
All Donations are Appreciated
Meet Jewel

"Jewel is a young Yellow Lab mix who recently came to live at CCHS. Jewel's previous owner had allowed Jewel's collar to become embedded in her neck. Now a resident at CCHS, we have become responsible for all of Jewel's medical care. Medical bills will be extensive, and CCHS is asking for financial help for Jewel's continued care."
Meet Lady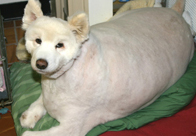 "Lady is yet another example of the many "special needs" animals so frequently taken in by CCHS. Until coming to CCHS, Lady had spent the first 5 years of her life on a chain, in a backyard, with no love or attention from her former owners. In the past 3 years Lady had been taken to the vet only once, and that was for MAGGOT REMOVAL. In her previous home, Lady was allowed to balloon to nearly 3 times her normal body weight. She also has a deformed foot which was never addressed by her previous owner."
Donations may be made through this link Clayton County Humane Society
or mailed to Clayton County Humane Society
7810 N. McDonough St.
Jonesboro, GA 30236
~
Action Alert!
Pit-bull puppy severely beaten - Fairfield, OH
18 year old CHRISTOPHER ALLEN JONES was arrested on March 2, 2005 for brutally beating a pitbull puppy. Jones is charged with two counts of cruelty to animals and several other crimes.
In addition to the 4-month-old puppy that was discovered by residents of the Village Green on March 2, Jones also allegedly killed another dog on Jan. 6, according to Fairfield Police Department records. Jones was sent back to jail Thursday because he was considered a threat to his former girlfriend and her family. This case goes to court on March 30, so your immediate action is needed!
Click Here For Full Case Details
To contact the judge in this case:
The Honorable Judge Joyce A. Campbell
Fairfield Municipal Court
courts@fairfield-city.org
Telephone: 513-867-6002
Fax: 513-867-6001
4951 Dixie Hwy.
Fairfield, Ohio 45014
~
Max the Dog Update
Watertown-WTNH, Mar. 11, 2005 Updated 12:30 PM
He attracted headlines in 2003 when he attacked a 12-year-old boy.
Now, Max the dog has attacked another child, prompting state officials to euthanize him.
Story by News Channel 8's Sonia Baghdady
Golden Retriever Had Previously Bitten Another Boy

California Residents: Help Stop Animal Fighting!
Listen up, Golden State animal advocates. Senator Nell Soto has introduced Senate Bill 156, which would strengthen animal fighting laws. The current law in California prohibits persons from causing or permitting animals to engage in fighting, as well as bans owning or training animals for those purposes. If passed, SB 156 would strengthen subsequent violations of these laws from a misdemeanor to a felony.
To help Senator Soto in her quest to end animal fighting in California, please visit the
ASPCA Advocacy Center today.
Don't live in California? Find out how to get involved in passing humane legislation in your state at the ASPCA Advocacy Center.
Source: ASPCA
Hip-hop mogul, entrepreneur, political activist, and animal lover Russell Simmons has joined the ASPCA in encouraging Americans to be vigilant for animal cruelty in their neighborhoods and to visit Cruel's Not Cool to learn how to identify animal cruelty.
Source: ASPCA
Tell Congress to Enact Tougher Penalties for Animal Fighting
Animal fighting, although illegal in virtually every state, is still prevalent throughout the country, fueled in part by a subculture naively fascinated with the illicit and thuggish nature of dogfighting. As the 109th Congress gets underway, we are determined to get the Animal Fighting Prohibition Enforcement Act enacted, and we need your help more than ever.
On Tuesday, Senator John Ensign (R-NV) introduced S. 382 and Representative Mark Green (R-WI) introduced H.R. 817, a pair of bills known as the Animal Fighting Prohibition Enforcement Act.The act will do two things: strengthen current federal law by authorizing felony-level jail time for the interstate and foreign movement of animals used for fighting, and ban the interstate and foreign commerce of the barbaric implements used in cockfights. Eleven senators and 26 representatives joined as original co-sponsors of the bill.
Clamping down on these brutal blood sports benefits both animals and humans:
Animals forced to fight are drugged to intensify aggression, and are frequently pushed to keep fighting even after suffering grave injuries.
Stolen pets are regularly used as "bait" to train dogs to fight, and some dogs are abandoned after being forced to fight for years, putting them and communities in jeopardy.
Cockfighting has been implicated in the spread of dangerous and costly diseases that kill poultry and can hurt people. (At least four children in Asia died from bird flu in 2004 due to cockfighting exposure.)
Animal fights are also frequently associated with illegal drug trafficking and acts of human violence.
It is critical that your federal legislators know that you oppose all animal fighting and that you want Congress to quickly enact this legislation.
Phone calls and personal letters on this issue will have the most impact. Thank you for taking action!
What We Can Do
» Contact your federal legislators today and urge them to co-sponsor the Animal Fighting Prohibition Enforcement Act.
» Read more about the spread of animal fighting and how law enforcement is cracking down on it.
The Humane Society of the United States (HSUS)
~
Christmas Returns Author Unknown
Santa comes quietly long before dawn
While shops are still busy and lights are still on
While dinners are cooking and kitchens are warm
And children count presents they'll open by morn.

He slips past the trees in windows aglow
Through the gate to the backyard
As icy winds blow
To find the pup he brought last year
Chained up in the snow
And, kneeling, he whispers, "Are you ready to go?"

There are too many stops like this one tonight
Before the beginning of his regular flight
He leaves not a note or footprint in sight
Just an unbuckled collar
On a cold Christmas night...
please don't give animals as gifts. Christmas, Easter, Birthdays, ever.
~