ISLERO's Immortal Words
"While I normally don't take pleasure in other people's misfortune,
I have to admit that injury to people in the act of tormenting an animal
gives me great joy."
- Islero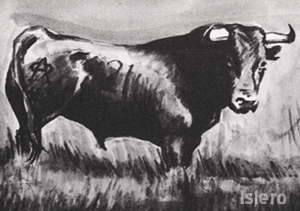 Islero was a Miura bull known for having killed famed bullfighter Manolete on August 28, 1947.
Islero was brought up on the ranch of Eduardo Miura.
The breed was started in 1848 by Juan Miura, the bulk of the bulls were from the Alvareda ranch.
Bulls from the Miura ranch, located near Seville, Spain, are known for being large and ferocious.
Islero's father was named "Formalita".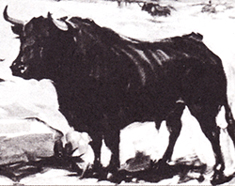 His mother was named "Islera", she was "choreada en moricillo",
reddish black with dark stripes
and she charged the horsemen when they came to take her calf in for marking.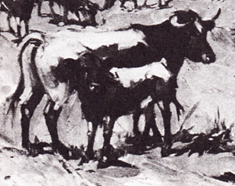 The calf "Islero", young he was, was hard to handle and tried to charge the horses.
Like all toros bravos, Islero wanted to fight by instinct and years of breeding, not because of any training or goading.
I find this hard to believe...jj
Islero had poor eyesight and tended to chop with his right horn...Remember This.
When he was a yearling, Islero was taken into the corrals and branded with the number 21 on his (right) side
and on his flank with the famous ornamental 'A' design.
~As the trumpet blew
the "gate of frights" clanged open
and out of it slammed Islero
the last bull of Manolete's life
whirling around and looking
for something to kill.~
On the fateful day, Islero was the 5th bull of the afternoon and the 2nd for Manolete,
at a bullfight in the town of Linares in the province of Jaén, Andalusia, Spain.
On the afternoon of Aug. 28, 1947, Manolete was booed by the fans as he strode out for the fifth bullfight against a bull named Islero
because of Manoletes poor showing during the first fight.The bull's manager begged Manolete to finish him off quickly.
Manolete came in slowly to kill the bull, with his cape at his side,
and was suddenly gored in the groin by Islero's right horn.
As the matador reached over the bull's horns, thrusting his sword deep up to its hilt,
Islero thrust his right horn, gorging Manolete in the groin, severing his femoral artery.
The matador began to bleed.
The apprentices lifted Manolete to carry him to the medical station, but they went in the wrong direction,
taking him instead to the courtyard where the horses were kept.
The bullfighter arrived at the infirmary seven minutes after being gored by Islero.
The physician at the arena, later wrote that Manolete had been "gored by the horn of a bull in the vestibular ganglion,
creating a 20-cm gash from top to bottom and from the inside to the outside
rupturing the saphenous artery and piercing the muscle nerve tissue of the femoral artery."
As he smoked a cigarette, the bullfighter commented that he could not feel his leg.
At 11:00 p.m. that evening, he was transferred to the hospital in Linares.
At 5:07 a.m. on the morning of the 29th of August, Manolete uttered his last words,
"My mother will not be happy about this."
Much information is available on Manolete.
I believe Islero's Biography is just as important,
if not more so, especially to those of us who despise Bullfighting and all animal cruelty.
I have presented here excerpts from several sources.
Whether they are true or not, I cannot say, but I will always admire Islero and his beautiful, brave spirit.
Having read of things done to the females during their lives to 'test' them,
I also believe this is true
~Bull breeders say that while a bull inherits its size and strength from his father,
he gets his fighting heart from his mother.~
Islero...always a hero.
Rest in Peace
One of my Sources: "The Death of Manolete"
Barnaby Conrad
Originally published 1958
Phoenix Books
2007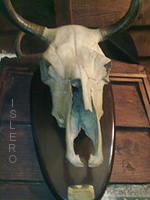 Updated 6/29/10
By JodysJungle.com
Islero's Fan Club ended it's activity in August 2003.
These pages are kept online for the interest shown by many friends and the valuable anti bullfighting information it contains.
Thank you to Paco and Islero's Fan Club For Permission to Save This Site.
And to Todd, for helping me with the translation.
Also see The Extreme Cruelty of BULLFIGHTING Shame of Humanity
To comment on this page, please send email to
Jody@JodysJungle.com
with "Islero" in the subject line.
I only speak English, but I will put the email through Google's Translator and get back to you.
Thank you, Jody
Para comentar en esta página, por favor escriba a la dirección
Jody@JodysJungle.com
con "Islero" en la casilla de asunto.
Sólo hablo Inglés, pero pasaré su e-mail a través del traductor de Google y me pondré en contacto con usted.
Gracias, Jody
La cultura de un pueblo se mide por la forma como trata a sus animales

(M. Gandhi)

---

---

---

Última actualización:

25-VIII-2003

(Noticias, Miembros, Información)
In Memory of Islero and all those who have suffered and all of those yet to suffer
because of the stupidity, greed and cruelty of mankind.
Please Let Your Voice Be Heard!
Google English Translation
180,000 signatures for the abolition of the Catalan tauromafia
Bullfighting..Shame of Humanity..Extreme Cruelty of.. @JodysJungle.com
Islero's Fan Club/AntiBullfighting@JodysJungle.com
Islero's Fan Club is no more. I have been allowed to save it here in memory of Islero.
Thank you Paco!