Heidi's Recipes©JodysJungle.com
Heidi's Tempting Tempeh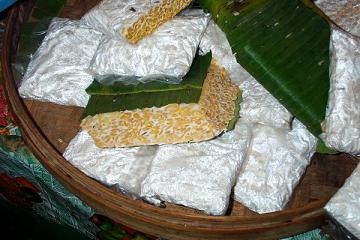 It is very hard to convince someone who does not eat a meat free diet to eat a "Vegetarian" dish. That is why I myself quit trying. The fact is I eat what I want and just eat around what I don't want. Telling someone you are serving vegetarian dishes just sets you up for failure or argument or the idea that someone is not getting the "full meal deal." So I just make hardy, satisfying meals that anyone would want to eat, meat or not! When I travel I look for great food, if there is something I find offensive or do not eat in a dish I can move it aside, taste the sauce or the rest of the dish and then go home and recreate what I do love about it. This requires NOT being a purest. If you are this would never work because there are stocks and things that I willingly taste to get an idea of how to cook them that do indeed contain animal products. That is why I am glad Jody named this site
The Half @st Vegetarian
because I am totally half assed about this.
But my recipes are not. They are lacto-ovo for the most part, although a true vegan can eat their way through most of what I make with simple exchanges and if I am sure I will put them in the recipes as options.
Today it is my goal to get you to try tempeh, if you haven't already. I remember the first time my vegan friend offered me some raw tempeh as a snack. Wow that was a mouthful I had trouble swallowing. Not knowing what to expect and being a person of daring when it comes to "here Heidi try this" I just opened my mouth and let a big chunk of raw tempeh find its way to my stomach. Then I put it directly in the category of "things I have no desire to eat or try again". It is hard to describe. There is one rule for me however try a food three times three different ways before you hate it. So I just forgot about tempeh for a long time and did not seek it out. But did not rule it out either. I figured if I saw it offered in a dish I would try it again.
Several years later I was visiting my dear friend in Joshua Tree, California. She is a foody and when I visit her no matter where we are the whole trip is about seeing sights, hiking and eating .....wait, wrong order....eating always comes first! Then hiking and seeing sights just happens! We plan everything around our next food adventure! But we always involve some kind of physical movement to justify all the eating.
Anyway, she was at work and I was at home watching cooking shows on TV and going through her collection of cookbooks (she had the whole Moosewood series, one I highly recommend to people who love to make wonderful half assed vegetarian meals). I realized it was lunch time and I had had nothing but coffee for breakfast. Earlier, Lynne (my friend) had mentioned a great, funky cafe a couple of blocks down. The funny thing is Joshua Tree is only a "couple of blocks" everything is walkable and there are only a couple of places to eat anyway.
So I meandered down to this Cafe and what did I see on the board for the special that day but a "Tempeh Rueben." I kind of curled my lip recalling my reaction to the mouthful of tempeh a few years prior but there is this deal I made about tasting something three times. I love a grilled reuben sandwich and have ordered them "meatless" for years, so now was my chance. I ordered the sandwich to go, brought it back to her cactus garden, grabbed a beer and a lawn chair, planted it under a huge eucalyptus tree, put my feet up and opened the box to one of the best culinary lunchtime experiences of my life!! This was a HUGE sandwich made on a wonderful marble rye, grilled to perfection, stuffed with sauerkraut, tons of Swiss cheese melted over spiced up slices of grilled tempeh and doused with Russian dressing. That and a big bag of Kettle chips and a beer. Good God I had reached glory!
So what the heck is tempeh? It is a food staple in Indonesian cooking and has found its way into our grocery and health food stores. Sadly, it is not all that popular. I think because it isn't that good straight out of the package (the way we Americans like to eat things) and it is rather unusual.
Tempeh is made from soy beans similar to the way cheese is made from milk. Soy beans are soaked, hulled and ground then they are inoculated with a culture and another grain or vegetable is usually added. The beans are then packed tightly and heated for a couple of days in a controlled environment. When it is done, you have a meaty thick block that is easily sliced to use in all kinds of dishes. Like tofu it has the ability to take on other flavors. Unlike tofu it has a texture that is kind of firm and chewy so it does better for sandwiches and other dishes that require a firm textured ingredient.
I agree this may not sound like the most tempting food in the world but look at the stats nutrition wise. Because you are vegetarian doesn't necessarily mean you are "healthy." I know many vegetarians who live on crapfood and are totally depleted in a lot of the vitamins and minerals that you need to be healthy. No one NEEDS meat. But you do NEED to eat a balanced and varied diet that contains essential things to help you keep healthy. This is one of those foods that is fast, easy and can add a lot of important things to your diet that a bag of cheese puffs, or a plate of fries cannot. So if you are one of those vegetarians that lives on crapfood, give tempeh a try. It makes a hell of sandwich, is remarkably low in fat and high in protein, making it an excellent choice in place of meat, fish or even (God forbid for me) cheese. It contains no cholesterol and is quite high in fiber.
So now I have convinced you and you are ready to give it a try maybe? Well, where and how do I buy it? The first thing is it has to be fresh! You can pretty much find it in any health food store. Most large grocery stores will have it or are willing to order it. It is in the refrigerated section near the tofu. CHECK THE DATE as it is not a big mover. Also look at it closely for mold or black spots. It should be a lovely golden brown color and some have a whitish spots (that will quickly turn black if you are not careful.) If you are lucky enough to have an Indonesian market in your area, you will obtain the freshest, most flavorful tempeh.
If not, it comes in tightly sealed packages that are about 8oz in size.
When you get it home, open the package and 'voila' there you have it! A fast food, well sort of. You can taste it and I think you should. Some people love the taste of fresh tempeh. I personally love it all dressed up and ready to go. You can marinate and grill it, stir fry it, add it to soups or stews and even deep fry it!
Here are a couple of recipes I happen to think are wonderful!
Let's start with traditional Indonesian and continue to the famous
Joshua Tree Tempeh Rueben
I recreated from the wonderful experience above!
Indonesian Style Curry Tempeh:
2 Tbs. vegetable oil
3 large cloves garlic smashed
1 med onion diced
1 inch of a piece of fresh ginger grated
8 oz of tempeh, cubed
1 red, one yellow and one green bell pepper diced about the same size as the tempeh
1 minced habanero or Thai Chile (optional but highly recommended)!
1 large baking potato diced same size as above
1 carrot sliced
2 heaping tbls good curry powder
1 small can of coconut milk
1 cup fresh chopped basil or cilantro
1 tbl good soy sauce
Heat the oil in a large frying pan and add tempeh, saute' over medium heat until slightly browned. Then, in order, keeping the pan at a good heat, add the onions, garlic, ginger, peppers, hot pepper, potato and carrot.
Add more oil if you need it then stir the curry powder in and continue to saute when all incorporated, then you can add the coconut milk, basil, and soy sauce and cook over medium heat for about ten minutes.
Serve the Indonesian curried Tempeh with rice and a side of diced ice cold mango mixed with pineapple lime juice and cilantro. I do believe this is a Vegas dish!

Tempeh Fajita
Marinate one 8oz package of Tempeh that has been sliced into strips in the following
Juice of one or two very juicy limes
¼ cup olive oil
2 tbl of Worcestershire sauce
3 cloves of fresh garlic smashed
1 Tble or more (depending on how much heat you like) of hot good ground New Mexican Red Chile
1 tsp of ground cumin
1 tsp of fresh cracked pepper
1/2 tsp kosher salt
While this is marinating assemble the rest of what you will need;
1½ cups sliced into strips mix of red, yellow and green bell pepper
1 cup sliced fresh mushrooms
1 large sweet onion sliced
Heat a grill pan, skillet or broiler and drain the tempeh of the extra marinade (you can boil it up and pour it over everything on a platter when it is cooked and just before serving)
Then you start grilling, the tempeh and veggies can all be cooked together. Either broil under the broiler, grill on the grill or fry in a pan. It is done in just a few moments or to your liking. I like my veggies tender crisp so it is just a few moments then I flip for another few moments and off the heat onto a platter.
Serve with a package of flour or corn tortillas that you have warmed, sour cream, salsa, grated cheese of your choice (I love pepper jack for this one), chopped fresh cilantro and lime wedges.

Tempeh Reuben
(this makes 2 sandwiches for us but might make 4 for most folks!)
1 8oz package of tempeh sliced into strips, salt and pepper to taste then saute until golden brown in plenty of olive oil, set aside
Marble rye bread
if you can not find it, any good heavy rye bread with caraway seeds will do
Sauerkraut
buy the fresh stuff at a deli if you can, it is so much better, drain it well, press the water out, then toss the sauerkraut into the fry pan and heat well, set aside.
Russian dressing (get a good one if you do not make your own) you can also use Thousand Island
About ½ lb Good Swiss Cheese
Butter both sides of the bread, put one piece in a hot skillet, pile the tempeh, swiss cheese and sauerkraut on top, put the other slice of bread on top of that, push down well with the spatula (it is just like making a grilled cheese).
When toasty brown, flip over and brown the other side. I usually take a flat lid that is smaller than my pan to press the sandwiches and keep the heat in.
When done, remove from pan, put on a plate, cut the sandwiches in half and add the dressing, I like to have some on the side to dip the sandwich in as well.
Serve with dill pickle, chips and a beer, or soda.
ENJOY!

Questions or Comments may be directed to
JodysJungle@aol.com
with Attn. Heidi in subject line
See Also
Heidi's Vegan Marshmallows