Mosha is the bravest, sweetest little girl ever. jj
"Minnie, our 54 year old circus retiree whose vocalizations and sweet disposition charmed everyone at ARK 2000, died peacefully in her barn with Rebecca, her long time companion, and Pat Derby, Ed Stewart and her keepers at her side. Her peaceful posture and the serenity with which she slipped away were a great comfort to all of us. Minnie, who had endured years chained in railroad cars died tranquilly among her old friends."
pawsweb.org
Welcome Ned!!!
On Saturday, November 8, 2008 an emaciated Asian male elephant named Ned was confiscated from Florida based circus trainer Lance Ramos by the USDA for failure to comply with the Animal Welfare Act and was placed by USDA authority with The Elephant Sanctuary in Tennessee. On Sunday, November 9th, at about 12:30 p.m., Ned arrived at The Elephant Sanctuary. Ned will reside only temporarily in his private facility at The Sanctuary until a permanent facility is ready for him.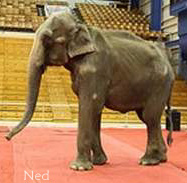 ~
Plai Boon Mee
Young Elephant Killed by Drunk Bangkok Truck Driver
bangkokpost.com October 17, 2008
Soraida Salwala, founder of the Friends of the Asian Elephant foundation, said the problems of elephants roaming the streets had gone on for too long. The authorities paid only lip service to improving the welfare of the roaming elephants and the mahouts. ''This accident could have been prevented. Elephants should not roam about in cities. They should stay where they belong,'' Ms Soraida said. She would ask Bangkok Governor Apirak Kosayodhin to make sure Bangkok is free of roaming elephants. She was also seeking legal avenues for action against people involved in abusing elephants and against high-ranking officials who turn a blind eye to the problem.
pattayadailynews.com
Prosthetic Leg for Baby Elephant Mosha
June 2008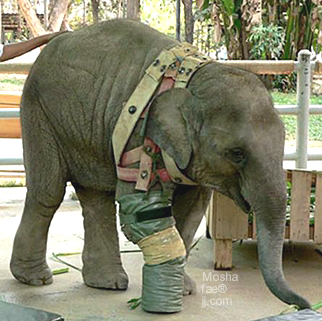 "Baby Mosha who was injured by landmine when she was only seven months old back in 2006 has fully recovered. And Asso. Prof. Therdchai Jivagate, from the Prostheses Foundation will be at Friends of the Asian Elephant's Hospital in Hangchatr, Lampang Province on Saturday the 21st of June, 2008 around 9.00 a.m. to proceed with the prosthetic leg for Baby Mosha who is now two years and seven months old. She has been prepared to put the artificial leg since February after she weaned off in December 2007, her mother had to go back to the owners while Mosha has been donated to FAE to take care of her for the rest of her life. Mosha has been walking on the pre-prosthetic leg since February and in good health and her spirit is high."
Soraida Salwala, Founder
Friends of the Asian Elephant (FAE)
FAE updates @ JodysJungle.com
~
The Elephant Sanctuary in Hohenwald, Tennessee
March 11, 2008
Delhi
"In the early hours of the morning while her sisters and caregivers slept, Delhi made her transition. Her passing was silent and peaceful, she passed without waking. We are all spending the day honoring our last precious hours with her; caregivers are still fussing around her, whispering quiet goodbyes. Misty carefully touched all over Delhi's body and then gently stepped over her, sheltering her dearly departed friend. We are honored to have been Delhi's caregivers, thankful to be loved by such a kind and wise being. The gifts that Delhi has bestowed upon all of us have been immeasurable. We are ever grateful".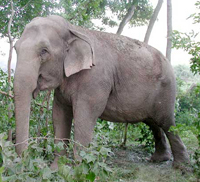 "Namaste our dearest Delhi"
~
ARNA the ELEPHANT 2007
Arna has been mired in controversy since animal liberationists took civil action against the circus in 2002, alleging animal cruelty. Animal Liberation NSW fought its cruelty case for two years, but the matter was dismissed in court. Since then the group has lobbied councils around the state to ban circus acts that include wild animals. Animal Liberation NSW executive director Mark Pearson said last night Arna was a "time bomb'' ready to explode. "It's like any highly intelligent wild animal incarcerated - they're under extreme distress all of the time,'' he said. "When you put an extremely powerful, essentially wild animal that can't be domesticated that can only be tamed or broken in, well then you have a time bomb ready to go off. "To train an elephant to perform ridiculous tricks like Arna does, they have to go through a great deal of brutality. When all different things come together, they will get revenge,'' he said. "It's very interesting that they kill their trainers first," Mr. Pearson said.
Arna @ JodysJungle.com
Arna's Plight @ Circus Watch WA
Arna's Consolation Prize
Sunday March 17, 2002
When does an elephant become a Lion?
After 35 years as a special member of the Stardust Circus, Arna the mouth organ playing elephant has become an honorary member of the Lions Club of Murray Bridge. For more than three decades Arna has toured the country and helped raise over $500,000 for Lions clubs across Australia. This includes donating two wheelchairs for disabled children through the Sydney Lebanese Club. Arna's original owner Mr. Robert Perry said she is a very special elephant and has been owned by his family for the past 37 years. "She has a lovely nature and is very good with kids," he said. "We believe it is the first time in the world an elephant has become a Lion at Large." Mr. Perry said Arna has become a TV star in recent years and has appeared on television with Ray Martin a number of times. The forty - year old circus star weighs about four tonnes and stands 2.74 metres tall. She is originally from Thailand and was sold by Mr Perry to the circus in 1993.
In recognition of her contribution to the community, the Lions District Governor Mr Bob Radford last night presented her with an extra large dinner badge at a ceremony at Murray Bridge showgrounds.
(I cannot imagine anything less meaningful to Arna, is it supposed to bring her great comfort as she rocks back and forth every day of her solitary existance?)
Email: lionsaust@ozemail.com.au
"I wish you had considered helping Arna the elephant leave the Stardust Circus and retire to an elephant sanctuary..it would have meant so much more to her than a badge...I have donated to her cause, money that I earned on eBay, because I believe this wonderful elephant deserves to be among her own kind...I wish you did too. Maybe you will help with her appeal... Here's hoping, Jody@JodysJungle.com"
The next ARNA Appeal will be heard in the Supreme Court in Queens Square on Thursday 21 November, 2002
6/02/02
Dear Jody,
Thank you for your interest in ARNA's plight. Yes, despite chronic financial difficulties we have decided to appeal and have registered this in court. Our legal advice is that we have a very good chance of winning.
All good wishes
JO BELL Animal Liberation
Disappointing Arna Update
May 17, 2002
ARNA the elephant will continue her solo journey with the circus, a court has ruled. Magistrate Paul Lyon today ruled against Animal Liberation NSW claims of cruelty to Arna the Asiatic elephant by Stardust Circus. Mr Lyon cut the case short on the grounds there was no deliberate intent to cause pain to the elephant.
Arna
~
Friends of the Asian Elephant
Motala 8/25/07
Dear Miss Jody:
On Tuesday 28th August, 2007 will mark the 8th anniversary of the success of Motala's operation. Associate Prof. Therdchai Jivacate from the Prostheses Foundation will be present to visit Motala and have a meeting with me and Dr. Preecha. The conclusion will be released to the reporters after our meeting around 2.30 p.m.
We have some photos and info (in Thai) on www.elephant-soraida.com
It would be very kind of you to please let FAE's supporters know. Thank you so much.
Soraida
FAE's NEW ADDRESS:
Friends of the Asian Elephant
687/2 Ram-Indra Road Soi 32,
Tharaeng, Bangkhen,
Bangkok 10230
Tel. 0-2509-1200
Fax. 0-2509-3533
e-mail fae@elephant-soraida.com
web site www.elephant-soraida.com
motala@jodysjungle.com (page is slow to load)
F.A.E. updates@jodysjungle.com
~
June, 2007
Hansa, Woodland Park Zoo elephant, dead at 6
By Jennifer Sullivan
Seattle Times staff reporter
Hansa, the 6 ½-year-old elephant at Woodland Park Zoo, was found dead this morning inside the zoo's elephant barn. Zoo officials believe the female Asian elephant died quietly in her sleep. Hansa had been lethargic and had a decreased appetite over the past week, according to the zoo. The zoo's health staff had been monitoring Hansa and providing fluids and antibiotics, but all tests proved inconclusive. Zoo officials believed that Hansa had improved slightly earlier this week. Hansa, born Nov. 3, 2000, was the first elephant born in the state of Washington, zoo officials said. Her mother is 28-year-old Chai. Because of her death, the zoo's Elephant Forest, which features 40-year-old Bamboo, a female Asian elephant, and 38-year-old Watoto, a female African elephant, will be closed all day. Zoo officials said during a news conference this afternoon that they would be conducting a necropsy today on the elephant. But they cautioned it could be weeks before the results are known. Officials said the normal life expectancy for an elephant in captivity is 46 years. "She was a little princess, and she had a big old Buddha belly," Dr. Kelly Helmick, the zoo's director of animal health, said as she teared up during the news conference. "She was just beginning to mature and drop her baby weight, and we were talking about her future as a mother." In fall 1998, the zoo spent $50,000 for travel and stud fees to send Chai to Dickerson Park Zoo in Springfield, Mo., where she mated with a sire named Onyx. Before the trip, the zoo had spent six years trying to artificially inseminate the elephant.
Chai's 22-month pregnancy ended Nov. 3, 2000, when the 235-pound calf was born at Woodland Park. Almost immediately zoo attendance doubled. A competition to name the calf yielded the name Hansa (pronounced HUN-suh) meaning "supreme happiness" in Thailand, which was Chai's birthplace. "Our beloved Hansa's short life was in the best hands of elephant care and management," explained Woodland Park Zoo President and CEO Dr. Deborah Jensen. "Of course, our elephant-care staff, other staff and volunteers, and our Board are deeply saddened. We will all miss her. "We are a family here and we will provide as much support and comfort possible during this difficult time." Zoo officials said memorials for Hansa can be placed outside the zoo's South Entrance at North 50th Street and Fremont Avenue North. Maria French, president of Northwest Animal Rights Network in Seattle, said the organization has long fought for Woodland Park to end its elephant program. She said the elephants at the zoo don't have enough space to roam. This lack of space, she said, can cause behavioral and health problems in elephants. "This is very sad Hansa has passed," French said this afternoon. "Hopefully this will serve as a wake-up call to Woodland Park Zoo and the [Seattle] City Council that there aren't the resources to care for these animals at Woodland Park Zoo." She suggests that Woodland Park and at Point Defiance Zoo in Tacoma released its elephants to a sanctuary in Tennessee. Gigi Allianic, a zoo spokeswoman, said the zoo will continue to raise elephants, and Dr. Deborah Jensen, the zoo's president and chief executive, said Hansa received only the best care. "We will all miss her," Allianic said. "We are a family here and we will provide as much support and comfort possible during this difficult time."
Information previously reported in The Times and from The Associated Press is included in this report.
Jennifer Sullivan: 206-464-8294 or jensullivan@seattletimes.com
Copyright © 2007 The Seattle Times Company
~
HANSA

As of September 8, 2002
Hansa weighs 1,700 pounds and continues to delight visitors to Woodland Park Zoo. Now nearly two years old and almost one ton she continues to grow at nearly two pounds per day. By adulthood she could weigh over four tons.
View Hansa's growth chart, pictures, slideshow and videos
July 24, 2002
By Bobbi Nodell&nbsp Seattle Times
Hansa was once a publicity darling for Woodland Park Zoo, but lately the rambunctious baby Asian elephant and her keepers' handling of her have become a source of rattled nerves and bad press for zoo officials.
Elephant Beating Scandal
July 16, 2002
Hansa, Born at 4:48 a.m. (PST) November 3, 2000 in Woodland Park Zoo, Seattle, to mother Chai. Birth Statistics: the calf weighed 235 pounds and stood about 3 feet high.
Sire: Onyx died May 22, 2002 Springfield Mo., Dickerson Park Zoo
The pregnancy of Chai
at Woodland Park Zoo as told from the zoo's head elephant keeper, Pat Maluy.

ONYX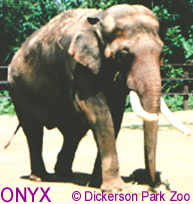 May 24, 2002
Big Mac, whose real name was Onyx, died Wednesday of suspected intestinal problems at the Dickerson Park Zoo. Big Mac was only 38 years old, young for an elephant in captivity, and had sired 12 calves, including HAJI and HANSA

through the zoo's elephant breeding program. The elephant was donated to the Springfield zoo in 1980.

Onyx/Dickerson Park Zoo &nbsp&nbsp&nbsp Onyx/Springfield News Leader

~


Wednesday July 17, 2002 7:20 PM
SPRINGFIELD, MO
The first Asian elephant conceived through artificial insemination died at a zoo Wednesday of a viral infection that caused his tongue to turn purple and his head to swell. Haji was born in 1999 after years of research on the elephant reproductive system and failed attempts at artificial insemination. Sperm was taken from Onyx, an Asian elephant that sired 12 calves before dying in May. Haji's mother, Moola, remains at the zoo. The nearly 3-year-old calf, had been in failing health at the Dickerson Park Zoo since Saturday.
Source: Guardian Unlimited

Tuesday Jul. 16, 2002
SPRINGFIELD, MO
The health of an Asian elephant calf infected with a deadly herpesvirus appeared to worsen Tuesday as treatment with an experimental regiment of drugs continued. Officials at Dickerson Park Zoo in Springfield remained hopeful that the nearly 3-year-old elephant calf, named "Haji," would recover from endothelial inclusion body disease, a herpesvirus specific to elephants. It is generally fatal within five days, zoo spokeswoman Melinda Mancuso said.
Source: KansasCity.com
~

~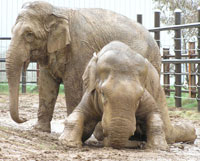 Nic and Gypsy, Elephants in the Mud at PAWS
In spite of his size, Nic is just a baby, aww!

~

PLEASE
Help Stop the Elephant Cull in South Africa
Between 1966 and 1994 more than 16,000 elephants were killed in South Africa's Kruger National Park, as a method of 'population control'. A moratorium on elephant culling was thankfully put in place in 1995. However, it now seems that elephant culling is once again in the cards for South Africa's elephants. &nbsp
On 28th February, 2007, Born Free was deeply disappointed to learn that the South African Minister for Environmental Affairs and Tourism, Marthinus van Schalwyck, had announced that as part of the new Draft Norms and Standards on Elephant Management, culling would be one of the options considered. Born Free is extremely concerned about this decision, which not only has serious implications for South Africa's elephants, but also for the wider elephant population. For more details, see Born Free's Press Release

~

Baby girl born to Ellie & Raja, August 2, 2006
St. Louis Zoo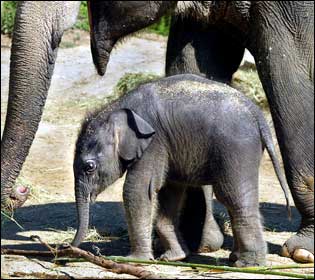 ~

~

A Rare Glimpse Inside
The Elephant Sanctuary in Tennessee
WKRN.com Video
If the above link doesn't work, try this one
wkrn.com news
and scroll down to
"Rare Glimpse Inside The Elephant Sanctuary"

The Elephant Sanctuary
Begins the Largest Rescue of Needy Circus Elephants in US History
Nov 29th, 2005 - Following months of negotiations, The Elephant Sanctuary in Tennessee has been granted the care of 12 needy elephants from the Hawthorn Corp in Richmond, IL. Having recently received three elephants from this herd, the Sanctuary will begin transferring the remaining 9 elephants in late December and plans to have completed the transfer by mid-January. As the single largest rescue of elephants in US history, this is an unprecedented event that could not have come too soon.
More Information

~

Hawthorn Elephants Homecoming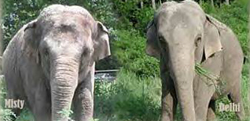 Misty and Delhi are ready to welcome their Hawthorn sisters home!
The Elephant Sanctuary in Tennessee
needs our help to ensure they have everything the new arrivals require.
The eight new arrivals will be:
Billie - born 1953 &nbsp Liz - born 1957 &nbsp Queenie - born 1959
&nbsp Lottie - born 1963 &nbsp Sue - born 1965 &nbsp Minnie - born 1966
&nbsp Frieda - born 1966 &nbsp Debbie - born 1971
Hawthorn Elephants Emergency Wish List

~

Gildah the Elephant Dies
Gildah the 4-ton Thai elephant used in the Siegfried & Roy show has died of natural causes, the performers said Thursday. Gildah, 57, died August 30, 2005 at The Mirage hotel-casino's animal habitat in Las Vegas.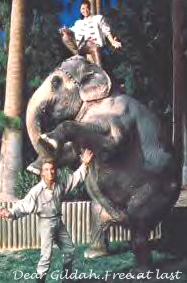 GILDA/GILDAH The Elephant
In 2001, while researching Gilda, I found many items that were posted in 1999...nothing posted more recently. Is it possible that we have given up on her? Is this the way it works, we lose interest and go on to other things? That is not the reason I started this web site, I don't lose interest, and neither should you.
Gilda is a 42-year-old Asian elephant who is housed alone at the Mirage Hotel and Casino in Las Vegas. She spends the majority of her day in a small outdoor enclosure except for the brief time that she is brought onstage to be used by Siegfried and Roy in a disappearing act. Companionship is critical to the health and well-being of elephants. The most highly respected elephant experts in the world concur that it is extremely cruel to keep an elephant isolated from other elephants. Please write to the Mirage and ask that Gilda be retired to the Elephant Sanctuary in Tennessee where she can experience the love and friendship of other elephants.
Contact:
President, Mirage Hotel and Casino
3400 Las Vegas Blvd. S.
Las Vegas, NV 89109

Chair and CFO
MGM-Mirage
3600 Las Vegas Blvd.
Las Vegas, NV 89177

~

MPALA
African Elephant Orphan
The David Sheldrick Wildlife Trust

One day, in the middle of May 2002, an elephant mother dying of bullet wounds inflicted by poachers, struggled to come back with her 6 month old calf to a "safe haven" - namely a 54,000 acre Ranch on the Laikipia Plateau called "Mpala", 280 Kms. from Nairobi, owned by a wealthy American and overseen by a conservation minded Board of Trustees. The wildlife of the Ranch is protected, and there she came to die.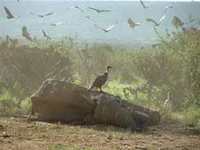 "At the request of the Ranch Manager, this little newcomer was named "Mpala" and we hope that somewhere in the great somewhere the soul of his elephant mother will now be able to rest in peace, knowing that her baby had found the help she intended and he needed. For, we are convinced that that elephant mother, shot and wounded beyond the boundaries of the Ranch by poachers, came back to die in a place where she knew her baby might be safe, with a chance of being able to escape the same fate."
Mpala April, 2003
JodysJungle.com is honored to be one of the loving sponsors of Mpala.
With deep gratitude to The Sheldrick Trust and Mpala's Mother.
Read more about Mpala's rescue


Fostering

~

Lota was forced to spent most of her life in "the entertainment industry".
She was finally rescued and lived free for a short while at The Elephant Sanctuary in Tennessee.
The next time you hear the word "circus", please remember Lota.

~

Man's Animal Instincts Leave Elephant Injured and Blind
Dhaka, Mar 5, 2005 (UNI)
Human instincts are sometimes more deadly for animals than vice versa, as exemplified by the ''bestial'' attack by a mob on an elephant in Bangladesh's southeastern Cox's Bazar district. The mob attacked the wild elephant, who entered the area in search of food, with hot iron rods and powdered chilli on Wednesday, injuring and blinding him.
Source & Story: deepikaglobal

~

To make room for new, young elephants abducted from the wild in Africa, the San Diego Wild Animal Park discarded its aging elephants Peaches, Wankie, and Tatima and sent them to the Lincoln Park Zoo in Chicago April 2003. These elephants had lived together in San Diego for decades since they were captured in Africa as babies. In Chicago, Peaches, Wankie and Tatima live in bleak and barren conditions and suffer from stress, the shock of the cold climate, inactivity, and ill health.

PEACHES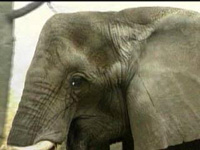 January 18, 2005
For the second time in three months one of Lincoln Park Zoo's African elephants has died, this time it was Peaches. She was found this morning on the floor of her enclosure with unfocused, almost unseeing eyes. After day-long efforts to get her on her feet failed, she was put to sleep Monday night.

35-Year-Old African Elephant Dies At Chicago Zoo
TB Suspected As Cause Of Death
One of Lincoln Park Zoo's three African Elephants has died. Tatima, 35, was found dead Saturday morning, 10/16/04 in her indoor habitat at Regenstein African Journey, according to Robyn Barbiers, a veterinarian and vice president of collections at the zoo. She died as the result of complications from a bacteria infection, Barbiers said.

~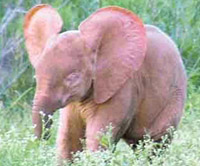 Photo: Odette Joubert, The Star
This baby elephant, believed to be a very rare albino,
was spotted in the Kruger National Park.
1/12/2005
www.iol.co.za

~

LOTA & MISTY


10/29/04
After a three month delay, the Tennessee Wildlife Resources Agency (TWRA) has lifted their suspension of the Sanctuary's import permit and granted permission for Lota (Low-ta) and Misty to move to The Elephant Sanctuary in Hohenwald, Tennessee.
Congratulations to Carol, Scott, Lota and Misty!!
~
Why 5000 Elephants Must Die
Sunday Herald October 24, 2004
©2004 newsquest (sunday herald) limited
Nobody wants to kill them, but 12 years without a cull in the Kruger Park has been a disaster for animals and humans, reports Fred Bridgland in Johannesburg.
We sat down to a hot meal of maize porridge and elephant and onion mince, swigged down with Castle lager, at the end of a hard day. I had spent it with Kruger Park game ranger Jack Greef, who had been dispatching African elephants with high-velocity 7.62 bullets fired behind their ears and into their brains. "Don't ask me if I enjoyed today," Jack warned me gruffly. "Elephants are beautiful creatures. Of all the animals in the Kruger Park I respect the elephant most. We play God, but we are not God. Every time you cull it takes something away from you. This is not a nice job, but it has to be done."
That was 12 years ago. I had just watched one of the last culls of elephants in the Kruger Park. Jack and his team killed an entire family of 300 matriarchs and youngsters that day, in the annual cull that kept the Kruger elephant population at a steady 7500 to prevent heavy destruction of vegetation and allow other species to flourish.
Under pressure from conservation purists such as the International Fund for Animal Welfare (IFAW) and the Washington-based Humane Society, a moratorium was later called on annual elephant culls. As a result the Kruger elephant population has grown to 13,000 and the great park – roughly the size of Israel – is suffering such huge damage that culling is about to be reintroduced.
Anticipating the inevitable international outcry, the South African National Parks (SANP) board last week held a conference in the Kruger Park to discuss the pros and cons of elephant culling – or killing, if your prefer. The great elephant debate featured scientists, academics, animal welfare groups, private nature reserves and representatives of neighbouring countries and of the African communities that border the Kruger.
The latter, ruthlessly ignored in the long history of African wildlife conservation, were the most important representatives. Unlike Western animal rights activists, who take for granted phones, electricity, water, sewage, hospitals, roads and three meals a day, African villagers have to tolerate elephants that wreck their fields, strip their trees and occasionally take their lives.
The conference tossed around various options for managing wild elephants, including translocation, contraception and culling, in preparation for a national and international debate before a decision is made next April on what should be done to control the Kruger population. Few doubt that the final decision will be to cull 1000 Kruger elephants a year for five years to return the population to the 1992 level.
Hector Mangome, director of conservation services with SANP, said a management plan had already been drawn up for the cull because large trees over 15 feet in height were being rapidly destroyed, along with other dense vegetation habitats favoured by animals that are more threatened than elephants, such as the rare black rhino and highly endangered antelopes such as the roan, tsessebe, Livingstone's suni and the splendid, rufous-golden Lichtenstein's hartebeest.
It has to be accepted, Africa's wild animals having been fenced in, that their numbers have to be controlled accordingly, argue men like Greef, Mangome and others who love these magnificent creatures. When the Kruger Park was created at the end of the Boer war in 1902, by Major James Stevenson-Hamilton, a short, stocky Scot who was Laird of Fairholm in Lanarkshire, there were only a handful of elephants there. The rest had been wiped out by prodigious European hunting and the ravaging rinderpest disease that swept down from central Africa in the late 1890s.
Gradually rehabilitating the small stocks of survivors and adding land to the park wherever possible, Stevenson-Hamilton painstakingly grew his herd of Kruger elephants to just 65 animals by 1918.
The Laird of Fairholm "reigned" over Kruger for 44 years, and by 1954, eight years after he retired, 514 elephants were counted. By 1970 the Kruger elephants, descendants of the few Stevenson-Hamilton rescued, were 9000 strong and inflicting huge damage on the delicate and varied Kruger ecosystems. The annual culls began.
In the Africa of old, implanted romantically in Western consciousness by films such as the Tarzan series and Where No Vultures Fly, elephants dispersed naturally, moving on as herds expanded and stripped areas bare of vegetation, allowing them to recover. In modern Africa, people – and especially peasants in picturesque- looking grass huts – no more like elephants trampling over their maize and bananas than suburban Scottish man would welcome elephants uprooting his tomato plants and dahlias. Wild elephants that survive through this new century will do so only behind fences.
By 1978 a 20-year project to fence the entire Kruger Park had been completed. But this ended migration possibilities, and elephant concentrations became unnaturally dense. Elephants are prone to sudden tastes, and vegetation surveys showed they were eliminating great swathes of spectacular baobab trees – often more than 70ft tall and up to 4000 years old – and knob thorns, the favourite nesting places of vultures.
Kruger scientists set to work to come up with proposals on the elephant-holding capacity of the fenced park. "We had to permit the herds their traditional role of modifying vegetation patterns, but not bey ond the point where they could wreak havoc on vegetation and on other animals' habitats," Dr Salomon Joubert, former executive director of the Kruger Park, told me. The number decided upon was 7500.
I expect next year to sit again with someone like Jack Greef at the end of a day of culling, a highly complex exercise, with vultures settled in the trees all around and hyenas and wild dogs lurking in the distance, as "disposal teams" of Shangaans, some of the best trackers and bush experts on the African continent, clad in white boots and overalls, move among the circle of dead elephants.
They will perform their necessary but grisly chores – first slitting the great beasts' throats with a single panga slash, causing immense rivers of blood to flow, and then eviscerating the elephants, at which point scientists will move in to remove treasured bits of tissue for research.
As Jack and I watched in 1992, samples were taken, for example, from foetuses of dead cow elephants, which were to be sent to a zoologist at Australia's Monash University, recruited by the Kenyan Parks Board to produce a contraceptive for its wild elephants. Western administrators of Kenya's Masai Mara game reserve had refused to kill any elephants, and condemned the Kruger cull, but had a major problem with desertification, and also with unfenced animals stampeding through villages and killing people.
The irony was that the Masai Mara administrators were willing to take tissue from dead South African elephants in an attempt to save Kenyan elephants – and, incidentally, people.
As yet, contraception is not the answer to elephant overpopulation. But no doubt the Kenyans, keeping as low a profile as possible, will be back next year to take their samples as the Kruger Park elephant cull is renewed.
~
Stop The Export
Poster designed by Soraida Salwala for Friends of the Asian Elephant/FAE
Funded by FBB (Fondation Brigitte Bardot)
~
Uttar Pradesh Elephants Get Government Cover
[Indo-Asian News Service] Lucknow, Sep 22, 2004
Uttar Pradesh's surviving 143 elephants have at last found refuge in the union environment ministry's Project Elephant programme that was started in 1991. As part of the programme, to preserve elephant habitat and thereby protect the 22,000 pachyderms in the country, the state wildlife department will put electric fencing around certain areas -- where the animal's proximity to human habitation has begun to pose a threat to the lives of both people and elephants. According to Chief Conservator of Wildlife Mohammad Ahsan, most of the state's elephant population is concentrated in Bijnore and Saharanpur districts, along the border with Uttaranchal. According to him, the belt along the Uttaranchal border is home to 111 of 143 elephants in the state. "In order to preserve the elephants here, it had become absolutely essential to prevent their straying into agricultural fields and villages which leads to a conflict with humans and poses a threat to their mutual coexistence," Ahsan told IANS. "There have been umpteen cases of elephants ransacking fields. Resistance by the local population has also led to human killings by the elephant, breeding further animosity," he added. The official expressed the hope that the construction of the eight-kilometre electric fence would keep the elephants within the boundaries of the forest areas. The conservation exercise under the Project Elephant programme also includes the maintenance of waterholes, fire-prevention and anti-poaching measures.
~
Children Celebrate "Elephant Appreciation Day" by Writing Letters to Ringling Bros. CEO
September 22, 2004
Norfolk, Va. — Proving that kids love elephants but don't want to see them torn from their mothers while they are still babies, dressed up in costumes, and made to perform silly tricks, dozens of kids from around the world wrote letters to Ringling Bros. and Barnum & Bailey Circus CEO Kenneth Feld as part of an "Elephant Appreciation Day" contest on PETA's Web site for kids, PETAKids.com. Five grand prize winners were selected from entries from kids as far away as France and India, who wanted to let Ringling know that they won't be going to the circus as long as elephants are part of the act.
Why are kids jumping through hoops for elephants used in circuses? Trainers use bullhooks, whips, and electric prods to force elephants and other animals to perform stressful and even dangerous tricks. In August, Ringling destroyed an 8-month-old elephant named Riccardo after he suffered fractures to both hind legs when he fell off a circus pedestal. He is one of 19 elephants (three of them babies) who have died at Ringling's hands during the past decade. The U.S. Department of Agriculture is currently investigating a July incident in which a young, healthy lion named Clyde died in a Ringling train car while crossing the Mojave Desert in 109°F heat.
Here are some of the powerful messages that PETA's grand prize winners sent to Ringling Bros. and Barnum & Bailey Circus:
A 12-year-old from Norridgewock, Maine, wrote, "I love … clowns and balloons, but the people who act as clowns have a choice for their career. The elephants you use for your acts don't have that choice."
A 13-year-old from Van Nuys, Calif., observed that "if children knew how much pain and torture these elephants went through they would stop visiting your circuses."
An 11-year-old from Lexington, S.C., pleaded with the circus, "Please stop the separating of elephant babies and their mothers. All living things deserve to have a mother. They need their mother to love them and teach them the things they need to know in order to survive in life."
"More and more kids are becoming aware of what goes on behind the scenes at the circus, and they are voting against it by refusing to go," says Patricia Trostle of PETA's Education Department. "A circus with animals is the last place on Earth to take a child who loves animals."
For more information, please visit PETAKids.com
~
Elephant Appreciation Day(tm)

Elephant Appreciation Day
September 22, Every Year
About Elephants, Elephant Anatomy, Echo of the Elephants, Elephant Photos, Elephants, Elephant Day Dances, Elephant Day Cake, Elephoot Cookies, The Elephant Poem,Elephant Mask, Elephant Day Flags or Posters, Elephant Day Badges, Elephruit Salad, Elephant Jokes, Craft, Coloring Page, Recipe, Game, Activity, E-Card
Elephanteria.com
Homeschooling.com
~
Tamed Pachyderms Become Bengal's White Elephants
India News, Kolkata, Sep 20, 2004 (IANS)
There is a sudden glut of elephants bred in captivity in West Bengal, and the state's cash strapped forest department is finding it difficult to maintain them. There are 76 of them now in the state's various reserve forests stretching the state's means, but the authorities have allegedly ignored opportunities to "gift away" some of the animals to other states and countries. The elephants are a drain on the resources till they reach the age of 8-10 years or six ft in height when they can be put to use, local reports said. Trained elephants are usually used to patrol forests, carry tourists on jungle safaris and capture wild animals, particularly untamed elephants. These animals live in the forests of Jaldapara, Buxa and Gorumara in north Bengal with their trainers. Forest officials said these trained elephants were breeding fast and it was becoming difficult for them to maintain them. The forest department has identified more than a dozen elephants from the 76 now available that could be given away to others, but the government reportedly hasn't moved on the suggestion. "It requires a lot of money to maintain elephants bred in captivity. Besides, a large number of trained manpower is needed to train these animals," a forest official said. One option is to give away the animals to others needing them. And there are quite a few takers at home and abroad.
~
Mysore Zoo Elephants Poisoned
MYSORE, DHNS:
The IAHVB report states that the zoo elephants died due to acute haemorrhagic enteritis and acute respiratory distress caused by toxemia. The susipicion of foul play in the deaths of zoo elephants Ganesha and Roopa has proved right. The laboratory reports have confirmed that the elephants were killed using a strong chemical poison (zinc phosphide). The two elephants, which died on September 4 and September 7, 2004 respectively, had acute haemorrhagic enteritis and respiratory distress because of the poison.
~
Thousands of Elephants Still Killed for Ivory
About 4000 elephants are being killed illegally each year to feed worldwide demand for ivory, say two new studies published ahead of a major international meeting in October. The studies also report a "surprise result" that, for the first time, the biggest markets for ivory are in Africa rather than Asia. And embarrassingly for Thailand, the country hosting the Convention on Trade in Endangered Species (CITES) meeting, the Thai authorities are singled out for lax controls on international ivory smuggling.
~
Tusk, a Musical
The plight of endangered elephants is at the core of Tusk, a Musical, playing Sept. 18-30, 2004 as part of the New York Musical Theatre Festival (NYMF). According to its creators, "Tusk is not 'children's theatre' but entertainment for all ages. It is a universal story of humanity and survival told by a family of elephants taken from their home in the rainforest and forcibly turned into circus performers. Tusk is a compelling story of social significance that will challenge your sense of humankind." The story "is told by a company of actors who never become elephants, but engage the audience through the use of shadows and silhouettes," according to production notes. "This evocative and powerful musical is an absorbing and thought-provoking journey enhanced by the audiences' imagination." Creator Norman Rea said in a statement, "The musical tells the story of mankind through a family of endangered elephants. It's the story of all of us and the universal struggles of life." Director and co-book writer Steven Yuhasz said, "Tusk follows a family of elephants from the rainforest as they struggle to survive separation, slavery and loss as circus performers. It also shows the parallel between our lives and those of the elephants." The writers consulted Carol Buckley,
Director of The Elephant Sanctuary in Hohenwald, Tennessee
during the creation of Tusk, a Musical.
TuskFlyer.pdf
~
Update:
Soraida has named the calf Auro because he was born at dawn.
KRAMPRAI, Kramprai's Baby Boy
I am delighted to bring you this good news.
After KRAMPRAI's arrival at FAE's Elephant Hospital on 20/04/2004, we had staff on shifts to watch over her 24 hours. On Friday 17th September around 5.00 p.m., Kamprai showed sign. After twelve hours, at 5:00 am. on Saturday 18th Sept., she was in labour and delivered a healthy male baby at 6:16 a.m. The new baby weighs more than a hundred kilogrammes with 91 cm. in height. He has five nails on each front foot and four nails on the hind ones. His mother accepts him and is feeding him all right. I have attached his photo here.

Best regards,
Soraida Salwala
FAE
~
April 15th, 2005
Bella
Zoo's baby elephant euthanized
Bella
The Houston Zoo's baby Asian elephant was officially named Bella.
Sept. 11, 2004
Mother: Shanti
Father: Thai
Date of Birth: August 17, 2004
~
Years ago I had a picture of a small child with her arm around an elephant, it was from a greeting card. I thought it was so sweet I posted it on my site. Sometime later, Carol Buckley of The Elephant Sanctuary in Tennessee wrote to me and told me that this poor animal had been beaten and chained in order to make it "sit" on the stool. I took that picture off of my site and apologized to Carol and all elephants everywhere, then and now, for not seeing the exploitation, and in fact, furthering it. I told her I would not forget this lesson and would pass it on and I did. Carol accepted my apology and was happy that I was using it as a learning tool. Now, years lated, I see another wretched picture turning up...same elephant..the one who was chained and beaten so that parents could pay money to have their childrens picture taken with an elephant.
The new picture and poster have to do with a movie about a book about an elephant named Modoc.
~ Kevin Costner: A Man and His Elephant Actor-director Kevin Costner is going out on a limb--or a trunk, as it were--with his next project. According to the Hollywood Reporter, he is in negotiations to direct and possibly star in Modoc: The True Story of the Greatest Elephant That Ever Lived, described as a cross between Black Stallion and Forrest Gump. Intrigued? The film tells the joint biography of a man, Bram, and his elephant, Modoc, both born in a small German circus town on the same day in 1896. Bram was the son of an elephant trainer, and Modoc was the daughter of the trainer's prize performer. The boy and the elephant grew up side by side, and when the Wunderzircus and its animals were sold to America, Bram stowed away on the ship to avoid being separated from the elephant. ~
I don't care about the movie or the book, what I care about is this horrible picture. The one I removed from my site. The one that showed a little girl instead of a little boy. It has now become a poster.
News Story: August, 2004
Ricardo, an eight month old Asian Elephant with Ringling, was euthanized after breaking two legs from falling from a 19-inch pedestal. The elephant was euthanized. (Ricardo was chained and beaten while being trained to SIT on the pedestal.) And so it goes, on and on.

~

Asian NGO's Unite to Stop Live Elephant Trade from Thailand


Dear friends: