'Toansai' which means "Banyon Tree"
jj

~

Date: 1/25/2009
Kammee's wound: 15 x 15 cm



1/23/2009
Pung Kammee
New Patient

Pung Kammee walked off the truck.
Pung Kammee (age unknown) arrived at 4.30 p.m. today.
She has a swollen wound on her front right ankle.
~
Added January 23, 2009
Press Release from 2005 Regarding Wildlife Trade
Of Interest and Still Relevant
The press release below is given by Masayuki Sakamoto, who serves as both the chairman of the Asian Conservation Alliance (ACA) and the Secretary General of JWCS. ACA and JWCS have their headquarters in the same building and work together as member organizations.
Immediate Press Release
Why do Governments fail to understand the threat to the Royal Thai elephant?
Australian and Japanese governments permit the import of live elephants.
Tokyo 22nd July 2005
In one of the most shocking incidents, the Government of Australia has allowed the import of 8 elephants from Thailand on Wednesday, 20th July 2005, and on Thursday' 21st July 2005 the Royal Government of Thailand has allowed the export of 2 of its Elephants to Japan, rejecting the concerns of policy makers and environmentalists.
Asian Conservation Alliance, a network of 43 NGO's in Asia and distributed in 14 countries, regards this as one of the major threat to biodiversity of the South East Asian region and believes that this would trigger more illegal trafficking of elephants from nearby regions like Myanmar, Laos, Vietnam and Cambodia.
The chairman of Asian Conservation Alliance, Mr. Masayuki Sakamoto, reiterated the need for continuous efforts on abiding to international environmental policies related to wildlife trade and stressed the importance of species conservation and maintenance in its own habitat. He further said that, Scientific studies have proved that, trying to breed elephants in Australian or Japanese Zoos will not help to save the endangered Asian elephant as it will do nothing to address loss of key habitats, human-animal conflict and illegal poaching.
The United Nations 'Millennium ecosystem assessment report' which was released on the 23rd March 2005 from Tokyo reveals that, over the past few hundred years, humans have increased the species extinction rate by as much as 1000 times and, it further explains that, between 10% and 30% of mammal, bird and amphibian species are threatened with extinction. As scientific community has raised the importance of conservation, it is surprising to see governments making irrational decisions and thus undermining the efforts of any conservation movement.
SORAIDA SALWALA, steering committee member of ACA and founder of FRIENDS OF THE ASIAN ELEPHANT/FAE said the move by developed nations to exploit the wildlife of Asia and particularly, South East Asia is catastrophic and has no scientific justification. Ms Salwala says she is surprised on why developed nations like Japan and Australia fail to understand the importance of conservation of wildlife, especially when illegal poaching in Thailand, Myanmar and Laos are getting more rampant. The trade demand to rich western nations and Japan has instigated poachers and illegal mafia to enter into this lucrative trade.
Asian Conservation Alliance in its earlier report, 'Thai Elephant Trade
A threat to the CITES implementation process', released during the CITES CoP 13 meeting in Bangkok last October, had revealed the consequence of live elephant trade. Since then, ACA has been actively campaigning for banning trade of live elephants from Thailand to the developed world.
~
At FAE's Elephant Hospital on Wednesday 21st January, 2009,
Assoc. Prof. Dr. Therdchai presented the second Prosthetic Leg for Mosha.
Pictured:
Dr. Preecha, Soraida Salwala with Mosha's second prosthetic leg, Dr. Therdchai, Dr. Kay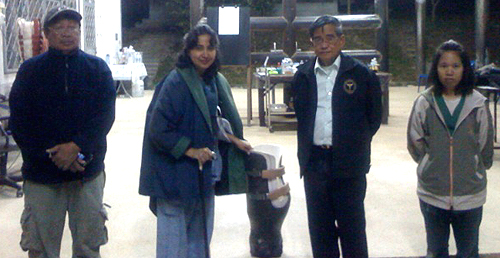 Photo shows the 2nd Prosthetic on the left and the first one in the glass case on the right.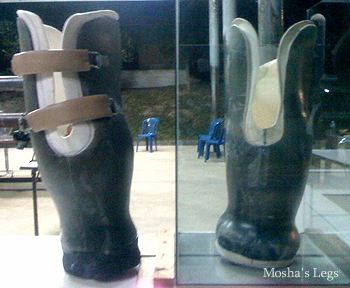 Mosha and her new leg.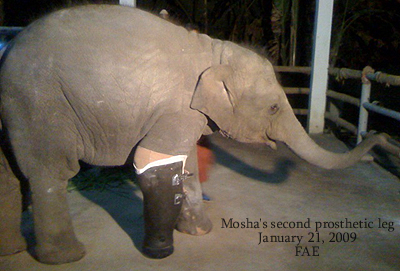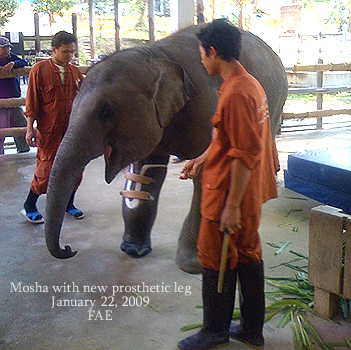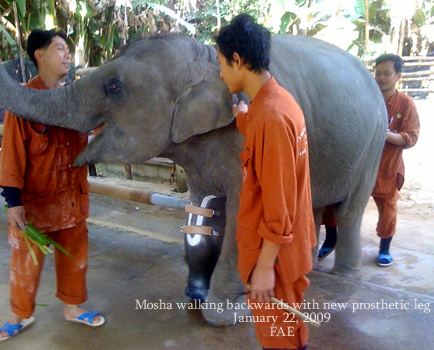 ~
MOSHA:
THE THAI BABY ELEPHANT INJURED BY LANDMINE IN MYANMAR
On the 9th of June in 2006, we received a phone call from the owner of Mobra (the elephant who stepped on a landmine and was treated at FAE's Elephant Hospital years before) that a baby elephant had stepped on a landmine in Myanmar just across the border of Tak Province. We asked him to quickly transport the baby and the Mother elephant as well even though she was not injured. I was so worried that I sent our vet and staff over and they met on the way to accompany the baby and her mother to our hospital. They arrived at 02.15 a.m. on 11 June.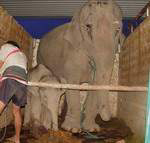 We were shocked to see how young the baby was. She was only seven months old. Poor Baby was so little and her right front leg was totally shattered, severe beyond explanation.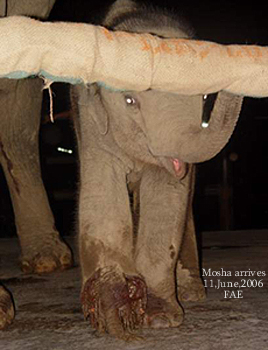 The injuries were like those of Motala's but Motala's was on the left front leg. There was no foot pad left, finger bones were dangling. Since the baby had no name and she arrived with the stars up in the dark sky, I named her "Mosha" which means "The Star" in Karen language. From that moment on, Mosha has proved to be the star in all our hearts.
We tended her wounds, giving all the necessary medicines by grinding them in jam and feeding to her. This was the way to avoid stress on Mosha (if we gave her injections) who was already in great pain. She still needed her mother's milk that was why the Mother's presence was important but also difficult for us to be near the baby.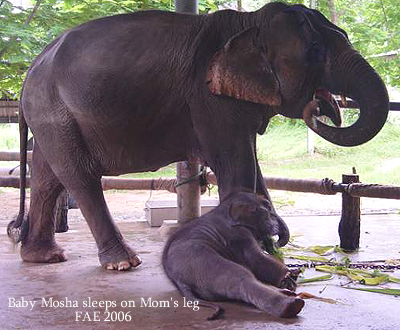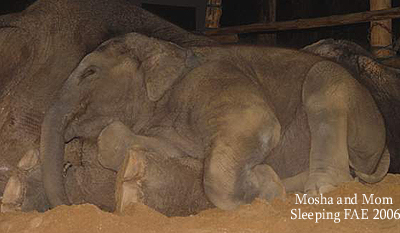 We expanded the fence to give more space for Mosha to exercise after the wounds were completely healed. Mogreygay finally felt secure and got some sleep. This is a beautiful photo. Mogreygay was the mother of the year!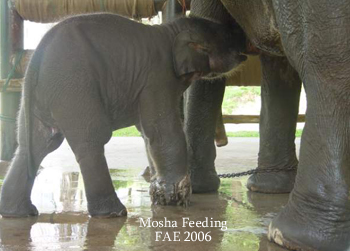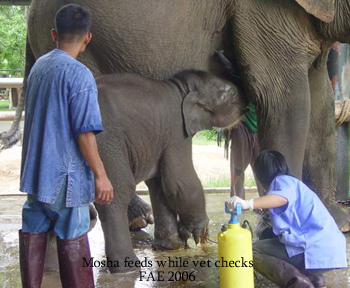 Somehow we managed to befriend the Mother, Mogreygay but still she was not feeling secure. She never lay down to sleep but stood there with her baby under her belly or Mosha slept next to one of her feet, a guarding mother indeed. &nbsp
June passed into July, Mosha had difficulty getting up and was less active. She was not responding to the treatment. Her chance of survival was then very slim, we then issued the statement telling the public through the media. We would continue to do our best to save her. &nbsp
On the 8th July, 2006, Mr. Yusubkan Pearnrak contacted me and wished to come and visit Mosha. I welcomed him and we had a long talk. Mr. Yusubkhan proposed to contribute the herbal medicines, fresh ones to treat Baby Mosha's wounds.
Dr. Preecha was reluctant but I told him we had to give Mosha the chance. If the medicinal herbs did not help, then we would know deep down we had done our very best. That day Mosha was already between life and death.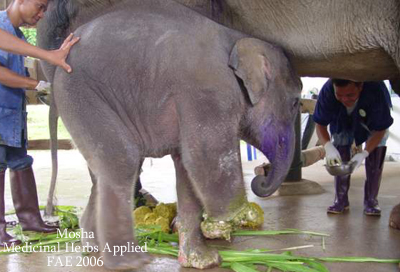 We started applying these herbs on the wounds, within a few hours Mosha stood up and showed sign of less pain. However, we still continued with the antibiotics and painkiller in the jam until the 17 July, 2006.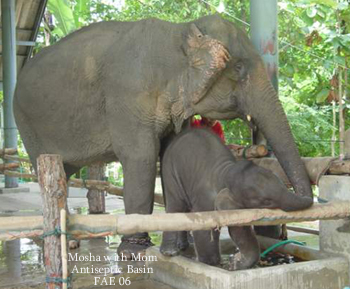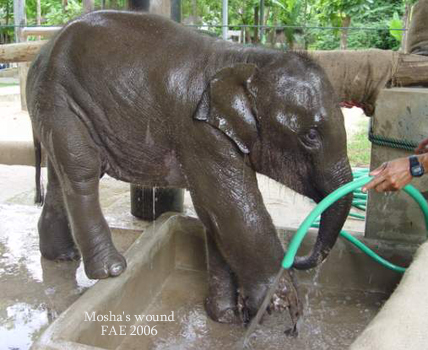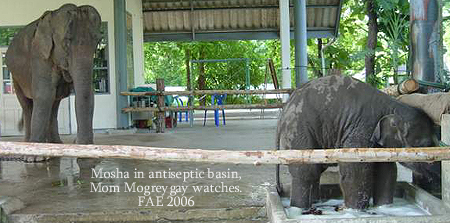 With all the process mentioned, the wound dressings in the basin was a daily task and Mosha knew it. She would walk and stood inside the basin waiting for Dr. Kay to come and soothe her pains. After the use of medicinal herbs for fifty-one days (27 August, 2006), the pus was less, new tissues came, new skin was growing and the wounds completely healed. &nbsp
Mogreygay began to push Baby Mosha away many times and we knew they were signs showing that it was the weaning period. I quickly talked to the contractor, planned Mosha's Infirmary and added the playground to have all built and finished before the mother went back. I wanted Mosha to walk there with her mother, familiarizing the new small world and sense it with her mother around. It was indeed a sad episode for me planning all the parting sequences. Dr.Preecha, Dr. Kay and I were engaged in serious talks daily."
Then came the day she was weaned and her mother, Mogreygay, had to return to her owners. 12th December, 2007 was a sad day for both. Mosha seemed to sense something was going to happen and stood next to her mother for fear she might be walking away somewhere. Dr. Preecha had to use medicines on both of them. Mosha had a sound sleep while her mother was ready to step on the truck, one last look from Mogreygay and she departed to an unknown destination. &nbsp
Mosha was donated to FAE and we wish we could keep the mother too but Mosha needed to be tended to closely. We could not do that with the mother around on guard. Our staff stayed with Mosha 24 hours and I found Mosha a nanny which is Granny Tanthong, a 76 years old elephant who has taken Mosha as a great grandmother would. &nbsp
We prepared Mosha for the prostheses by fitting her with the preprostheses leg so she would be familiar with having something on that leg after she could put her whole weight on that injured leg on the mattresses we had made especially for her. On the 23rd February, 2008 on Mosha was getting to walking on the walking aid and on the 9th June 2008, the first elephant prosthetic leg was made for Mosha by the Prostheses Foundation. She loved that leg so much, she walked proudly on it and tears filled my eyes. The prosthetic leg had to be enlarged 4-5 times from June to October and on the 10th January, 2009, the second one is made and now in the process of making it to fit Mosha. &nbsp
"BABY MOSHA, you are now standing high, my dear baby. Be strong!" I whisper to her. Other elephants may not have the chance Mosha has but we are always prepared. No matter what the future will bring, Mosha is one of the stars in our hearts who never ceases to bring us JOY and SURPRISES!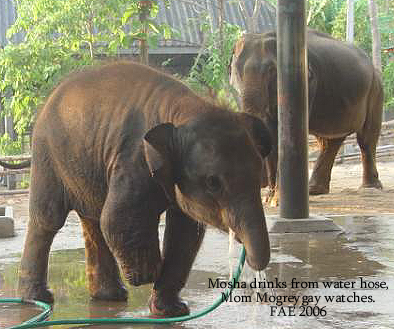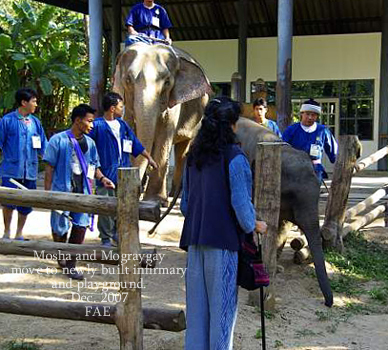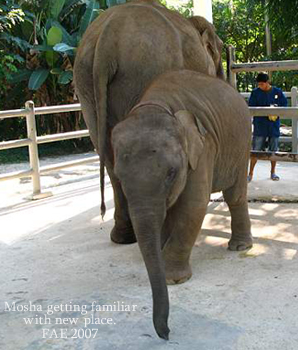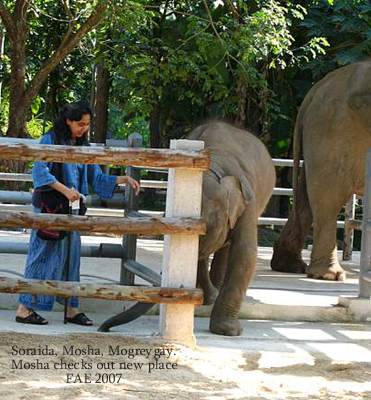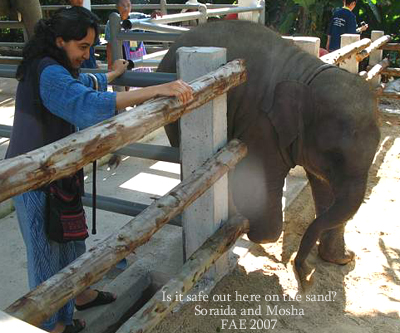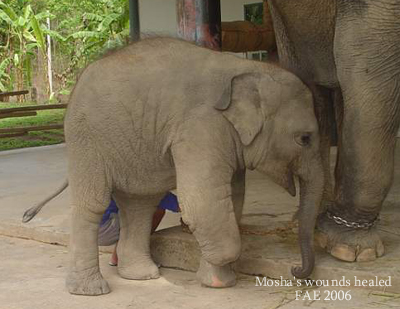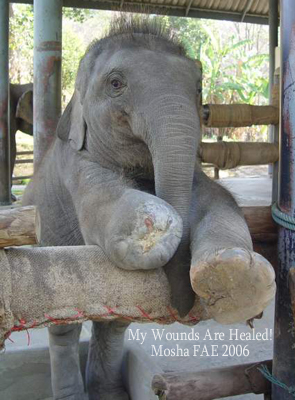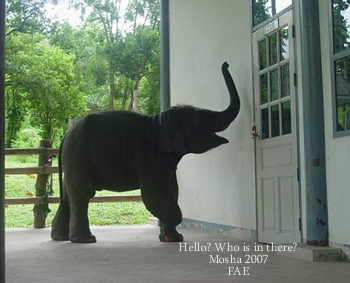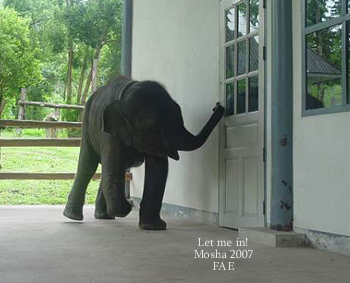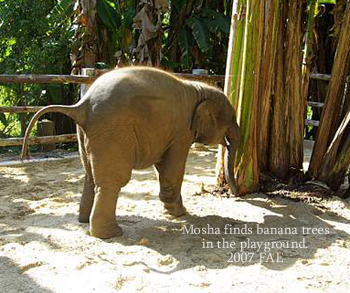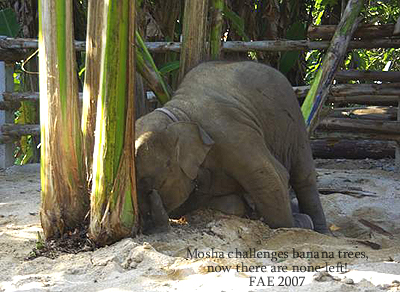 Thank you so much for everyone for their involvement in making the impossible possible for MOSHA and other elephants under FAE's care. Thank you immensely.
Soraida Salwala
Founder
Friends of the Asian Elephant
A Thai Registered Charity which has built the World's first elephant hospital in Lampang, Thailand
18th January, 2009
www.elephant-soraida.com
~
Jintara Update
January 22, 2009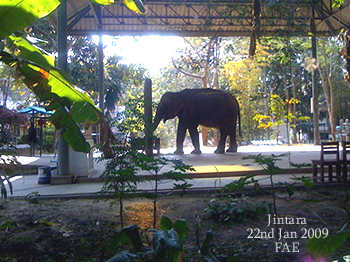 Jintara is eating well now but rather slow.
She is over fifty years old, judging from the form of her head, ears and skin.
Jintara arrives @ FAE
January 17, 2009
Jintara, an elderly female elephant (age unknown) arrived around five thirty on 17th January, 2009.
She has not eaten well for three days.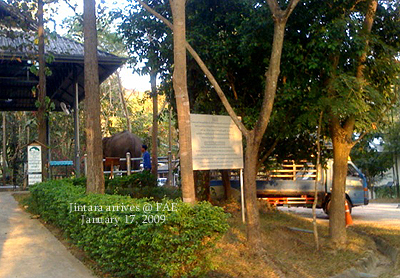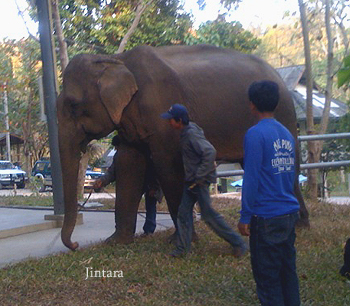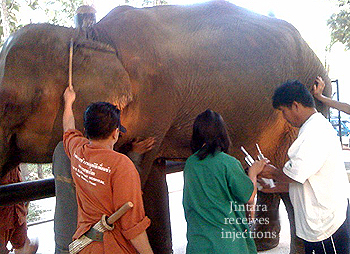 ~
Kammuen Update
1/18/2009
Dear Soraida,
can you tell me how Dr. Preecha feels about Kammuen's swollen leg and loosened tusk, is there infection?
1/19/2009
Regarding Kammuen, Dr. Preecha, Dr. Kay and I had a meeting today over several cases, Pung Noi, Kammuen and Jintara. Dr. Preecha says the infection on Kammuen has been controlled and the full dosages of anti-infection and anti-inflammation have been given but the inflammation is still worrying. We use warm compression daily to reduce it. Dr. Preecha explains that the tusks are the first front teeth of the elephants so it is the same as human having a toothache. However, tests will be performed to make sure the infection does not come back. Kammuen sleeps well and eats well and enjoys the warm sun since it is chillingly cold here.
Soraida
January 17, 2009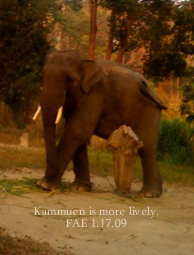 &nbsp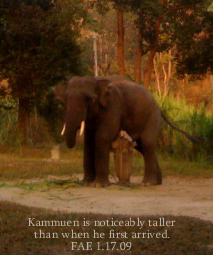 On Friday the 26th December, Kammuen arrived at FAE at five p.m.
He slipped and fell down on his left side. The leg is swollen and his tusk has loosened.
Dr. Preecha is worried that it might have severe infection and inflammation.
~
Dr. Preecha Phuangkum DVM:
Co-Founder of FAE/Director of Medical Service to FAE's Elephant Hospital
(the world's first)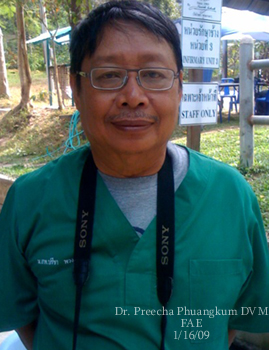 We always see Dr. Preecha with cameras as well as needles. He has the expertise of one who knows all about elephants in Thailand. He is named 'Elephant Specialist' by IUCN and well known the world over for his experience with elephants. Dr. Preecha does not speak much but he is a good story teller especially around a bonfire on the cold night. Once he starts, you would not want to hear it ends. Stories about elephants are so much and do remember, an elephant never forgets. So, beware! They recognize him well. Every time Dr. Preecha approaches any elephant with his hands behind his back, the syringe is there ready to give a shot. Off, some of them just run away or hide behind a tree, thinking the doctor cannot see her now but no, her body is bigger than that small tree. I almost laughed aloud.
Another big applaude, without Dr. Preecha's help, FAE could not have saved the elephants.
Mr. Janadol Panthong:
FAE IT Adviser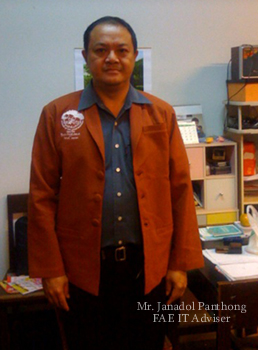 Mr. Janadol or Khun Boy has been a great teacher to me, teaching how to use all the modern devices I have been using to speed the work, PALM, Mobile phones, Notebook. Teach and helps install the programme on our computers. Moreover, he helps teach the staff about wi-fi, walkie-talkie, torches, emergency lights, etc. He is our Mr. MacGyver, big thanks to him.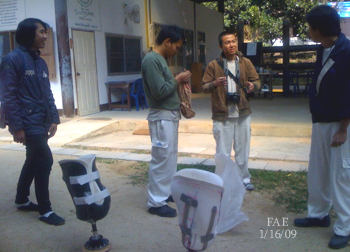 On 16th January, 2009, the Prostheses Foundation
visited us to try the new prosthetic legs on Mosha.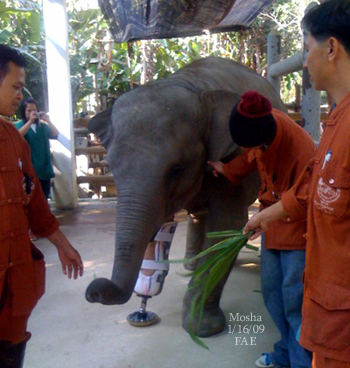 Walk Mosha, Walk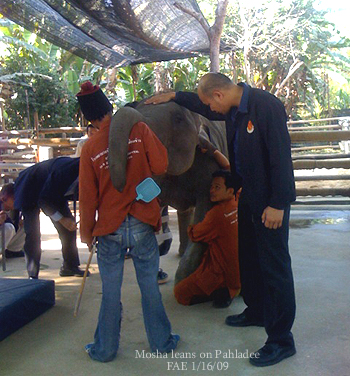 Baby Mosha does not know her weight could hurt us.
While trying on the prosthetic leg, Mosha leaned on Palahdee's shoulder.
I will talk to the contractor if he could make a steel shoulder for Palahdee.
My baby Mosha is an incredible elephant indeed! Soraida
~
Read More About The Charity Premier of The Elephant King @ lifestyleasia.com
By Vachini Krairiksh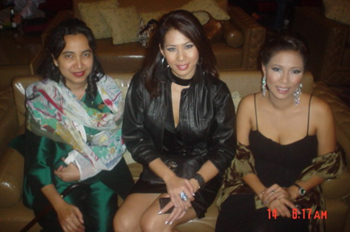 Soraida Salwala, Miss Vachini, and Miss Oscar.
"The fundraising from the auction of the seven paintings was 31,000 Baht."
Soraida Salwala
Founder
Friends of the Asian Elephant

The Charity Premiere of the Motion Picture
"The Elephant King"
The auction and Premiere was held at the Esplanade, Bangkok
on 14 January, 2009
Proceeds from the auction of paintings done by celebrities,
famous singers and bands will go to "Friends of the Asian Elephant"
The Elephant King begins showing in Thailand
on Wednesday 15th January, 2009 in many cinemas.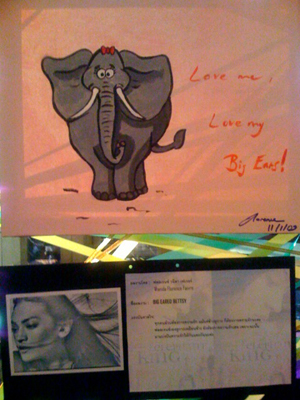 Painting by Miss Florence Faivre,
the heroine in 'The Elephant King'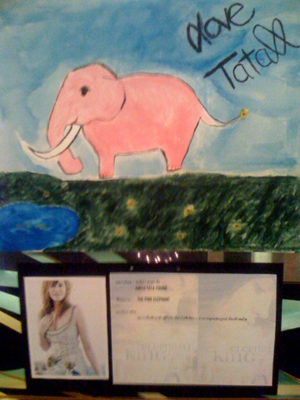 Painting by TATA Young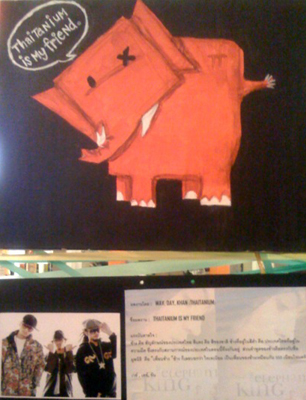 Painting by "The Thaitanium Band"

Miss Vachini Krairiksh and her painting
~
Friends of the Asian Elephant/FAE
"Mosha's second prosthetic leg is in process today
from 8.30 a.m. 10th January, 2009"
Soraida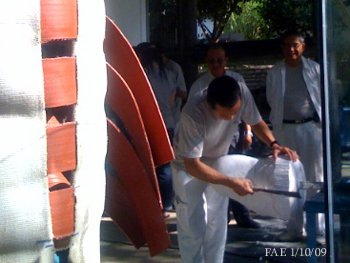 Mosha's second prosthetic leg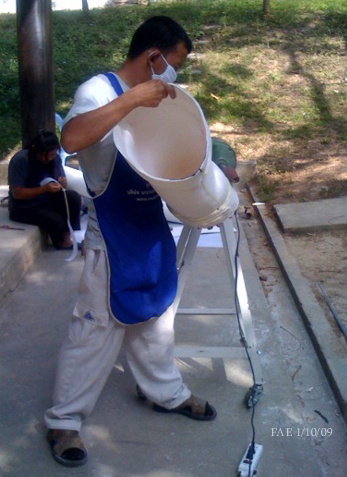 Soft socket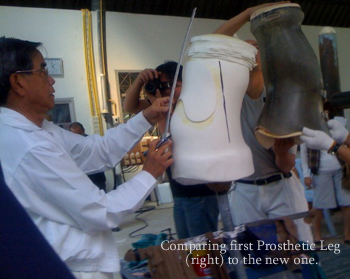 Comparing Mosha's first Prosthetic Leg (right)
to the new one being made.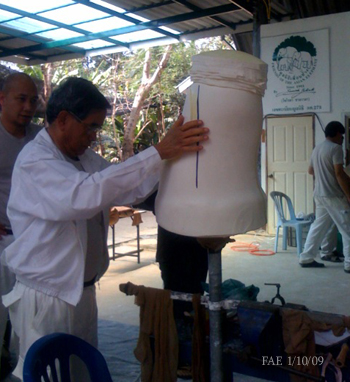 Second Prosthetic

Poly wrapped around the mold.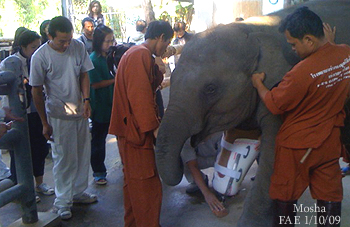 Fitting Mosha.
The Prostheses Foundation will be at Friends of the Asian Elephant
(FAE) Hospital to make a new prosthetic leg for Baby Mosha on Sat 10th
January, 2009.
Soraida Salwala
FAE
~
Guardians of the Elephants
Friends of the Asian Elephant
F.A.E. January 7, 2009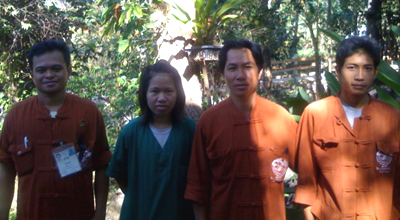 From left, Charan, Dr. Kay, Somchai and Palahdee

A big applaude to these four persons who have dedicated their lives to
help the elephants under FAE's care. Never complain, no matter how
tired they are. Other people may come and go or just disappear but
Charan, Dr. Kay, Somchai and Palahdee never leave.

Their responsibilities are high, they help in every work you could not
imagine.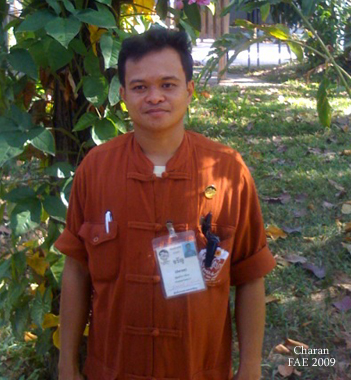 Charan cooks, drives the car, running errands, controls elephants,
sweep and scrub the floor, goes to market and others.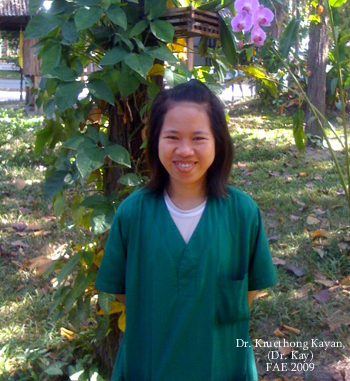 Dr. Kay, not only treats sick elephants, she helps dig the ground,
plants trees, feed our watchdogs, cleaning dusting, making boards, etc'.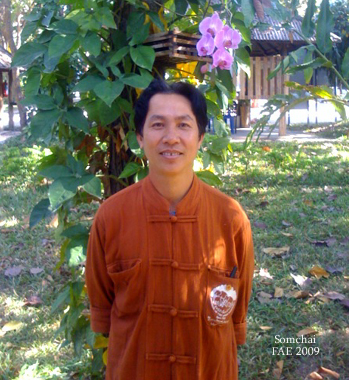 Somchai takes care of Motala but with his skills on carpenter work, he
helps with that too. And of course assists taking care of sick
elephants.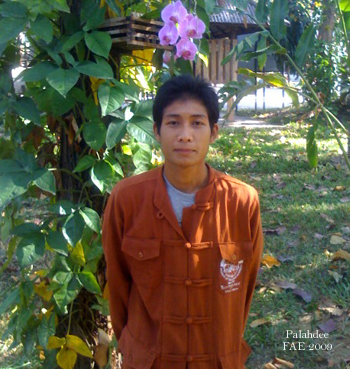 Palahdee now has to be with Mosha twenty four hours a day. He is good
with her and Tanthong. His work on trees is great.
Now that Palahdee cannot leave Mosha side, so the trees and plants are
not tended, so Charan and others help to water the plants.

Thanks to them all, no word could describe other work they are doing,
everything indeed.
Soraida

~
BABY MOSHA'S MISCHIEF
On the third of January 2009, I asked Palahdee to take Granny Tanthong for a walk because Tanthong has not walked to the Rehab to meet her friends, Tahnee, Ekhe and Auan for a long time already. So, Charan was with Mosha but Mosha did not like Tanthong to go so she wailed and I walked up to her while Tanthong was walking back. Then Mosha climbed the railing and wailed even more, Tanthong ran around Mosha's shelter with Palahdee on her neck. He almost fell out. Everyone rushed to help control the two but it was impossible. Tanthong calmed down and grumbled while Mosha was making a lot of whimpering sounds. All of us tried to comfort her telling her that Granny was just taking an exercise or she would be sick and that she was not going anywhere, Mosha turned her back on us and made a lot of noise and stayed nearest to Tanthong as if she was afraid Granny would leave her forever.
Baby Mosha, Palahdee and Granny Tanthong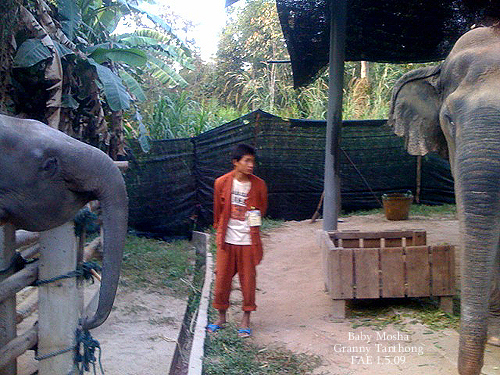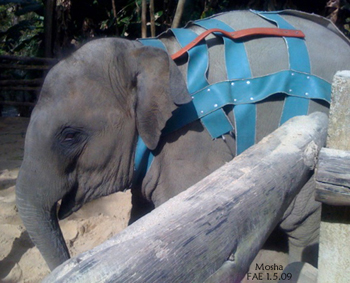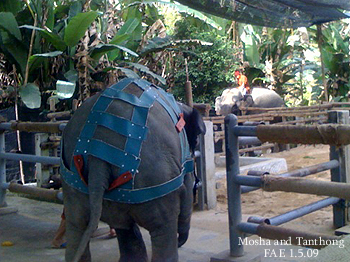 Yesterday morning I went up to Mosha and talked to her as usual. She was in a sleeping position in her playground fenced near Tanthong Shelter. She sat up and I told her to lie down and she did. A few minutes later I was talking to the contractor about the water tank just five to six meters away from Mosha but stood close to the fenced playground, suddenly I felt something caught my left ankle and I lost balance. The contractor caught me in time before I fell and we all saw that Mosha was in a crawling position. She crawled on the sand to pull my leg, how mischievous of her. She meant no harm and wanted to play but I might have broken my leg. I was caught in the hide and seek by a baby elephant named MOSHA!
Soraida
~
CHEERS!
1/3/09
The First Good News of 2009!
A male baby was born in one of the tourist camps last night. The owner just called me.
When Dr. Preecha comes in, I shall send Dr. Kay to check how the mother and baby are doing.
Soraida
~
1/2/09
Eleven year old Kammuen is recovering well.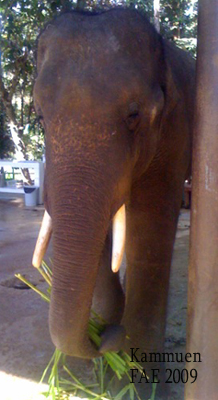 12/27/08
Kammuen
Kammuen arrived at five p.m. on Friday the 26th December. He slipped and fell down on his left side. The leg is swollen and his tusk has loosened. Dr. Preecha is worried that it might have severe infection and inflammation.
From FAE Page 2
~
1/2/2009
URGENT AND IMPORTANT ANNOUNCEMENT
From Friends of the Asian Elephant/FAE
"These photos and the information provided are intended to explain to the public the truth and nothing but the truth that these unpleasant things are happening to Friends of the Asian Elephant (FAE). All these years, we have been asked questions why and what is behind all the difficulties we have been experiencing. We hope that the truth and evidence we show here clarify some of the problems we have faced."
Soraida
12/28/2008
The elephant statues are TECC's (Thai Elephant Conservation Center), the posts are what they have just put up. Yes, that is the entrance to us too, the inner road to their place is on the left, the road leading to FAE is on the right. sigh! People will be more confused with these posts as if we are in their compound. They even put in writing when they do the PR that their elephant hospital has been there since they opened the TECC in 1993 and officially opened their hospital in 2000?????? FAE was founded in 1993 and the first unit of FAE's Elephant Hospital was finished in October 1994. I cannot believe these things are still happening but knowing them I am not surprised.
Soraida
Pictures show posts set up by the TECC at the entrance from the highway to the smaller roads to FAE, please use the same route as instructed on our previous annnouncement. FAE is still where we were even though these posts have been put up by TECC.
Soraida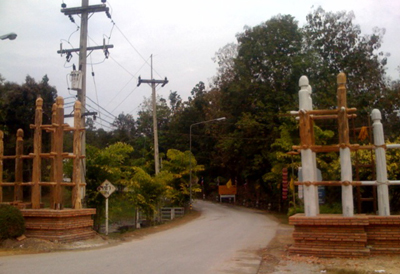 From Friends of the Asian Elephant/FAE
15th November, 2008
FAE'S ELEPHANT HOSPITAL (THE WORLD'S FIRST)
IS NOT PART OF THE THAI ELEPHANT CONSERVATION CENTER
There are people standing in front of the truck that is supposed to transport the sick elephants to Friends of the Asian Elephant Hospital (FAE's Elephant Hospital) in Lampang province, north of Thailand. The drivers are told to send the elephants somewhere else or send the sick elephants to the place further which belongs to the government sector names Thai Elephant Conservation Center under Forest Industry Organization which is under the Ministry of Environment and Natural Resources. Some of the drivers are threatened that they will be arrested if they send the elephants to FAE.
There has been a lot of confusion and unpleasant intentions from people who work there and FAE has reported to the police many times. FAE suffers continuously from spiteful acts and has had and is still having great problems.
People coming to visit Motala, the elephant who stepped on a landmine in 1999 and has been with FAE since then, will be told, if they should go to the wrong place, that MOTALA IS ALREADY DEAD. When the visitors say they do not think so because they have just seen the news about her, the visitors will be told that the place where Motala was is closed and not opened for public visit.
It has been very tiring due to these great efforts of the people who wish to cause harm to FAE. Over a decade, these things have happened, putting trees right in front of FAE's Elephant Hospital Signs, destroying our signs, spraying paint on our signs, putting their own signs blocking all FAE's Elephant Hospital signs, putting a sign of an arrow showing "ONE WAY" and a sign of "No Turning RIGHT" which is where FAE's Elephant Hospital is located.
And the most dreadful incident was setting a fire surrounding our hospital in a U shape in January 2007. It was only 30-40 meters from the blind and injured elephants including Motala, Ekhe, Tanthong, and others. If it had not been because of the help we received from the local fire brigade and the sub-district emergency unit, and if we could not move all those injured elephants in time, WHAT WOULD HAVE HAPPENED TO THEM?
The Royal Forest Department's Anti-Fire Unit refused to come saying that they would lose face because it was FIO's act and not forest fires. The officials responsible for setting the fires claimed they were doing the Burning Prescription according to the order. FAE reported to the police, the Prime Minister and the Minister of the responsible Ministry but all in vain. In April 2007 a new fire was set (this time we saw no one) and the fire was burning all night until 11.00 a.m. the next day and again the local emergency units came to help.
Recently earlier this month, a veterinarian from France who has been in contact with FAE's Founder that he would come to visit in November 2008, went to the wrong place and donated the needles that FAE needed to the other place with misunderstanding since he was told that that was the only elephant hospital.
On behalf of Friends of the Asian Elephant that built and operate the World's First Elephant Hospital, I am seeking your kind response to our request to please look for Friends of the Asian Elephant's sign if you wish to visit us. We are in the Mae Yao National Reserve which is next to the Center but we are not part of them and have no affiliation with them. The signs will show that we are located only 250 meters from the highway on Chiangmai-Lampang Road where the small road leads to the center is on the left and the road leads to FAE is on the right.
Thank you very much for the kind support from friends around the world.
For the elephants,
Soraida Salwala
Founder
Friends of the Asian Elephant (FAE)
A Thai Registered Charity
~~~
November 15, 2008
Traffic
All these photos have been sent to the police, the Prime Minister, the Minister but nothing was done. They claimed they were taking care of the traffic. Our lawyer came up to see and instructed us to report to the police every time we know of these behaviours but it is a minor case here. We filed complaints to the police and to the Lawyers Institute. It took seven months of investigation for the Ombudsman, attached to the Thai Parliament and now independent. They came and we sat at the district, we meaning FIO (Forest Industry Organization of Thailand) (twenty of them) and FAE (only two so I called our two staff who drove me there to come into the room so we were four). That vet made INCONSIDERATE REMARKS really. He said the one way sign road would lead to FAE anyway on the way out, yes, true but people have to pay to enter their place before reaching us when they can easily come by this lane 250 meters from the road.
Photos were taken from 1st January, 2006 and continued to 2007 on and off.
Sometimes the traffic sign with "No Entry" was put in the middle of the road.
And navigating traffic to go left, there were signs: One Way and No Right Turn Allowed.
Soraida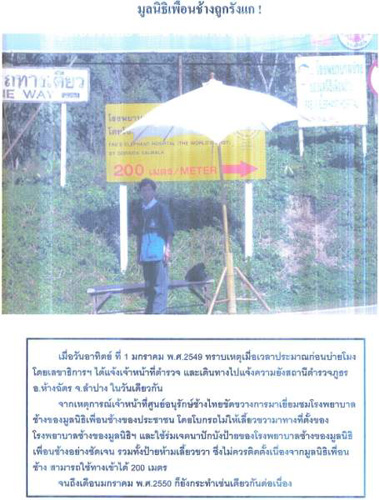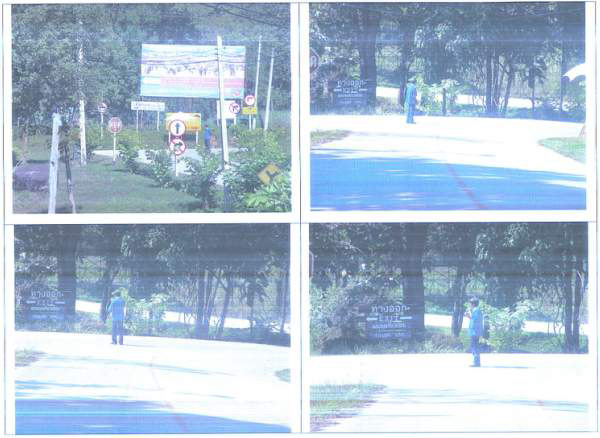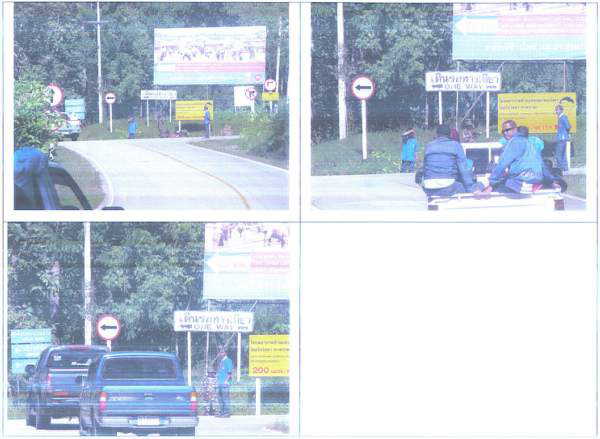 ~~~
"Fires"
Pictures Added 11/15/2008
Fires set intentionally on 12th January, 2007 around FAE's Elephant Hospital in a U shape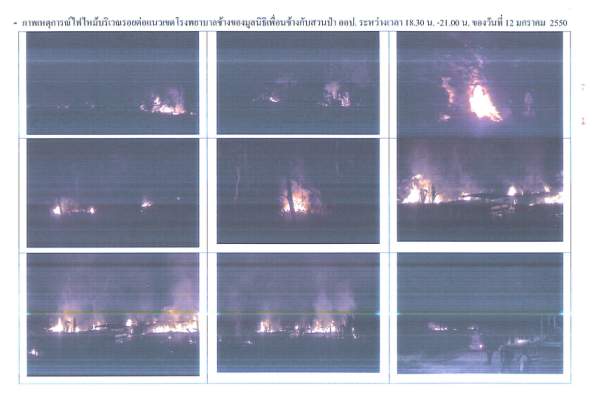 Sick elephants were quickly moved to the Resting Unit but Motala was still in danger in her shelter
and some people in the dark night were behind her shelter setting fires even though we shouted at them to stop.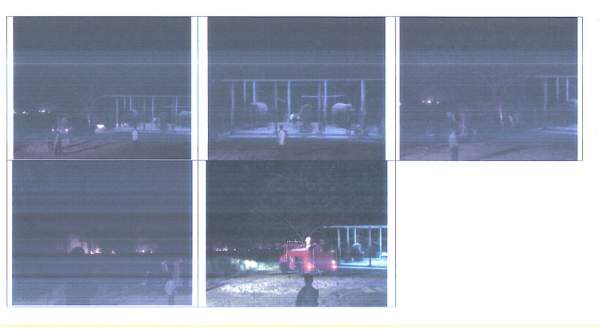 Photos taken on the 13th January, 2007 to see how close the fires were to Granny Tanthong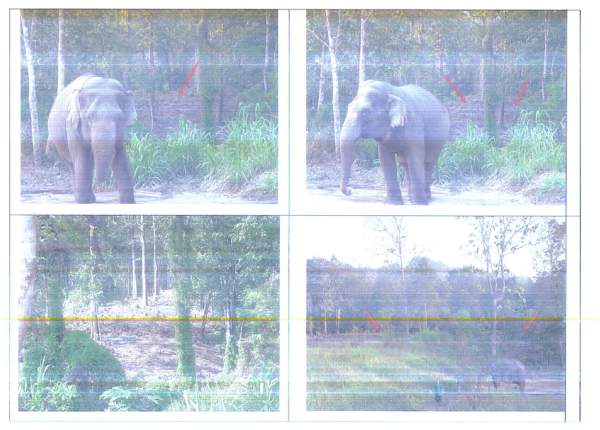 The destruction of forest where our sick elephants spent their night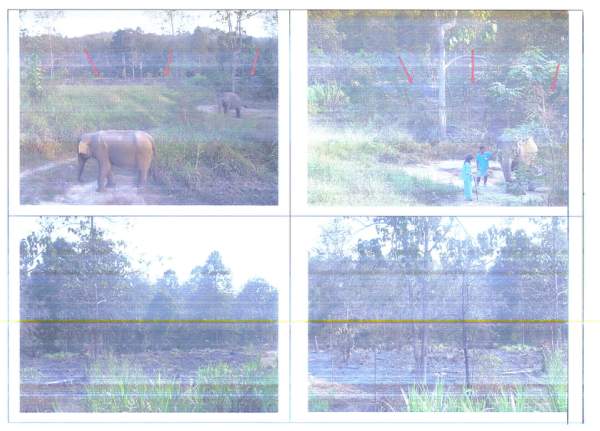 Destruction of the fires in the U shape came to FAE sign on the road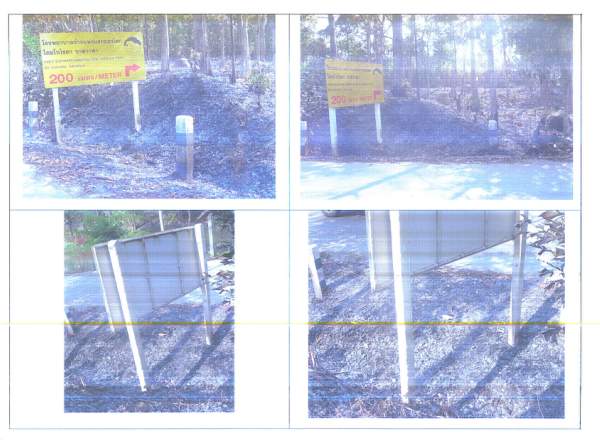 Ashes of the trees burnt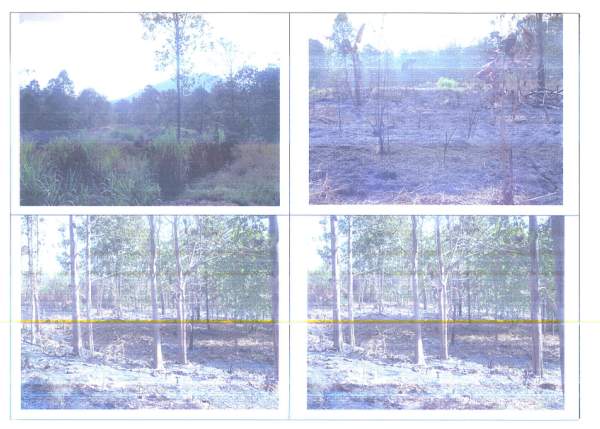 Trespassing Tractor
A tractor came into FAE's compound with FIO logo on it two days after the fires presumably because some of the trees that were burnt had marks of RFD.
All trees in the forests on the list of trees, under the law, are marked with an RFD number. The tractor with FIO came in two days after, for what purpose????
Evidence was there that they destroyed the trees on the land FAE rents from RFD,
I quickly reported to the police and the police came in.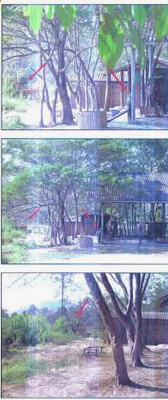 The driver and his colleague dared to come near our elephants, I shouted to my staff to ask them to leave our compound but they still stood there.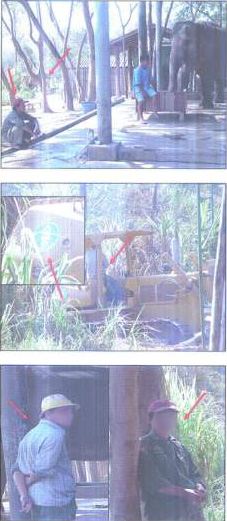 They did not leave and FAE staff stood on guard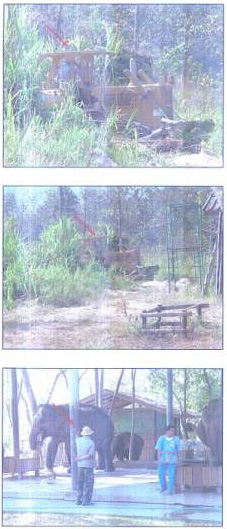 ~~~~~~

FAE
FRIENDS OF THE ASIAN ELEPHANT
The World's First Elephant Hospital
Thailand
is NOT part of the Thai Elephant Conservation Center/TECC
FAE Websites
Thai: Friends of the Asian Elephant FAE
English: Friends of the Asian Elephant FAE
NOTICE
10/14/2008 FAE
"elephants-soraida.com is not ours.
Thank you"
Soraida
Please note that the official website of FAE/
Friends of the Asian Elephant is:
www.elephant-soraida.com
Announcement.pdf in English and Thai
Friends of the Asian Elephant
Administrative Office at 687/2 Ram-Indra Road Soi 32
will be moved to FAE Lampang Branch Office at FAE's Elephant Hospital
in Mae Yao National Reserve at 295 Moo 6
Lampang-Chiangmai Road (K.M. 28-29)
Viengtan, Hangchatr District
Lampang 52190
Tel: 081-914-6113
054-247-870
Fax: 054-247-870
Admin: 081-881-2269
Accounting Staff: 081-883-9476
HOW TO DONATE/CONTRIBUTE TO FAE
Updated April 19, 2009
For Overseas Transfer: Bank of Ayudhya Public Co., Ltd.
Suanplu Branch, Bangkok, Thailand
A/C Number: Savings No. 040-1-14242-7
Swift Number: AYUDTHBK
And please fax us your name, address, TEL&FAX number informing us of the transfer
so we can send you our receipts.
For residents in Thailand:
* Cheque payable to "FRIENDS OF THE ASIAN ELEPHANT"
* Postal or Money Order payable to "FRIENDS OF THE ASIAN ELEPHANT"
P.O. Hangchatr District, Lampang, Thailand
and send to
FRIENDS OF THE ASIAN ELEPHANT
Branch Office
295 Moo 6, Lampang-Chiangmai Road (K.M. 28-29),
Viengtan, Hangchatr District, Lampang 52190
Postal or Int'l Money Orders for overseas donors will help cut cost on Bank fees
Friends of the Asian Elephant
Founder : Miss Soraida Salwala
Co-Founders : Dr. Preecha Phongkum, DVM
Mr. Kamaye Dejduangta
~~
FAE Board of Committees
Assoc. Prof. Sayam Aroonsrimorakot: President
Mr. Montri Wongkasem: Vice President
Mrs. Chutinan Klambua: Treasurer
Miss Soraida Salwala: Secretary General
Mr. Surapon Duangkae
Mr. Srisuwan Janya
~
Friends of the Asian Elephant FAE
Office of the National Culture Commission granted on the date
of October 19th, 1993
Registered Charity No. Kor-tor 273 (18th April, 1994)
Member of the NGOs for Environmental Protection and Conservation of Natural Resources No. 9/2535
(Ministry of Environment and Natural Resources)
Friends of the Asian Elephant is certified as a Public Benefit Organization,
Registration no. 0476 dated 18th November 2005
from National Social Welfare Promotion Commission, Ministry of Social Development and Human Security in accordance with the Social Welfare Promotion Act, 2003 section 34.
Member of Asian Conservation Alliance (ACA)
To those who care:
If you are not able to donate to FAE, please take a moment of your time to Light a Candle
for Soraida, the staff of FAE and all of the elephants now living at The Elephant Hospital,
all who have been treated at the hospital,
and all of those unfortunate elephants yet to come.
They work so hard, and the elephants deserve so much
It takes less than a minute and costs you nothing.
Thank you, Jody
Bangkok, Thailand Time