I have received requests for petition sites concerning dogfighting and/or Michael Vick,
here a just a few to get you started.
For more sites and articles please Click Here
'Against Dog Fighting @ JodysJungle.com'
The bull walks and runs for hours in the streets while people throw darts at him. When he is too tired and weak from loss of blood to continue to escape, the villagers shoot him and cut off his testicules.
Rare blue lobster found at mouth of Conn. river
Associated Press
Jun. 12, 2007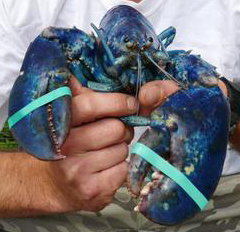 NEW LONDON, Conn. - Call it crustacean discrimination.
A lobster caught last weekend by Steve Hatch and his uncle Robert Green was spared from being cooked and ripped apart on a plate because of its color. The 1 1/2-pound clawed creature is bright blue, the result of an extremely rare genetic mutation. It turned up Sunday morning in one of Hatch and Green's lobster traps at the mouth of the Thames River. "I've heard about them but this is the first one I've ever seen," Hatch told the Day of New London newspaper. Later that afternoon, he put the lobster in a cooler and brought it to the Mystic Aquarium and Institute for Exploration, where it will live out its days in an elementary school classroom for children to learn about.
Catherine Ellis, curator of fish and invertebrates at the aquarium, said only one in 3 million lobsters are "true blue," meaning their color is the result of genetics and not the environment.
The one caught Sunday will join two other blue lobsters at the aquarium. Researchers at the University of Connecticut found that the blue coloring occurs when lobsters produce an excessive amount of protein because of a genetic mutation. But if blue lobsters are cooked like their red brethren, they too turn red, Ellis said.
Scroll down to the end of this page to meet Barney the lobster.
~
Yellowstone
The Bush administration wants to triple the number of noisy, polluting snowmobiles roaring through America's oldest national park. But we have a narrow window of opportunity right now to speak out against this dangerous proposal, which ignores warnings from Park Service experts and puts Yellowstone's wildlife, visitors and staff at risk. Please go to Take Action and tell the Bush administration to abandon its reckless plan and instead protect the park's iconic wildlife, clear views and natural serenity. Four consecutive National Park Service studies have shown that only a complete ban on snowmobiles in Yellowstone can adequately protect the park's natural values and safeguard the health of visitors and staff. Yet the Bush administration recently proposed increasing the average number of snowmobiles in Yellowstone from 250 to 720 per day. Seven former National Park Service directors have signed a letter urging Interior Secretary Dirk Kempthorne to reject this scheme. The administration should instead ban snowmobiles while expanding the use of environmentally friendly "snowcoaches," which are quieter, less polluting and offer breathtaking panoramic views of the park. Thank you for helping to safeguard Yellowstone and all of our national parks, which are such an important part of America's natural heritage.
Sincerely,
Frances Beinecke
President
Natural Resources Defense Council
~
SpayOurStrays.com
S.O.S. is an animal rescue association dedicated to eliminating animal overpopulation, mistreatment and abandonment. We spay/neuter, vaccinate and provide medical treatment to all our rescued animals. Tame or socialized animals are placed in quality permanent homes. Feral or unsocialized cats are released back to their colonies when it is a safe managed environment. We educate the public about the need for spaying and neutering thereby reducing the number of unwanted animals.
P.O. Box 44280
Las Vegas, NV 89104
702.363.8616
~
Sign Petition
Polar bears are in such trouble that the U.S. Fish and Wildlife service has proposed listing them as "threatened" under the Endangered Species Act. So why does this same agency allow American trophy hunters to kill Canadian polar bears and bring them home?
Tell the Fish and Wildlife Service to stop issuing polar bear trophy permits immediately! Canadian polar bear populations -- like those in America -- are declining due to global warming and other threats. In fact, the World Conservation Union's Polar Bear Specialist Group predicts that polar bear populations could drop 30% in the next 35-50 years and that polar bears may disappear entirely from most of their range within 100 years.
Hunting polar bears is already banned in the U.S. But half of the world's polar bears live in Canada, where hunting is legal. And due to a huge loophole in the Marine Mammal Protection Act, American trophy hunters can travel to Canada, kill a polar bear, and bring back polar bear trophies. We may not be able to stop Canada from allowing hunting, but we can stop the U.S. from allowing Americans to import polar bear trophies. Please act today and urge the U.S. Fish and Wildlife Service to stop issuing polar bear trophy permits immediately!

Polar bears already face a daunting future because of global warming, oil and gas exploration and toxic chemical pollution. But there's another threat that many Americans aren't aware of – trophy hunting. The United States does not allow sport hunting of polar bears in their Alaskan habitat. But more than half of the world's polar bears live in Canada, where hunting is legal. And due to a huge loophole in the Marine Mammal Protection Act, American trophy hunters can travel to Canada, kill a polar bear, and bring back polar bear trophies. From 2002-2005, a total of 298 requests were made by US citizens to import sport hunted polar bear trophies from Canada. Of these, 252 - a staggering 85 percent - were issued. We may not be able to stop Canada from allowing hunting, but we can stop the U.S. from allowing Americans to import polar bear trophies. Please act today and urge the U.S. Fish and Wildlife Service to stop issuing polar bear trophy permits immediately!
Thank you for taking action today,
Rebecca Young,
Care2 and ThePetitionSite team
Care2.com, Inc.
~
AnimalsVoice.com
If you want to become involved with animal issues, Animalsvoice.com is the place for you.
"The Animals Voice is the premiere online resource for helping animals. We are an award-winning, independent, networking source of recent media coverage, timely information, and an incalculable volume of resources for animals and their defenders. We feature the latest animal rights news, multimedia, calendar, victories, thought-provoking and inspirational editorial, graphic and compelling photography, and in-depth investigative reports."
~
Beautiful weather in California today, I decided to water the yard when I spotted something next to the fence. A beautiful little fawn waiting for it's mom to return. I didn't want to frighten the fawn so no watering occurred today. This little sweetie waited all day, what a well behaved child.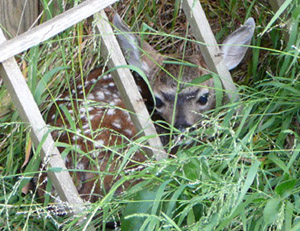 ~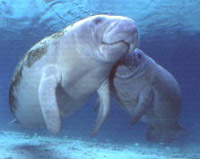 Ask State Agency to Make Manatee Management Plan Stronger
Urge Revision of Imperiled Species Listing/Delisting Rule
To JodysJungle.com
When the Florida Fish & Wildlife Conservation Commission (FWCC) adopted new imperiled species listing/delisting criteria, they incorporated the international criteria for "endangered," but they elected to call those species that met the endangered criteria "threatened" instead of "endangered." As a result, the FWCC voted to downlist manatees to "threatened" status. We are highly critical of this move, as are a host of other environmental organizations and eminent scientists.
Now, the FWCC has drafted a Manatee Management Plan (Plan), which is the final step in the species' reclassification from "endangered" to "threatened." However, the current Plan will not ensure adequate protection for manatees and, together with the U.S. Fish & Wildlife Service's recent recommendation to also downlist manatees at the federal level, the Plan will greatly hamper our chance of securing the manatee's future in the face of increasing human-related threats.
The U.S. Fish and Wildlife Service has recommended downlisting the manatee due to political pressure. An April editorial in The Bradenton Herald said, "The declassification is not being made because the manatee has made a 'landmark' recovery, as the USFWS' field supervisor asserted. Rather, it is a concession to the boat, dock-building and development interests that have lobbied for relaxing manatee protection rules for years. In the anti-environment posture of the Bush administration facing term limits, it has finally found a friendly reception."
The two greatest threats to the manatee's long-term survival are:
A growing number of boats on Florida's already dangerous waters
The probable future loss of both natural and artificial warm water habitat.
Ironically, because of these threats, both the state and federal governments are projecting substantial to catastrophic decline in the manatee population unless strong new protections are implemented.
Act Now! Click this link to send a quick and easy online letter to FWCC Executive Director Ken Haddad and Florida Governor Charlie Crist, asking them to revise Florida's imperiled species listing/delisting rule and to retain the manatee's current "endangered" status. In addition, the letter asks them to make the Manatee Management Plan much stronger.
The formal comment period for the Management Plan is from May 7, 2007 - June 14, 2007. Please send the letter immediately and ask your family and friends to do the same. Thank you for your help on this important issue for manatees!
Our postal address is:
500 N. Maitland Ave.
Maitland, Florida 32751
About SMC: Save the Manatee Club is a nonprofit organization founded in 1981 by former Florida Governor and U.S. Senator Bob Graham and singer Jimmy Buffett. To learn more about manatees and our work, go to savethemanatee.org
~
Save Wild Horses
Critical Week in Washington DC
Take Action before Wednesday, April 25, 2007
Two pieces of legislation critical to the welfare of America's wild horses will come under consideration this week in Congress. Your help is urgently needed to push them through. Please call your members of Congress in support of these two measures.
1) Have your U.S. Representative vote YES on H.R. 249
Contact Information
This Thursday, April 26, H.R. 249, which would restore the prohibition on the commercial sale and slaughter of wild horses and burros, will come for a vote before the US House of Representatives. Please contact your U.S. Representative and urge them to vote 'Yes' on H.R. 249
2) Have Senate Commerce Committee members Vote YES on S. 311
Contact Information
This Wednesday, April 25, 2007, the Senate Commerce Committee will consider S. 311, the American Horse Slaughter Prevention Act. It is critical that all Committee members, including cosponsors of the bill, hear from constituents urging them to vote in favor of S. 311 and to stand strong against any misinformation that is being spread by the pro-horse slaughter lobby.
Presented by The Animals Voice
~
Dear Jody,
I am writing to inform you about the forthcoming title "Cow", by Hannah Velten, livestock reporter for Farmers Weekly. This book provides an informative and comprehensive cultural and scientific survey of cows throughout history ­ covering cows in art, advertising, science, literature and Bovine studies. We were hoping that you might be able to announce this title to members and friends - is it possible to have it listed on your website, or sent as an e-message? Any help would be kindly appreciated. I do hope this book is of interest to you.
Best wishes, Sophie Powell
Marketing Department
~COW~
224 pages
100 illustrations, 60 in colour
Paperback 978 1 86189 326 0
Forthcoming June 2007

"From the milk we drink in the morning to the leather shoes we slip on for the day, to the steak we savour at dinner, our daily lives are thoroughly bound up with the cow. Yet there is a far more complex story behind this seemingly benign creature, which Hannah Velten explores here, plumbing the rich trove of myth, fact and legend surrounding the cow, bull and ox."
Reaktion Books is a publisher of high-quality non-fiction in many fields including animal studies, architecture, art, cultural studies, design, film, food studies, history, photography, and travel writing.
To be added to the Reaktion mailing list please specify your interests and email to
sophie@reaktionbooks.co.uk
under the subject title 'Mailing List'.
For further details please see the book on our website
reaktionbooks.co.uk
33 Great Sutton Street
London EC1V 0DX, UK
Ph +44 (0)20 7253 1071
Fax +44 (0)20 7253 1208
~
Hooray!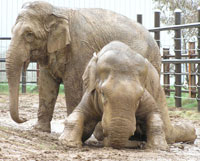 Nic and Gypsy, Elephants in the Mud at PAWS
In spite of his size, approx. 10,000 lbs, Nic is just a baby at age 12 or 13?, aww!
~
Kovels Komments
April 12, 2007
Kovels.com
Could your old dishes be making you or your pet sick?
Lethal pet food is big news everywhere. The wheat gluten in the food is contaminated by melamine, a slow-release fertilizer also used to make plastics. Collectors have a special concern. Hard plastic melamine dishes have been made since 1937. The first really popular melamine dinner set was designed by Russel Wright in 1944. By the 1950s most people referred to melamine dishes by the brand name Melmac. They were unbreakable but scratched and stained and were out of favor by the late 1970s. But they are collected now and used. Are they safe? Does the hard plastic have any of the problems of the gluten mixture? Is it dangerous to heat Melmac dishes in a microwave or dishwasher? Our advice--- For now, use ceramic or stainless steel dishes for your pets and the family.
~
PLEASE
Help Stop the Elephant Cull in South Africa
Between 1966 and 1994 more than 16,000 elephants were killed in South Africa's Kruger National Park, as a method of 'population control'. A moratorium on elephant culling was thankfully put in place in 1995. However, it now seems that elephant culling is once again in the cards for South Africa's elephants. &nbsp
On 28th February, 2007, Born Free was deeply disappointed to learn that the South African Minister for Environmental Affairs and Tourism, Marthinus van Schalwyck, had announced that as part of the new Draft Norms and Standards on Elephant Management, culling would be one of the options considered. Born Free is extremely concerned about this decision, which not only has serious implications for South Africa's elephants, but also for the wider elephant population. For more details, see Born Free's Press Release
~
ASPCA Pet Health Insurance
Protect your pet and support the ASPCA

~
Dear Friends,
April 1, 2007
Perrier, the French bottled water company, sponsored bullfights in France in the "Feria du Rhony" festival that took place in the city of Vergeze from 23 to 25th March this year.
To see the poster announcing this festival please visit our WEBSITE.
The Perrier company belongs to Nestle. Please send protest letters to Perrier and Nestle. Sample letters and translations can be found on our WEBSITE.
For the Animals
Maria Lopes
Coordinator
International Web Against Bullfights.org
Sample Letter
Dear Madam/Sirs,
I was informed that the Perrier Company sponsored bullfights in Vergeze/Feria du Rhony in March this year. The main events of this Feria were a bullfight and other activities connected with bullfights. Bullfights are spectacles that consist of torturing an animal to death with a range of instruments. Using picas, banderillas and swords each bull is tortured for 20 minutes before being killed. As to the horses even if they are not killed during this horrible supposedly artistic show they also suffer enormously. According to several polls 80% of French people are against bullfights. Your monetary support to this kind of spectacle is outrageous and I must reconsider buying not only Perrier but also any products of the Nestlé Group.
Sincerely
Name/Country
~
ANIMALS THROUGH THE WORLD
March 2007
International Movement Against Bullfights
Dear Friends,
The Written Declaration 0002/2007 (calling for a ban on bullfighting and bull breeders subsidies) had been signed by 176 MEPs (Members of the European Parliament) on the 15th of March, according to European Union official numbers. Probably the real number is higher because the EU does not update their website regularly. It hasn't been updated since that date. The lapse date is 15th April, 2007 and we are far away from the 393 signatures needed. It's not brilliant but hope is the last thing to die so please continue to send emails to convince the MEPs of the importance of signing this document to end the subsidies to bull breeders. Please send emails to Italy, Sweden, Danemark, Germany, Hungary, Romania, etc, because the majority of British MEPs have already signed. All details can be found at our WEBSITE
For the Animals
Maria Lopes
Coordinator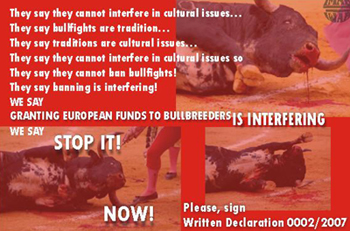 How can this be allowed to happen?
I am disgusted, we should all be disgusted. Please, help stop bullfighting..jj
~
Ask Morningstar to Cut Out Cruelty
Use of eggs from battery hens in vegetarian foods sparks national campaign
Too often, the dark side of vegetarian foods is that some contain ingredients like dairy or eggs that cause animals to suffer. Advocacy groups are calling on consumers nationwide to urge vegetarian food maker Morningstar Farms® to remove battery cage raised hen eggs from its foods, bringing ethical integrity to products often seen as a cruelty-free substitutes to meat.
As industry trends move in a cruelty-free direction, Morningstar Farms has unwisely lapsed behind its competitors. Last year, Gardenburger®, one its largest business rivals, eliminated eggs from all but one of its products. By continuing the use of eggs from hens raised in cruel conditions, Morningstar tarnishes its image as provider of conscious alternatives, and shuts out a large portion of its target market. Costumers who follow a vegan diet are a fast-growing demographic, comprising approximately 1% of the population. With its use of eggs, Morningstar effectively eliminates 3 million potential and likely customers. For a food additive that no one would miss were it gone, Morningstar has cut into its potential customer base, compromised its ethical standing, and sparked a national campaign by animal advocates.
Birds raised on egg farms are probably the most abused of all farmed animals. Nearly 300 million hens live confined inside wire battery cages so small that they can barely move. Battery caged hens are typically provided with a meager 67 square inches of space in which to live -- that's less than the size of one sheet of notebook paper. These birds are so intensively confined for their entire lives that they are denied their natural inclinations to spread their wings, perch, or even walk.
Many consumers purchase vegetarian foods as a compassionate alternative to meat, believing these items are cruelty-free substitutes for flesh. Kept from the public eye are the images of thousands of birds in darks sheds, living in cages so small they are unable to lift a wing. Morningstar is making a positive change through their production of meat alternatives. Eliminating eggs is the last step needed to create a truly humane product.
What We Can Do:
Please contact Morningstar Farms and politely remind them their use of eggs, especially from battery hens, is injurious to both their business and their credibility. Ask them to maintain their credibility and competitive edge by dropping eggs from their product line.
Morningstar Farms
c/o Kellogg Consumer Affairs
P.O. Box CAMB
Battle Creek, MI 49016
Tel: (800) 962-1413
Submit Your Comments to Morningstar Farms
~~~
Compassion Over Killing and Vegan Outreach
are teaming up with compassionate people everywhere to
Ask Morningstar Farms® to stop using eggs in its product line.
~
Pet Food Maker Announces Huge Recall
Reports of Pet Deaths
By Andrew Bridges AP
March 16, 2007
WASHINGTON (AP) - A major manufacturer of dog and cat food sold under Wal-Mart , Safeway , Kroger and other store brands recalled 60 million containers of wet pet food Friday after reports of kidney failure and deaths.
An unknown number of cats and dogs suffered kidney failure and about 10 died after eating the affected pet food, Menu Foods said in announcing the North American recall. Product testing has not revealed a link explaining the reported cases of illness and death, the company said.
"At this juncture, we're not 100 percent sure what's happened," said Paul Henderson, the company's president and chief executive officer. However, the recalled products were made using wheat gluten purchased from a new supplier, since dropped for another source, spokeswoman Sarah Tuite said. Wheat gluten is a source of protein.
The recall covers the company's "cuts and gravy" style food, which consists of chunks of meat in gravy, sold in cans and small foil pouches between Dec. 3 and March 6 throughout the U.S., Canada and Mexico.
The pet food was sold by stores operated by the Kroger Company, Safeway Inc., Wal-Mart Stores Inc. and PetSmart Inc., among others, Henderson said.
Menu Foods Recall
Consumers with questions can call (866) 463-6738.
The company said it manufacturers for 17 of the top 20 North American retailers. It is also a contract manufacturer for the top branded pet food companies, including Cincinnati-based Procter & Gamble Co.
P&G announced Friday the recall of specific 3 oz., 5.5 oz., 6 oz. and 13.2 oz. canned and 3 oz. and 5.3 oz. foil pouch cat and dog wet food products made by Menu Foods but sold under the Iams and Eukanuba brands. The recalled products bear the code dates of 6339 through 7073 followed by the plant code 4197, P&G said. Menu Foods' three U.S. and one Canadian factory produce more than 1 billion containers of wet pet food a year. The recall covers pet food made at company plants in Emporia, Kan., and Pennsauken, N.J., Henderson said.
Henderson said the company received an undisclosed number of owner complaints of vomiting and kidney failure in dogs and cats after they had been fed its products. It has tested its products but not found a cause for the sickness. "To date, the tests have not indicated any problems with the product," Henderson said.
The company alerted the Food and Drug Administration, which already has inspectors in one of the two plants, Henderson said. The FDA was working to nail down brand names covered by the recall, agency spokesman Mike Herndon said.
Menu Foods is majority owned by the Menu Foods Income Fund, based in Ontario, Canada.
Pet Food Recall Links
Safeway
P&G Pet Care
Pet Deaths Prompt Recall of Pet Food
~
~GIDEON~
After Dog's Death, A Warning
By Josh Kovner
Courant Staff Writer
March 14, 2007
MIDDLETOWN, Connecticut -- Law officers are asking for the public's help in combating instances of dog-fighting in the city, after a 2-year-old pit bull - likely used as "bait" to train aggressive dogs - was dumped on the side of Wilderman's Way and left to die of bite wounds, punctures and infections.
A man out for a stroll on Sunday found the dog lying on the ground, beyond a silt fence, near the high school construction site. He called police, and Assistant Animal Control Officer Karen Sullivan took the dog in her van to the Pieper-Olson Animal Hospital on Randolph Road. Doctors and technicians worked for hours, warming the 50-pound male with blankets and hot-water bottles in order to raise a vein so fluids, antibiotics and pain medication could be injected.
The dog died Monday night. "There wasn't a dry eye at the hospital," Animal Control Officer Gail Petras said Tuesday. "It's unthinkable that someone could put an animal through this, not once, but many times. "I would love nothing more than to know where this dog came from, so I could find the people responsible for doing this to him," Petras said. The staff at the hospital had named him Gideon. Over the last couple of years, a half-dozen dogs have been brought to the animal shelter with the signs of having been involved in organized fights: bites and punctures covering the face, neck and front legs; torn ears, torn noses. "We get the losers, or the bait dogs," Petras said. "They've had good temperaments and we've been able to place them with families." But no dog had been injured or abused as badly as Gideon had been. Some of his wounds appeared to be months old, and he had contracted raging infections because he'd received no treatment for more recent cuts and tears.
Seasoned police officers couldn't look at the series of digital pictures that Petras took of Gideon to show other animal control officers for education purposes. Petras said she has received complaints of suspected dog fighting in the past, but she has not been able to find the participants. "I don't believe we have organized pit bull fighting; I do believe we have street stuff going on, where young people may gather in a parking lot or a remote location at 2 a.m. and let the dogs go at it. It's hard to pinpoint, because it moves around," Petras said. In 2004, two city police officers were bitten by a pit bull-mix during a drug raid on Ferry Street. The dog was a mother protecting a litter of five or six puppies. Petras said puppies in that situation are often sold to dog fighters. Sullivan and Petras were able to find homes for all of those dogs. Petras asks the public to call city police, or her office at police headquarters at 860-344-3298, if they see a dog with what looks like fighting wounds, or have any information about Gideon.
Contact Josh Kovner at jkovner@courant.com.
Copyright 2007, Hartford Courant
~~~~~~~~~~~~~~~~~~~~~~~~~~
Reward Offered In Death Of Dog
By JOSH KOVNER
Courant Staff Writer
March 15, 2007
MIDDLETOWN -- Jeffrey Jump cringed when he read the story about the death of an abused pit bull in the city this week. "The brutality, the senselessness of it, is just about beyond belief," said the former Middletown resident. "It's awful, and I've had enough." Jump on Wednesday offered a $1,000 reward for information leading to the arrest of the person who dumped the mortally wounded pit bull - likely used as bait to train aggressive fighting dogs - on the ground off Wilderman's Way sometime before Sunday afternoon. The dog, a 2-year-old, 50-pound male, died Monday. The staff at Pieper-Olson Veterinary Hospital had named him Gideon. They worked for hours to try to save him. He had fresh wounds, infected wounds, and a massive amount of scar tissue. Jump offered the reward the morning after Animal Control Officer Gail Petras asked for the public's help in combating dog-fighting in the city. "It's wonderful that someone is as concerned as we are about finding the people who did this," Petras said Wednesday. Jump also requested that the Connecticut Humane Society take action - and received a positive response. Spokeswoman Jody Angell said she'll discuss the Middletown case with society president Richard Johnston today. The Newington-based agency has offered rewards of up to $5,000, Angell said. Jump, 55, a donor to the humane society, also e-mailed other animal advocacy groups to which he belongs. "I asked them to match my offer - or to do something. I wish I could do more," said Jump, a labor-union representative who lived in Middletown for 18 years before moving to Wolcott about five years ago. Angell said that dog-fighting persists despite a greater public awareness of animal cruelty and relatively tough penalties for offenders. Those convicted of possessing or training fighting dogs, or of betting on fights, face up to five years in prison and $5,000 in fines. Spectators and those who act as judges or referees are subject to the same penalties.
Petras can be reached at 860-344-3298.
Contact Josh Kovner at jkovner@courant.com.
Copyright 2007, Hartford Courant
~
The Humane Society of the United States is offering a reward of up to $2,500
Associated Press
Mar. 15, 2007
ST. PAUL, Minn. - A 17-year-old girl who spent weeks looking for her missing dog unwrapped a box left on her doorstep and found the pet's severed head inside, authorities said.
Homicide investigators were looking into the case because of the "implied" terroristic threat, St. Paul Police Sgt. Jim Gray said. The Humane Society of the United States said Wednesday it was offering a reward of up to $2,500 for information leading to an arrest and conviction.
"This was extraordinarily heinous," said Dale Bartlett, the Humane Society's deputy manager for animal cruelty issues. "I deal with hundreds and hundreds of cruelty cases each year. When I read about this case, it took my breath away. It's horrible."
After Crystal Brown's 4-year-old Australian shepherd mix wandered away last month, she put up "missing" posters in her neighborhood and went door to door looking for him. She called the St. Paul animal shelter and rode the bus there several times. "I felt empty," Crystal told the Star Tribune of Minneapolis. "I couldn't talk to anyone. He was my dog. It was just me and him. ... I told him everything and he never shared any of my secrets." Two weeks ago, a gift-wrapped box was left at the house Crystal shares with her grandmother. The box had batteries on top, and a note that said "Congratulations Crystal. This side up. Batteries included." Crystal opened the box and found her dog's head inside. The box also contained Valentine's Day candy. Crystal screamed when she saw her dog's face. "She was just hysterical," said Crystal's grandmother, Shirley Brown. "She was screaming. She said, Grandma, it's my dog's head!' "I said, no it can't be!' " Authorities say the case is an isolated incident and the suspect likely knew the family. A motive is unclear. "This was so cruel," Crystal said. "This is one sick, twisted person."
~
FAE's Elephant Hospital/Lampang...Updates
Dear friends:
Once again it is my regret for not being able to contact all our friends and send you updates on FAE. We have had an enormous setback, documents lost, domain and server were down several times and our website could not be used for so long, unpleasant things happened that we never believed before that they had anything to do with planned foul play.
Documents, computers, almost all the files of fourteen years have lost/stolen and damaged. We do not have the lists of our friends, no donor names and addresses and I feel it is not just we went back to the starting point but further behind. However, I am trying to start anew. With just one staff in Bangkok office now and three staff short here at FAE's Elephant Hospital, it is very difficult to work efficiently. I believe it is the fate and I do have faith for FAE and thanks to you all for the support you have given to us all these years.
Thank you so much.
Soraida Salwala, Founder
Friends of the Asian Elephant (FAE)
New website: http://www.elephants-soraida.com/
(Website is Thai, click ENG at bottom of page for English)
News and Pictures from FAE's Elephant Hospital
Motoo and Mojay, the sisters who stepped on landmines in October last year have returned home this morning. Both of them are doing well, the wounds are completely healed. They did not want to leave and Motoo cried out loud and refused to go on the truck. I had to get on the truck myself to persuade her.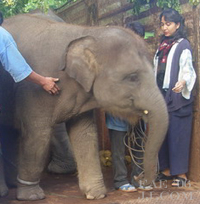 Motoo & Soraida on the truck
It hurt so much that we could not keep them with us since the owners wanted them back. I fear most that they would be sold away. I talked to the owner and begged her not to sell them. Their mother, Lamou, is pregnant and I hope they would form a big family and stay where they areMosha, the injured baby is doing good. The wounds have almost healed. Thanks to the donor who donates the medicinal herbs to cure her.
The five permanent residents are the same and enjoy their routine. The warm sun is bathing Motala as she strolls outside. Life has spared her.
Kamsoong, the bull with the bullets in his leg, has been with us over 21 months and is almost ready to go back.
Many patients came and went this year as well as those that we have treated on the Mobile. The hospital is now quiet with only the sound of the birds singing, insects buzzing to let us know that the forest we live in are alive. Cold breeze tells us that the rain will stop soon and the cold season is on its way. Baby Mosha's cries every now and then lets us know that life goes on no matter what.
Soraida Salwala, Founder
FAE
FAE's NEW ADDRESS:
Friends of the Asian Elephant
687/2 Ram - Indra Road Soi 32,
Tharaeng, Bangkhen, Bangkok 10230, Thailand
Tel. 66-(0)-2509-1200
Fax. 66-(0)-2509-3533
E-mail: fae@loxinfo.co.th
E-mail: fae@elephant-soraida.com
Website
FAE's ELEPHANT HOSPITAL (The World's First)
LAMPANG-CHIANGMAI RD. (KM. 28-29),
HANGCHATR DISTRICT, LAMPANG PROVINCE, THAILAND
TEL: 66-(08)-1914-6113, 66-(0)-5424-7869/70
If you were a friend of FAE, please send an email with your information..Thanks! jj
~
Act Now | Animal Bill of Rights

The struggle to end cruelty to animals is not an easy one.
But there is something easy you can do right now to make a difference in the lives of abused animals.
It's as quick and simple as typing in your name.
~
Dear Ecopassage Supporters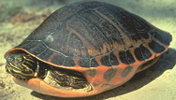 I am writing to ask for your help to save the endangered Alabama red-bellied turtle from being killed by vehicles on the Mobile Causeway (US 90) in Alabama. This turtle is a Federally Endangered Species and is designated as the Official State Reptile of Alabama. The Alabama red-bellied turtle has one of the smallest species ranges of any turtle in the world, only occurring in the Mobile-Tensaw, Alabama delta, making it very vulnerable to extinction. The Mobile Bay Causeway between Spanish Fort and Mobile, AL was built across islands and bays at the deltas of the Apalachee, Tensaw, and Blakeley Rivers. These sandy islands are key nesting sites for the Alabama red bellied turtle. Each year, gravid females come on shore to lay eggs and many of these females and their hatchlings are killed on the highway. At least 444 endangered turtles have been killed in just 6 years on this highway! Even though the killing of turtles has been documented for over 14 years, the U.S. Fish and Wildlife Service, the Alabama Department of Transportation, and the Alabama Department of Conservation have done nothing to stop the slaughter. I am asking for your help to write to the agencies responsible and urge them to spend the money to build a proper fence to solve this problem. Please see the web site that has been set up at &nbsp savetheredbelly.org &nbsp to see how you can help.
Thank you.
Matthew J. Aresco, Ph.D.
President
Lake Jackson Ecopassage Alliance, Inc.
P.O. Box 180891
Tallahassee, FL 32318
3/8/2007
~
Jungle Friends, Cody Update 3/4/07
Cody has left this life for the next, he is here with us now at Jungle Friends and the humans and monkeys have all said good bye, we will miss Cody and think of him often. Cody was one of the kindest souls I have ever met. Thank you everyone for all you did for Cody, I know your prayers helped him through his journey. Cody is free and at peace now.

Jungle Friends, Cody Update 3/3/07
Dear Friends of Cody,
Lee is with Cody now and he is out of surgery and sitting up! They did not find a tumor or a tear or anything obvious to 'fix'; however, they flushed him out and got a lot of the gunk out of him. Cody does have pneumonia on top of everything, so his breathing is labored and he may need to go on oxygen and his liver does not look good. They have a catheter in providing him fluids and antibiotic. They took biopsies and cultures, so we may have a better idea for a diagnosis as the results come in. They want to keep Cody in the hospital for a couple of days and keep a close watch over him; we hope to have Cody home by Monday.
Cody is critical and the prognosis is guarded. Please keep him in your thoughts and in your prayers, he has an uphill battle, but he is a fighter and I know he wants to be home running and playing again with his best friend Murphy.
Thank you for your prayers and your kind compassion for Cody.
Lots of monkey love,
Kari and the monks
Jungle Friends is one of my favorite and most worthwhile organizations.
Kari is not asking for money, only for prayers. Please Pray for Cody..and please add a prayer for Kari, it's almost too much for her to bear after the recent death of dear sweet little Curri. Bless you Kari...jj
Dear Friends of Jungle Friends
Cody is one of the most loving monkeys here at Jungle Friends and he is very sick. Lee took Cody to the vet school today and he appears to have peritonitis. Cody's white blood cells are very high and point to an infection in the early stages (about 24 hours); right now the infection is contained in the abdomen, but it could spread, so Dr. Heard will be doing emergency surgery in the morning to clean out the infection and if there is a tear in his abdomen he will suture it. Dr. Heard will also be looking for a tumor; we hope there will not be one, but there is a chance that there is a cancerous tumor. Cody has diabetes and has been doing very well beating the disease; we hope he can beat this one too! Please say your prayers for Cody and send him your love and healing thoughts.
Lots of monkey love,
Kari and the monks
kari@junglefriends.org
Jungle Friends Primate Sanctuary
13915 North State Road 121
Gainesville, FL 32653
(386) 418-0808 Fax


~
PUPPY TORTURERS RECEIVE STRONG SENTENCE
Prosecuting District Attorney Paul Howard should be applauded for his commitment to justice and the humane treatment of animals - please sign this petition today to congratulate him on success!
It's not easy to think about a puppy being killed - it's almost too horrific for words. And too often the sentences for such crimes are weak and far too short. But there is good news in a case where a puppy was tortured and killed in Georgia - justice has finally been served. Just last month, the two brothers charged with torturing and killing a three month old puppy received the maximum sentence allowable in each of the nine counts under which they were charged. And Fulton County District Attorney Paul Howard felt so strongly about seeking justice in this case - describing the death of this puppy as "so egregious it cries out for special attention" - that he sent a letter to Georgia Governor Sonny Purdue requesting that the penalty for animal cruelty be raised above the current five-year maximum. The horrific death of this poor puppy touched animal lovers around the world - a dedicated Care2 member even created a petition that generated over 17,000 signatures in the last few months!
DA Howard should be applauded for his commitment to justice and the humane treatment of animals
please sign this petition today to congratulate him on success in this case!
Thank you for taking action today,
Care2.com, Inc.
275 Shoreline Drive, Suite 150
Redwood City, CA 94065
STORY
Urge D.A. to Prosecute Teen Puppy Killers
Two teen brothers in Atlanta, Ga. have been accused of aggravated cruelty to animals for cooking a five-month-old puppy to death in the oven of a community center they burglarized and vandalized. Please "Take Action" to urge Fulton County District Attorney Paul Howard, Jr. to prosecute the teens to the fullest extent of the law to ensure that they pay for the innocent life they remorselessly took and to help prevent future cases of animal abuse in Georgia.
~
POLAR BEAR S.O.S.
Polar bears are completely dependent on Arctic sea ice to survive, but 80 percent of that ice could be gone in 20 years and all of it by 2040. Polar bears are already suffering the effects: birth rates are falling, fewer cubs are surviving, and more bears are drowning. The Bush Administration's proposal to list the polar bear as "threatened" under the Endangered Species Act is a crucial first step toward ensuring a future for these magnificent Arctic creatures. Yet the administration's proposal does not designate "critical habitat" for protection, even though melting habitat from global warming is the main threat to the polar bear's survival.
Submit your Official Citizen Comment urging the Fish and Wildlife Service to finalize the listing of the polar bear and designate its critical habitat.
Source: NRDC
NRDC (the Natural Resources Defense Council) is America's most effective envionmental action group. Supported by 1.2 million Members and online activists, NRDC's mission is to safeguard the earth: its people, its plants and animals, and the natural systems on which all life depends. By fighting in court, working through Congress, and mobilizing millions of people worldwide, NRDC has stopped powerful corporate interests from destroying our clean air and water, public lands and wildlife habitats.
~
The Most Amazing Hummingbird Pictures
I received these pictures today via email with this explanation: "This lady lives in a Hummingbird fly zone. As they migrated, about 20 of them were in her yard. Just for a fun, she took the little red dish and filled it with sugar water and these are the results."
I have no idea who the lady is, where she lives or what kind of camera was used.
I am grateful to the sender, envious of the lady, happy they were taken and just plain delighted to share them! What a wonderful moment in time.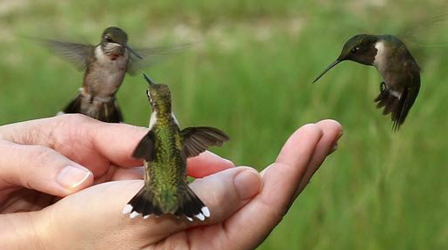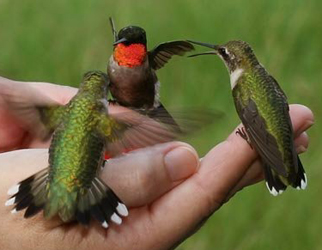 ~
Coats for Cubs: Donate Your Old Furs to Wildlife
Do you have an old fur coat in your closet? Is your grandmother's mink stole stored in the attic? Many of us have fur apparel that we no longer want or that was left to us by a family member. Some aren't comfortable selling it or giving it to charity, because they feel people should not wear animal fur. So what should people do with it?
Give it back to the animals. If you would like to see that old fur put to a good use, donate it to The Humane Society of the United States' Coats for Cubs program. The fur will aid and comfort wildlife. The HSUS accepts all fur apparel, fur trims, and fur accessories (such as hats, gloves, and muffs).
Donating is easy: Place your fur in a sturdy box (a large padded envelope is fine for small items) and mail it to The HSUS at the following address:
The Humane Society of the United States
2100 L St., NW
Washington, D.C. 20037
Attn: Coats for Cubs
For more information go to:
HSUS
~
February 9, 2007
Dear Friends of Jungle Friends,
There has been an Elvis Sighting!
Elvis, a young brown capuchin, is now in quarantine at a Texas-based sanctuary. Following a biting incident, Elvis faced a death sentence until the sanctuary stepped in. Soon Elvis will be on his way to a permanent sanctuary home at Jungle Friends.
Claude, Lee and Hannah are heading to Primarily Primates (PPI) in Texas next week to lend a hand there, and on their way home they will pick up Elvis and bring him back to Jungle Friends. Elvis is only about 3 years old, so we think he will be a good friend to Jack, who is also a youngster.
Please 'Share Your Heart' and sponsor Elvis today.

Another biting monkey - imagine that!
Simon is a squirrel monkey in South Florida who also needs a home. Simon was rescued from an abusive situation and awaits a sanctuary home. To build a home for Simon here at Jungle Friends, we need to raise $3,225 for an indoor enclosure and small outdoor habitat. Simon's new home will be situated right next to Buddy Boy.
~
Burberry: When Plaid Goes Bad
Burberry may be best known for its distinctive plaid, but its use of real fur is making the design house synonymous with cruelty to animals. Burberry continues to use fur in its designs despite the fact that leading clothing retailers like Selfridges, Harvey Nichols, Ann Taylor, Polo Ralph Lauren, and others have pulled fur from their stores forever.
Animals on fur farms spend their entire lives confined to cramped, filthy wire cages, where they are exposed to all weather conditions. They often go without adequate shelter, clean water, and veterinary care, and they are denied the opportunity to engage in natural behaviors like climbing, burrowing, and swimming. The intensive confinement causes many of them to go insane.
Fur farmers use the cheapest and cruelest killing methods available, including suffocation, electrocution, gassing, and poisoning. Many animals are electrocuted by having rods inserted into their rectums and 240 volts sent through their bodies. The animals convulse, shake, and often cry out before they have heart attacks and die. Crude killing methods aren't always effective, and sometimes animals "wake up" while they are being skinned.
Burberry knows about the suffering that goes into every fur-trimmed coat, hat, and bag, yet the company continues to use fur in its designs. With so many fashionable, comfortable alternatives available, there is no excuse for Burberry to continue using dead, tortured animals in its designs.
What you can do to help.
PETA'S Shopping Guide to Compassionate Clothing
BloodyBurberry.com
~
API/Animal Protection Institute
Animals in circuses spend about 11 months of the year traveling. For thousands of hours, over long distances, they may be chained while not performing, transported in vehicles that lack climate control, and forced to stand or lie in their own waste. Please Help End The Use of Wild and Exotic Animals in Circuses
Sign Petition
How many times must this information be made available to be ignored?
~
Woodstock Farm Animal Sanctuary
Herbie Update Jan 07
Herbie is the young calf who became a celebrity last December when he escaped a slaughterhouse truck and tied up traffic in Brooklyn (CBS News story). We brought him up to our farm for all the medical treatment and affection he needed. Soon after he arrived he was joined by a companion: Lily, a two-week-old Jersey calf rescued from a dairy operation. Last weekend we said goodbye to Herbie as he and Lilly moved to their new adoptive home in New Jersey.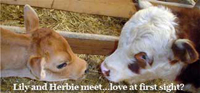 Read More
~
Nederlands
A Tale of Two Cockatoos
A Story of Love, Compassion, Friendship & Loyalty
About eight years ago a wild Australian Sulphur Crested Cockatoo flew into a car and broke its wing. The motorist took it to the Vet in Nerang, Queensland, who had to amputate the wing. We adopted her - for which we needed a National Parks and Wildlife permit - and kept her in a cage outside where she was often visited by wild Cockatoos. One of the things that impressed us was how she would push lettuce leaves through the bars of the cage, offering food to visitors...
One day she had a very special visitor: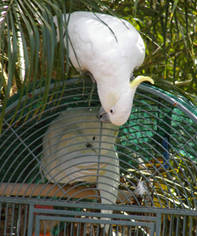 ~
January 2007
Jody,
After hearing from thousands of NRDC Members and activists, the California Coastal Commission has agreed to enact lifesaving precautions that will protect whales from sonar training in California waters!
Earlier this month, NRDC Members and activists sent over 15,000 messages urging the Coastal Commission to safeguard whales and other marine life from ear-splitting sonar during Navy training exercises.
A number of you also showed up in person to voice your support for whale protection at the commission's public hearing in Long Beach. You stood strong against claims by the Navy delegation that they were already doing all they could to prevent harm to whales.
As a result of our powerful outcry, the commission voted 8-1 to require the Navy to commit to life-saving measures during sonar training.
Those measures include: staying out of the Channel Islands National Marine Sanctuary and other important whale habitat; powering down Navy sonar during night-time exercises and in other conditions of low visibility; and enforcing adequate "safety zones" around sonar vessels, to prevent the blasting of nearby whales.
The commission's actions show, once again, that the Navy can and must minimize harm to whales and other marine life while training with sonar. If the Navy chooses not to abide by the commission's decision, we may be forced to fight yet another round in this battle. If that's the case, I know you will fight alongside us!
Thank you, once again, for making this historic victory possible -- and for all your efforts to protect whales and other marine mammals from lethal sonar.
Sincerely,
Frances Beinecke
President
Natural Resources Defense Council
P.S. You can read more about our victory in a news story that ran in the "Los Angeles Times" and more than 90 other papers worldwide.
~
Where do 15 stray dogs, 21 stray cats, and 18 pachyderms, all from diverse backgrounds, live peacefully alongside white tail deer, wild turkeys, migrating armadillos, shy skunks, squirrels, soaring turkey vultures, screeching red tail hawks, snapping turtles, and a precocious river otter?
The Elephant Sanctuary in Tennessee! (As of 12/30/06)
~
Ask Cartier Not To Sponsor 'Elephant Polo'
Elephants used for "entertainment" are kept in constant confinement
Cartier, the company best-known for its high-end jewelry, sponsored an absurd event in which elephants were made to play polo in Jaipur, India, on Saturday, November 18, 2006. Elephants who are forced to participate in such events are captured from the wild and taken away from their families and homes. In order to force them to play polo, elephants are cruelly beaten with sharp metal bullhooks and are kept chained up. Please demand that Cartier stop sponsoring elephant polo. Let the company know that Cartier can find other ways to promote its fine jewelry without causing harm to animals. Be sure to forward this alert to your friends and family members and ask them to speak up today.
Please Take Action on This Issue
~
Animals Asia rescues 12 more Moon Bears, but it's too late for two
Just recently yet another group of caged and farmed bears joined the Animals Asia family in Chengdu.  "Two are blind, some missing limbs, some with shattered teeth, some with worn and scarred heads and bodies from bar-rubbing, and all out of their minds with fear." Please read about their horrific plight, about the heartbreaking death of two, and then use your frustration and sadness to help us help more.  Just click on the link below for our latest press release and help the bears here at our Sanctuary and those yet to come by sending it far and wide.
AnimalsAsia.org
Urgent!
Bears in Vietnam need your help!



Caged Three Legged Vietnam Moon Bear
Vietnam Bear Rescue
~
The Elephant Sanctuary in Tennessee
Oct 18th, 2006
Our dear Jenny has passed away.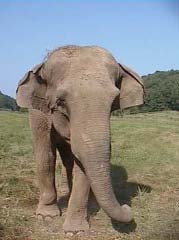 Jenny
1972 - October 17, 2006
Jenny Video
~
Shanghai Animal Olympics
Cruelty in the name of entertainment!
Take action to end cruel live animal entertainment!
Many of you will have heard that the Wild Animal Park in Shanghai has been staging a cruel "Animal Olympics" during the October Golden Week holiday in China. Our Executive Director, Annie Mather, visited the park over the weekend and documented the appalling treatment to many wild and domestic animals.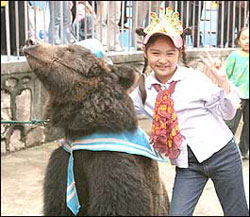 Brown bear with muzzle wired shut
(photo op)
Please click into the link below to find out more and how you can help put an end to barbaric shows such as these:
Take action to end cruel live animal entertainment
We are appealing to the Mayor of Shanghai and calling for the immediate cessation of all live animal performances in Shanghai once and for all. As a gesture of our concern and in an attempt to provide a solution for at least one of the miserable animals Annie saw, we are offering a permanent home at our Moon Bear Rescue Sanctuary in Chengdu for the poor blind bear made to pose for pictures. If our offer is accepted he will live with our other blind bears, Mityan and Snoopy, in our special care area known as the "Secret Garden".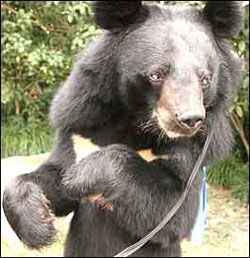 Declawed, blind Moon Bear
(photo op)
Please take time to write a protest letter, together we really can make a difference!
Warmest wishes,
Jill
Jill Robinson MBE
Founder & CEO
Animals Asia Foundation
Hong Kong
~
Class B-Dealer C.C. Baird Out of Business PERMANENTLY!!!
A settlement has been reached in the USDA's case against C.C. Baird -- one of the country's largest USDA-licensed Class "B" animal dealers selling "random source" animals to research facilities. Many random source animals are stolen pets, strays, seized shelter animals, or obtained through "free to good home" ads under false pretenses. As a result of a 15-year investigation by
LCA/Last Chance for Animals
the USDA charged C.C. Baird with hundreds of violations of the Animal Welfare Act.
~
Handlers give circus Elephants the bullhook
© Copyright 2006 OC Weekly
"The elephants are led away to be outfitted to perform for tonight's show. The handlers march with them, their arms stiffly holding black bullhooks tight against their black pants. They direct the elephants past the tent where they sleep, past a platform strewn with heavy chains, past a baby elephant rocking back and forth."
~
Sacramento, CA.
July 2006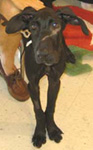 B.J., a six-month-old Great Dane puppy, was found by a volunteer from the
Allen Babcock Dog and Cat Rescue in Florida.
He had been shot through the nose, jaw, foot and groin.
In addition to the gunshot wounds, B.J. was covered in ticks and extremely emaciated. B.J. was immediately taken to the Hollywood Animal Hospital, and he is now recovering in a safe place.
United Animal Nations/UAN
issued a
LifeLine grant to help B.J.'s rescuers meet the high cost of his veterinary care.
Allen Babcock, who founded the rescue, says B.J. has a sweet disposition and a strong will to live. In an interview with WTVJ-TV in South Florida, Dr. James Dee of Hollywood Animal Hospital reported, "He's been trying to play. He's wagging his tail. It's amazing to think that somebody who had this number of injuries inflicted on him could have this good of an attitude."
Read the full story here.
To date, there is no information about who might have done this to B.J., but UAN has issued its Zig Zag Memorial Reward for any information leading to the capture or conviction of the person(s) responsible for what happened to him.
Anyone with information in this case is encouraged to call
the Seminole Police Department at (863) 983-2285
© 2006 UNITED ANIMAL NATIONS
P.O. BOX 188890 | SACRAMENTO, CA 95818
(916) 429-2457 TEL | (916) 429-2456 FAX
WWW.UAN.ORG WEB
~
Action Alert, Please click the links!
Help Stop the Expansion of the Rabbit Meat Industry in Alabama!
For several years, Alabama EARS has been concerned about the rise of the rabbit meat industry here in Alabama. Our Agricultural Director, Ron Sparks, has made the development of the rabbit meat industry his "top priority". He wants to hugely expand the rabbit farming that has started up here.
On June 21st, 2006, the Birmingham News ran an article entitled "Another White Meat" which glowingly described the growing rabbit meat industry in Alabama. The article is temporarily available here: &nbsp The Birmingham News
Right now the industry is relatively small, however, if Ron Sparks and the Tri-State Rabbit Growers Association have their way it will be as large as the chicken industry. The Birmingham News is apparently supporting them. Please help nip this in the bud! We need as many people as possible to write to Ron Sparks and the Birmingham News, as well as stores and restaurants that feature rabbit meat, to let them know that rabbits are companion animals, not food.
We've set up a webpage with all the information on what has been happening and sample letters Alabama Ears.org &nbsp A Chapter of The House Rabbit Society
It's extremely urgent that as many people as possible write, especially to Mr. Sparks and the News. We really need to act now while this is relatively small!
Ruth Fledermaus
Treasurer, Educator and Fosterer
Alabama EARS

~
"Either That, Or It's All The Whiskey"
Catagory: Stupid Human Tricks
American may be paralyzed after Spain's first running of the bulls
Paul Haven
Associated Press
Jul. 7, 2006 01:16 PM
PAMPLONA, Spain - An American man was partially paralyzed after a mock bullfight following the first running of the bulls Friday in Pamplona, and seven other people were hospitalized after being gored or trampled by the massive beasts. Danger is what draws throngs of revelers to Spain's most famous festival each year, and danger is what they got in the narrow streets of this ancient Spanish city. Ray Ducharme, a 31-year-old bond trader for Bank of America in Charlotte, N.C., was injured in what is known as a vaquilla, in which hundreds of people chase five cows around the bull ring, pulling their ears and tail. The cows are smaller than fighting bulls and have less imposing horns, but they still weigh hundreds of pounds and can be threatening. advertisement Ducharme, a Bath, N.Y.-native, was thrown by a young cow in the event and underwent a 90-minute operation at the Hospital de Navarra to reattach two vertebrae. "He is paralyzed in the legs, and will have partial use of his arms," said Pello Pellejero, a Pamplona government spokesman. "He is in very serious condition." Ducharme's father, Ray, described him as an avid soccer player and said his family hoped his high level of physical fitness would help his recovery. Seven injuries were reported during the run itself, at least two of them serious: New Zealander David MacDowell, 25, was gored in the thigh, and a Pamplona native, Ramon Garayoa, 46, fell and was trampled. The bull run began at 8 a.m. when six bulls, each weighing about 1,500 pounds, stormed out of a corral where they spent the night, then zoomed up packed Cuesta Santo Domingo street at the start of the 900-yard run. They were accompanied by six castrated steers who know the route and are meant to keep the bulls in a single pack. Thousands of runners, most wearing traditional white shirts and pants and sporting red handkerchiefs, dashed in front of them. Each pack ran with the bulls for a short distance before darting out of harm's way. The rampage ends in minutes. The bulls rush into the Plaza de Toros, where some of Spain's better-known bullfighters awaited them in the afternoon. The festival lasts nine days. Before Ducharme's injuries became known, runners said their brush with death was everything they had hoped for. "It was total emotion. It was absolutely crazy. The bull was right next to me and I touched him," said Norman Rilling, 25, from Bakersfield, Calif. Bulls are surprisingly fast animals, and many of the runners had been up all night drinking. Police are instructed not to let anybody who looks too inebriated take part in an effort to cut down on injuries. That is easier said than done, and many participants had clearly had long nights. Julio Bernavides Alvaran, 65, who came to the festival from Valencia in southeastern Spain, said he wandered the streets for hours looking for a place to sleep before deciding to use his credit card to get into an empty bank machine cubicle. Still, he only had a couple of hours of rest before the run, which he described as the thrill of a lifetime. "Life disappears, and you feel your blood moving in your veins," he said. "Either that, or it's all the whiskey." Since record-keeping began in 1924, 13 people have been killed during the runs. The last death was in 1995.
Associated Press writer Ben Dobbin in Rochester, N.Y. contributed to this report.
~
Yahoo News...Fri Jul 7, 2006
Crow Believed to be Oldest in World Dies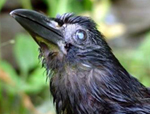 BEARSVILLE, N.Y. - There's no way to prove Tata was the world's oldest crow when he died Sunday at age 59. But an expert on crows says it's possible.
Tata's tale began in 1947 when a thunderstorm blew the fledgling out of his nest in a Long Island cemetery, a mishap that likely led to his long life. Injured and unable to fly, the bird was scooped up by a cemetery caretaker and brought to a local family with a reputation for taking care of animals, Tata's most recent owner, Kristine Flones, told the Daily Freeman of Kingston.
"He was never able to fly, so he became their family pet," said Flones, a wildlife rehabilitator in the Woodstock, N.Y., hamlet of Bearsville, 95 miles north of New York City.
The Manetta family took care of Tata for more than half a century but gave the bird to Flones in 2001 because of their own health problems.
Blinded by cataracts and 54 years old when she got him, Tata was still a wonderful pet, Flones said. "When you came around him, his energy was very beautiful," she told the newspaper. "It was as if he were exuding or giving off a loving energy."
"It's an incredibly old bird," said Kevin McGowan, an ornithologist at Cornell University who has studied crows for more than 20 years. "They don't live that long in the wild."
McGowan said the oldest living crow he has documented in the wild is a bird he banded as a fledgling and has tracked for 15 years. There is an unsubstantiated claim of a 29- or 30-year-old crow in the wild, but he knows of no older crows, tame or otherwise.
While claims of animal longevity are tough to verify, McGowan said, "This one sounded pretty reasonable to me."
In an environment without predators, communicable disease or the likelihood of a fatal accident, a crow could grow as old as Tata, he said.
Flones said Tata was still active and alert in his later years, to the point each spring that he called out from inside the house to crows outside, often loudly and beginning at 5 a.m.
~
Tennessee Treasures
The Elephant Sanctuary® in Tennessee
~
Lake Jackson Ecopassage June, 2006
Dear Supporters,
Many of you may have seen in the media that Lake Jackson is once again drying down due to drought conditions in northwest Florida. Over the weekend, the main sinkhole drained the central basin of the lake. Luckily, the area of the northwestern part of the lake along US Highway 27 is controlled by a different sinkhole that holds water during the early stages of drought and, at this time, we have not yet seen a mass migration of turtles attempting to cross the highway.
However, as we saw in 1999-2000, extended drought conditions will lead to most of the lake drying and the mass migration of thousands of turtles and other wildlife to Little Lake Jackson located on the west side of the highway. The temporary fences are currently in good shape along the nearly one mile stretch of US 27 where it crosses the lake and will continue to protect most of the animals from the highway only if they are monitored and maintained daily. If a mass migration occurs this summer, we expect 100-300 turtles per day will attempt to cross and they must be carried across the highway to safety if they do not locate the single culvert under the road. This was accomplished effectively in 2000 only by working 10 hours per day, 7 days per week, for several months.
Clearly, Lake Jackson is a dynamic lake and water levels will always fluctuate. The only real solution to the ongoing wildlife mortality and habitat fragmentation problem on US27 is the construction of the Ecopassage and we are working hard toward that goal. Upon completion of the project development phase (PD&E) of the project in September, we are hopeful that the Florida Department of Transportation will quickly allocate the funds necessary for the full design of the Ecopassage. I ask that you please contact the Secretary of the FDOT, Mr. Denver Stutler at stutled@eog.state.fl.us and urge him to designate the funds required for the design of the Lake Jackson Ecopassage upon completion of the PD&E so that we can move forward with this project.
Please also check the web site at
lakejacksonturtles.org
for updates and the other key individuals to contact.
Thank you for your continued support.
Matt Aresco
Matthew J. Aresco, PhD
Lake Jackson Ecopassage Alliance, Inc
P.O. Box 180891
Tallahassee, FL 32318
aresco@lakejacksonturtle.org
(850) 562-3093
~
Dateline June 2006 - 205 Bears rescued so far!
It has been a hectic few months for the team as our China Bear Rescue Sanctuary has been full of political and celebrity guests, the media....and new bears! With Animal Planet filming an exciting one-hour special, we've also hosted the beautiful and very famous singer/actress Karen Mok together with Neil Parish MEP (Member of the European Parliament) from the European Parliament - both talking to camera about their revulsion of the bile farming trade and desire to see it end.
With an ugly metal catheter embedded into her abdomen for 8 years, previously farmed bear "Angel" is lucky to be alive. One of seven recently rescued bears, "Angel" is well on her way to enjoying her new life in our Sanctuary which has now saved 205 bears from agony and exploitation. We are also working hard in Vietnam to construct a quarantine area for the first of 200 farmed bears in Hanoi who will start to arrive in October.
Please spare a second to read all the latest news at:
China Bear Rescue
Rescue Diary
- knowing, with our gratitude, that you are helping these bears on their way, as we take the next step to build the public area of the sanctuary to showcase them to a much wider audience.
Bear hugs, Jill
Jill Robinson MBE
Founder & CEO
Animals Asia Foundation
Goodbye to Andrew - Feb 2006
In Loving memory of Beloved Andrew - Animals Asia's first rescued Moon Bear
~
Questionable Fund-raising
A Note Concerning The Elephant Sanctuary® in Tennessee
It has come to our attention that an organization called Animal Save International is soliciting money for several animal organizations including "an elephant sanctuary in Tennessee". The Elephant Sanctuary® in Tennessee has not, to date, received any funds from this organization, nor have we given permission for this organization to use information about our Sanctuary.
~
ELEPHANT MONA
Mona was born in the wild lands of Asia (approx. 1951). She was captured, and brought to The Birmingham Zoo in 1955. Susie, Mona's companion for 48 years, was wild-born in India (approx. 1952). She was captured and brought to The Birmingham Zoo in 1957. Susie died in January 2005. Mona has been alone ever since. Mona's enclosure at The Birmingham Zoo is small and barren. She stands either on concrete or hard-packed dirt, in an area estimated to be less than 1/2 acre. These unforgiving surfaces are causing the break-down of her feet , and what appears to be arthritis in her right shoulder and right front leg. She spends her days pacing in a monotonous circle inside her barn stall, or outside searching for something to engage her highly intelligent mind. Mona has been in this enclosure since she was (approx.) four years old - 51 years.
For over a year, The Elephant Sanctuary® in Tennessee has offered a standing invitation to accept Mona in retirement. Dr. Foster, CEO of Birmingham Zoo, Inc. continues to reject The Elephant Sanctuary's offer. His rejection denies Mona companionship with her species, denies Mona a natural habitat of more than 2,700 acres of forests and meadows, natural streams and mud-holes, and denies Mona the free-will to choose her elephant companions. Birmingham Mayor Bernard Kincaid and the majority of the Birmingham City Council appear to prefer not getting involved. The City of Birmingham owns the majority of the zoo's land and ALL of the zoo's animals. The City of Birmingham continues to contribute $250,000 of taxpayers' money to the zoo annually.
The time has come for Birmingham City Government to address their accountability in Mona's suffering. It is time for Birmingham City Government to enable Mona's retirement to The Elephant Sanctuary.
Please Sign the Petition to Free Mona
~
To All Animal Lovers - your help is needed!
Stop Federal Bill That Would Require the Cruel Air Transport of Birds
As many air travelers know, animals flown in plane cargo compartments—which are meant to store luggage, typically have no heat or air conditioning, and quickly reach extreme, deadly temperatures and die by the thousands every year. A dangerous piece of legislation that would force countless birds into these Death Traps has been introduced in the U.S. Senate by Senator Charles Grassley (R- IA), to accommodate the baby bird and cockfighting industries at the expense of the animals' lives. Please ask your federal representative and senators to oppose this bill today! It's easy to do with the links and sample letter below that you can cut and paste, and you will help prevent countless suffering and death, not to mention the risk of bird flu.
If it becomes law, S.2395 would direct the U.S. Postal Service to require air carriers to accept "shipments" of live animals that postal regulations currently allow to be mailed, such as birds. No provisions are made for food or water. Air carriers would be required to fly animals as long as outside temperatures were as low as 0°F and as high as 100°F. (Chicks become dehydrated at temperatures above 95°F.) Few animals - especially creatures as fragile as birds - will survive this.
Basically, S. 2395 would: &nbsp Compel the USPS to require certain airlines to transport birds. Require those airlines to transport birds through connecting cities, not necessarily on direct flights. Require those airlines to transport birds in any temperature conditions between 0 and 100 degrees Fahrenheit. THIS IS UTTERLY RIDICULOUS AND SIMPLY INSANE. More birds will arrive dead than alive.
Here's how you can help! (a sample letter that you can cut and paste and send is at the end of this message)
Contact your U.S. Representative and your two U.S. Senators (not State Senators) and ask them to oppose S. 2395. Let them know that animals should not be treated as common cargo and that baby birds can quickly become dangerously dehydrated! The names and contact information for all legislators can be found by simply entering your zip code at vote-smart.org; or visiting senate.gov for your senators and house.gov for your representatives. There is usually an e-mail contact form right on your senator's/representative's website and you can strip in the sample letter below and send it right off.
Contact U.S. Postmaster General John E. Potter to urge the Postal Service to stop shipping live birds or, at the very least, to require the U.S. Postal Service to ship baby chicks under humane conditions.
The Honorable John E. Potter
Postmaster General & CEO
U.S. Postal Service
475 L'Enfant Plaza S.W.
Washington, D.C. 20260-1000
fax: 202-268-5211
And please forward this information to your e-mailing lists and ask your friends to help too!.
THANK YOU FOR HELPING!
Arlene
Sample letter:
Dear ____________,
I am writing to ask that you please oppose Senate Bill 2395, which would cause untold suffering and terrible deaths for countless birds shipped across the country. If it becomes law, S. 2395 would direct the U.S. Postal Service to require air carriers to accept "shipments" of live animals that postal regulations currently allow to be mailed, such as birds. Air carriers would be required to fly animals in life-threatening temperatures as low as 0 degrees and as high as 100 degrees, with no regard for food and water.
Animals flown in cargo compartments - which are meant to store luggage, typically have no heat or air conditioning, and quickly reach extreme, deadly temperatures - already die by the thousands every year. Birds in particular, are extremely delicate creatures, particularly the newborn chicks. They need more and better legislation regulating humane shipping methods, not a worse way to manhandle and kill them, which this plan will most certainly accomplish. Aside from the humane issues, the issue of bird flu makes this idea extraordinarily dangerous and ridiculous beyond belief.
This is an exceptionally bad piece of legislation. Please vote against Senate Bill 2395.
Thank you.
~
FAE's Elephant Hospital/Lampang, Thailand
Tuesday 23rd May, 2006
Dear friends:
It is with deep sadness to announce the death of Manguay-low. She collapsed this morning at 5.30. We tried to help her get up but she had lost all her strength. I had to decide to let her go peacefully. Dr. Tossapol performed the euthanasia and she was gone at 7.37 a.m. You may recall that Manguay-low came only a month after Champen who shared the same tragic injuries from landmines in 2003. While Champen is heading home in Tak province a few days from now, Manguay-low has left for her home too, not in Tak, but another destination up in the sky. We shall bury her this afternoon and plant trees as I always do to give shades to her friends. I'd rather not say "Goodbye" to her but there was no other word.
Soraida Salwala, Founder
Friends of the Asian Elephant
~
The Chattanoogan.com
Saddened By The Circus
May 25, 2006
I am sad to see that the circus is again in town. I feel that the animals used in circus acts were never intended by their creator to be taken from their wild habitats, cruelly trained to perform unnatural tricks for the amusement of people, and shipped around from city to city.
Please consider these points: Training methods are often abusive, cruel and stressful. Circus trainers use whips, tight collars, electric prods, bullhooks, and other tools to break animals' spirits and teach submission. In fact, The ASPCA, the Fund for Animals and the Animal Welfare Institute brought a lawsuit against Ringling Bros. under the Endangered Species Act for its mistreatment of elephants.
Wild animals can attack trainers and audiences, rebelling against mistreatment and cruel training methods. Living conditions of circus animals are inhumane. The animals live in cramped spaces -- tigers and lions live and travel in cages measuring just four by six by five feet. Elephants are chained by their legs during training, transport, and between shows.
The circus is not educational. It portrays wild animals as approachable and playful – teaching nothing about the animals, their natural habitats, lifestyles or behaviors. Many circuses entertain audiences without using animals. And it's these circuses that we should welcome to our town. Using animals as a form of entertainment, especially when it involves such cruelty, is barbaric.
Kelly Paulk
kellypaulk@comcast.net
~
Memphis Commercial Appeal May 25, 2006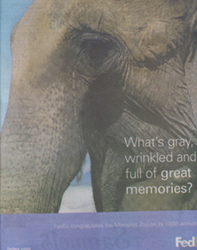 "I write in response to a FedEx advertisement inside Sunday's paper, which honors the 100th anniversary of the Memphis Zoo. Pictured is one of the zoo's African elephants. I would like to point out, that regardless of what the ad claims, captive African elephants in zoos across the United States do not have "great memories." Instead, they have memories of the destruction of their herd, the slaughtering of the adults in that herd and their subsequent capture as the babies who were too bewildered and shocked to put up a struggle. In recent years, this gruesome process has been accomplished by helicopters hovering over a herd. The adults are machine-gunned down as the helpless babies watch. The young elephants are then crated and shipped overseas to zoos throughout the world. Research is under way in the field of post-traumatic stress disorder in culled elephant offspring. Results suggest captive elephants' erratic and unruly behavior can be directly related to the trauma they experienced in youth. This included "swaying" back and forth, as I have seen the Memphis elephants do. These elephants are usually deemed "dangerous" and often wind up secluded, abused or dead. Is this the mission of the Memphis Zoo? Are we to celebrate the lifelong trauma and nightmarish — not "great" — memories these magnificent animals must live with for decades?"
ALYSE M.
Cordova
~
California Residents: Prevent the Killing of Crocodiles and Alligators
California legislators are currently considering a bill (SB 1485) to allow the sale of crocodile and alligator parts. Current law makes it a misdemeanor to import into California for commercial purposes, to possess with intent to sell, or to sell within the state, the dead body, or any part or product thereof, of a number of species including polar bears, tigers, sea turtles, kangaroos, or elephants.
SB 1485, introduced by Senator Dennis Hollingsworth, deletes crocodiles and alligators from this list of protected species. SB 1485 is supported by Louisiana alligator farms, not California residents. And it will increase the illegal trade and poaching of alligator and crocodile species as much or more than the legal trade. SB 1485 passed the Senate Committee on Natural Resources and Wildlife on May 9 and will soon be considered on the Senate floor.
There is a great deal of difficulty in distinguishing products from non-protected species of alligator and crocodile from endangered species. Federal law requires that American alligators' bodies or whole hides be marked with a unique tag; however, products made from the hide are not required to carry such identification. Therefore, it is nearly impossible for authorities to know whether a product was made from a legally obtained crocodilian hide. Allowing the sale of products from certain species will inevitably open the door to the sale and use of other protected species.
Learn More & Take Action On This Issue
Source:
In Defense of Animals
3010 Kerner Blvd., San Rafael, CA 94901
Tel.: +1 415 388 9641 Fax: +1 415 388 0388
~
America, Take a Step to Ending Oil Addiction
May 22, 2006
America consumes over 19 million barrels of oil per day. Most of that is wasted in gas guzzling cars, trucks and SUV's. It's time for change... It's time to break our addiction.
Oil exploitation endangers ecosystems from America's parks and wilderness to the deepest jungles in the Amazon and Africa. Our climate, our national security, universal human rights, our economy, and our health are threatened by our addiction to oil. For our forests, for the rights of indigenous peoples, and for the natural systems that sustain life, Rainforest Action Network is committed to help break America's oil addiction.
We can begin by Jumpstarting the auto industry. The single largest cause of our oil addiction comes from passenger vehicles, and Ford Motor Company's vehicles guzzle more gas than any other automaker in the country. Ford's global warming emissions threaten our environment while rising gas prices threaten our economy. That's not American innovation. That's just bad business.
We must demand that our nation's leaders, both civic and corporate, make a real commitment for change. It's time to take action, starting with automakers like Ford Motor Company.
Source:
Michael Lawley,
Care2 and ThePetitionSite team
Care2.com, Inc. 275 Shoreline Drive, Suite 150
Redwood City, CA 94065
care2.com
~
FAE's Elephant Hospital/Lampang
Obituary Announcement: Kamsri
Monday 8th May, 2006
On Saturday the 6th of May, 2006 around eleven a.m. we were informed that a full term pregnant elephant would be coming to our hospital.
Kamsri, 35 years old, arrived at 12.20 p.m. Upon arrival we found mucopurulent discharge and blood from her vagina. She was restless and suffered from pain and dehydration. Kamsri opened her mouth and stretched her foreleg and hind legs every two minute showing signs of great pain.
Supportive treatment of IV , gluclose, antibiotics and vitamin were given. Kamsri could not eat nor drink.
Result of ultrasound showed no sign of baby movement. More blood came out. Kamsri was under close observation the whole night.
Subjective data from the owner of Kamsri:
Kamsri was attacked by another elephant at the elephant camp in Chiangmai since early April, 2006 resulted in Kamsri's fall. She was still at work until the 2nd of May when she showed sign of pain, depress and anorexia.
At 1.14 p.m. on Sunday 7th May, Kamsri choked, shivered and collapsed at 1.23 and died at 1.25
Result from post mortem performed by Dr. Preecha Phaungkum:
Mucopurulent discharge in vagina, bleeding in abdomen cavity and hemorrhage spots in omentum and abdomen cavity, rupture of uterus and trauma in diaphram and spleen.
The male baby was about eighteen months old with the height of 80 cm. and weighed 120 kg. We were indeed saddened by her death because we have been advising all the camps and elephant owners to rest the pregnant elephants and bring them to our elephant hospital for delivery at the earliest time of pregnancy. Overworking and still at work for the pregnant elephants could result in accidents and death.
~
Downbound.com


offers a wide assortment of products that promote animal rights (all vegan), human rights (no sweatshop and fair trade), and the environment (organic wherever possible). The name "Downbound" represents an ideological shift down the corporate ladder, down the food chain and down to earth. For instance we have over 200 organic hemp clothing, footwear and accessories, vegan cat and dog food, animal rights videos and much more. The founder of Downbound.com, Adam Wilson has been a vegan for nine years, and he is also a founder of the Toronto Animal Rights Society.
~
Today there are over 6.5 billion people in the world.
Support U.S. International Family Planning
to protect the health of families, wildlife and the planet, now and for generations to come.
Over the last 100 years, the world's human population has quadrupled. And at current rates of growth we will add more people to the planet in the next 50 years than we did during the first 500,000 years of human history!
Human population growth is a critical environmental issue. It places enormous pressure on limited natural resources and exacerbates many environmental problems including deforestation, water scarcity, pollution and loss of biodiversity and habitat. Ask Congress to take action.
By providing access to basic healthcare and education, international family planning is one of most cost-effective ways to help countries voluntarily reduce population pressures, improve maternal and child health, protect the health of our environment, and ensure our children's future well-being.
The world is at a critical juncture. Across the globe over one billion teenagers are now entering their reproductive years. This is the largest group of teenagers in history, and their level of access to basic family planning services will shape the world for generations to come. Take action.
Unfortunately, as unmet need for family planning programs continues to rise drastically, U.S. funding has plummeted.
This Mother's Day is a great opportunity to show your support for international family planning. Mothers represent a promise for the future of our children – a future with love, a clean environment, good health and education.
Please ask Congress
to support increased funding for U.S. international family planning programs – such programs are essential for protecting the health of families, wildlife and the planet, now and for generations to come.
Thank you for making a difference today,
Agata Gussmann
Care2 and ThePetitionSite Team
P.S. "Unless we can find some way to slow down population growth, the stresses and strains on the natural resources will be too great to bear." - Jane Goodall, primatologist
Care2.com, Inc
275 Shoreline Drive, Suite 150
Redwood City, CA 94065
~
California..5/5/06
Speak Out to Put a Stop to Cruel Killing Events!
Thanks to the efforts of concerned California animal advocates like you, we're getting closer to passing legislation (A.B. 2110) a stop to field coursing competitions -- contests in which dogs track, pursue, and often tear apart live animals. Once popular in England, this activity was recently banned due to the cruelty involved. You can help end these gruesome games in California.
A.B. 2110 makes a person who knowingly engages in a competition in which dogs are, by the use of live rabbits, hares or foxes, assessed as to skill in hunting guilty of a misdemeanor. A.B. 2110 passed the Assembly Committee on Public Safety on April 4, 2006. The next hearing on this bill will take place on Wednesday, May 10, 2006 in the Assembly Committee on Appropriations. Please take action today to help this important bill clear the next legislative hurdle.
TAKE ACTION
Please contact the members of the Assembly Committee on Appropriations and urge them to support A.B. 2110 and ban the harassment and killing of wildlife in field coursing events.
Click here to automatically send an e-mail to all of the committee members and your own state assemblymember.
Please tell your friends and family in California about this important legislation and how they can help. With your continued commitment to taking action on behalf of animals, we can end these shameful killing contests.
Sincerely,
Wayne Pacelle
President & CEO
The Humane Society of the United States
P.S. If you haven't seen the excellent KGO-TV San Francisco I-Team
investigation on coursing, click here to view it now.
Copyright © 2006 The Humane Society of the United States (HSUS). All Rights Reserved.
The Humane Society of the United States | 2100 L Street, NW | Washington, DC 20037
humanelines@hsus.org | 202-452-1100 | www.hsus.org
This message was sent to Jody@JodysJungle.com
~
On May 9, 2006,
The Elephant Sanctuary in Tennessee will be Charity of the Day again on


Because of the Sanctuary's early support of and positive response on Goodsearch.com, we have been selected as Charity of the Day for the second time on May 9. It is a new and easy way to raise money for The Elephant Sanctuary in Tennessee. It's simple. You use GoodSearch.com like any other search engine — but each time you do, money is generated for our girls. Each time you search $.01 is donated to The Elephant Sanctuary. Just 1,000 people searching an average of four times a day will generate nearly $15,000 in a year for The Elephant Sanctuary!
In using this search engine, it is important to remember that repeated manual clicks in order to generate money is not appropriate. Please use this search engine only as you would use any other search engine.
~
Restaurant Fined for Cruel Lobster Display
ROME 4/28/06
An Italian restaurant was fined 688 euros, or $855, for displaying live lobsters on ice to attract patrons, in an application of an anti-cruelty law usually affecting household pets. A court in the northeastern city of Vicenza ruled the display was a form of abuse dooming the crustaceans to a slow death by suffocation. "We're appealing," said Giuseppe Scalesia, who runs La Conchiglia D'Oro, or "Golden Shell," restaurant along with his brother Camillo. "They said that the lobsters, laying on the ice, suffer... They compared them in court to other animals, like cats and dogs." The case was brought by Gianpaolo Cecchetto, a former environmental activist, who took his two young children to the Vicenza restaurant in May 2002. "They were shocked by the display," said Cecchetto adding he immediately got in touch with the ENPA national animal protection entity. "ENPA took care of the lawyers and legal proceedings."
Italy has some of the world's toughest animal rights laws. The city of Rome in October banned goldfish bowls, seen as cruel, while Turin passed a law last year that would fine dog owners 500 euros unless they walked their canine friends at least three times a day.
~
"Dear Friends,
The first book against bullfights written in the English language has just been published.
"When Bulls Cry: The Case Against Bullfighting"
By Michael A. Ogorzaly, is a must read.
Go to Review
There are some books against bullfights by Spanish and French writers but this is the first one in English. One of our members is part-way through this book and can thoroughly recommend it.
The book is available at authorhouse.com at the cost of $14.95 + $5 shipping/handling for U.S.A.
From Europe you can buy it at authorhouse.co.uk, prices depend upon which country you are ordering it from.
For the Animals, Maria Lopes
Coordinator
International Movement Against Bullfights
~
Humane Society Newsletter
Here are just a few of the articles in this months newsletter
please follow the link to learn more and take action, thank you. jj
4/26/2006
Your Chick Is in the Mail
Poultry hatcheries commonly ship day-old chicks in cardboard boxes with no provision for food, water or temperature regulation. These chicks are shipped across the country in all kinds of temperature extremes, from sweltering summer highs to freezing winter lows. While no statistics are kept on just how many of these birds survive their journey through the mail, anecdotal tales abound of baby birds who never made it to their final destinations alive. Just this year, The HSUS has heard from several postal workers across the country whose daily encounters include boxes of dying baby birds.
Kenneth Cool or Kenneth Cruel?
Designer Kenneth Cole claims that "what you stand for is more important than what you stand in," but animal fur has recently popped up in his stores and on his website. Ask Kenneth Cole to stand for being kind to animals, not for being cruel.
Picture Worth 1,000 Words
Take a look at The HSUS's gripping full-page ad urging Congress to pass the PETS Act. The ad is running in major newspapers across the country as part of the "No Pet Left Behind" campaign. If you have not already, ask your legislators to support the PETS Act.
Recent Victories
AOL deleted the use of battery-cage eggs from all of its corporate dining facilities.
Alabama outlawed hog dog fighting.
Chicago's City Council passed an ordinance prohibiting the sale of foie gras.
Kansas banned exotic animals as pets and made animal cruelty a felony.
Bar Harbor, Maine-based College of the Atlantic made the switch to cage-free eggs in its student dining facility.
Pennsylvania tabled a proposal to allow use of the atlatl, a Stone Age hunting tool.
Copyright © 2006 The Humane Society of the United States (HSUS).
All Rights Reserved.
The Humane Society of the United States | 2100 L Street, NW | Washington, DC 20037
humanelines@hsus.org | 202-452-1100 | www.hsus.org
This message was sent to Jody@JodysJungle.com.
~
News from Friends of the Asian Elephant, F.A.E
Dear Miss Jody:
Our Elephant Hospital was hit by a hail storm on the 14th April, 2006. Fortunate enough that no elephant nor staff was hurt but there are damages. Trees fell over the roofs and debris were everywhere. Motala's Infirmary was hit by the hails and the roof was broken but she is all right. No harm to her except over 30 pieces of the roof tiles were broken.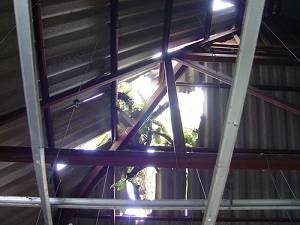 ~
Purr…fect Cat Fence
is the first complete, free-standing, backyard fence enclosure for cats. Now any cat can safely enjoy all the benefits of the great outdoors, every day, (weather permitting) without you worrying about their safety.

Best Friend Fence
is a visually appealing, incredibly strong pet fence that safely keeps your dog and/or cat within a designated area without the use of electric wires or unattractive and costly fencing.
~
Help The Mantees
Faced with the largest number of manatee deaths in a decade, the Florida Fish and Wildlife Conservation Commission is considering an inconceivable reaction: downlisting the manatee, a gentle creature known to body surf or barrel roll when playing, from endangered to threatened.
Last year was the second highest manatee mortality year on record. Just in the last five years, 1682 manatees have died in Florida waters and of those, 398 were killed by boats. That is almost an 18% increase over the previous five-year period. Furthermore, state scientists estimate the manatee population could drop by half in the next 50 years because of habitat loss, red tide poisoning and boat collisions.
This latest move is a triumph of politics over science. Manatees are poised to be downlisted regardless of how they are faring in the wild because of a calculated effort by special interest groups opposed to boat speed zones and restrictions on development.
And Gov. Bush's conservation commission — he appointed the members — doesn't offer wildlife much hope for protection. Commissioners include a banker, a real-estate investor, a ranch owner, a developer, and a vice president of the St. Joe Co., Florida's largest landowner. Another belongs to the Safari Club International, which offers recipes for antelope, bear, moose and other wild game on its Web site.
Later this summer, the FFWCC will vote to finalize the manatee's listing status. Gov. Bush once called the manatee his favorite animal. Urge him to take a stand and ensure that protections for the manatee remain in place.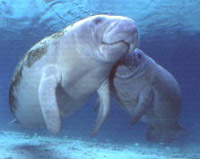 Thank you for making a difference today,
Sign The Petition
Care2 and ThePetitionSite Team
Care2.com
275 Shoreline Drive, Suite 150
Redwood City, CA 94065
~
Namcha Home for Wayward Animals Newsletter
Tir-Na-Nog Farm
P.O. Box 145
Elverson, PA 19520

~
Animals Asia's hosts China's First Ever Companion Animal Symposium!
3/31/2006
Dear Friends,
Just this past weekend Animals Asia hosted and organised the first ever China Companion Animal Symposium which saw 32 local Mainland Chinese groups voting unanimously for a ban on the slaughter of dogs and cats for their meat and fur! &nbsp Held in Guangzhou - the dog eating capital of China - five important resolutions were passed with 100% majority, as everyone pledged to work together in the years ahead to improve the lives of all companion animals in China. It is thanks to each and everyone of you reading this message and supporting our pioneering
Friends...or Food
campaign that major inroads such as this are being made. The next step will see us working on developing these crucial resolutions into practical solutions and regulations that will create real change for dogs and cats.
Please help us to accelerate this work by reading and forwarding the news of the
Symposium
to friends and family:
Please give what you can to help our beloved companion animals - as ever, we are dependent upon your support to create a world where dogs and cats rightly take their place as our friends,
not food or fur.
Warm wishes,
Jill
Jill Robinson MBE
Founder & CEO
Animals Asia Foundation
~
Aviarios Sloth Rescue Center
(Preguiça)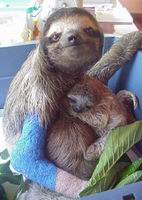 In 1992 Judy and Luis Arroyo completed construction of a bed and breakfast in Costa Rica.
Their destiny changed when neighbor girls brought them a wee surprise--an orphaned three-toed sloth.
They named her Buttercup.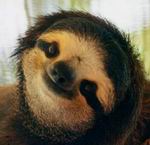 Finding scant literature on sloths, they learned from experience. Then another one arrived, and another.
Before long the Arroyos became known as authorities on sloth rescue and rearing.
~
Dear U.S. Friends of Animals Asia
Help spread the word of the China Bear Rescue, by requesting that PBS book the
"Natural Heroes" series!
"Many of you are aware that Animals Asia has made a short film on our work called "China Bear Rescue....the beginning". The film has won many awards at Film Festivals and is now part of a "Natural Heroes" series of environmental short films that is being offered to PBS Stations across the USA. Of course, for Animals Asia, this is a great opportunity for many more people to learn about the issue of bear farming and our work with the beautiful Moon Bears.
Can we ask you to help? We need you to urge your local PBS Program Manager to schedule the series. Please contact PBS affiliates in your area, alerting them to the fact that you support Animals Asia and the great work being done in China to help the farmed bears. In fact, the series has been underwritten, so it is completely free to the PBS Station!
This is so easy to do:
Simply go to this website:
www.greentreks.org/naturalheroes/wheretowatch.asp
Click on your state and write a short note encouraging your local stations to carry the "Natural Heroes" series (which includes our China Bear Rescue film). There is also a sample letter included. Please ask your friends and colleagues do the same in their areas!
PBS Program Managers are making spring scheduling decisions now. Each PBS affiliate's Program Manager decides which programming best fits the needs of their local audience. They listen to their members, and they know that "looking local" is important. If you want to get more involved, call your local stations and speak with the Program Manager directly.
Our China Bear Rescue film is being shown in an episode entitled "International Animal Rescue" &nbsp Click here to view a trailer
Thank you so much for your help!"
Warm wishes,
Annie
Annie Mather
Executive Director, Head of Media
Animals Asia Foundation
China Bear Rescue
Wonderful organization, Jill is truly a hero...I cannot recommend them highly enough, please get involved..jj
~
Heart of a Lioness
I first read about Kamunyak several years ago and posted her story on JodysJungle.com Page 3
I saw the story on Animal Planet the other night and wanted to share it with those of you who may have missed it.
Kamunyak the Lioness and the Oryx Calf
Samburu National Reserve, Kenya, January 2002
The lioness was fully aware that the calf was not a lion cub
as she did not try to hunt meat for it.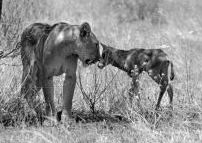 ~
2006
The 2nd Annual Elephant Advocates Rally Support
~EAR'S~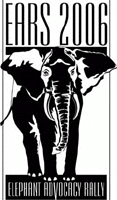 This year's event will be held in Hohenwald, Tennessee on Oct 5 to 8th, 2006.
See our Website for details.
The Elephant Sanctuary® in Tennessee
will once again be the beneficiary of our efforts.
We are now open for registrations
~
ocean-alert@oceanconservancy.org
To: jody@jodysjungle.com
Strong public support is urgently needed to prevent the Bush Administration from slashing funds for sea turtle conservation and other programs aimed at protecting endangered species. In its federal budget request for next year, the Bush Administration has proposed budget cuts for international sea turtle conservation in the new Marine Turtle Conservation Act (MTCA) and similar legislation for other imperiled species. This year the administration's request cuts the Marine Turtle Conservation Fund by 57%, from $691,000 to $297,000, despite the fact that less than a third of the proposals received were funded!!! Instead of cutbacks, these funds need to be increased, particularly since these species face increasing threats from poaching, habitat destruction and civil unrest.
The multinational species conservation funds were established in 1990 to help conserve some of the world's most threatened and magnificent creatures. These relatively small but critical programs have grown annually by small increments because they can demonstrate significant success.
Last year Congress approved a modest increase for the five mammal and reptile programs to $6.5 million and the neotropical migratory bird fund to $4 million. The President's new budget cuts the funding to $8.2 million for fiscal year 2007, a steep cut of 22%. In fiscal year 2006, Congress appropriated $691,000 for marine turtles. Click here for more information.
Please take action today! Tell your Senators and Representative to do all they can to increase funding for these vitally important endangered species conservation programs.
Please Take Action
Sincerely,
Marydele Donnelly
Sea Turtle Scientist
~
"But for the use of physical punishment by,
and fear of their oppressors,
animals would never be a part of a circus."
Richard Pryor